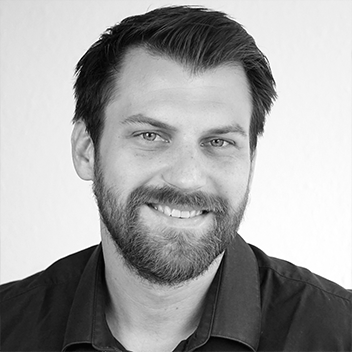 Marko Horvat is the ESR6 position doctoral candidate and he holds a bachelor's in economics from Bocconi University in Milan, Italy and a master's in environmental science from Linköping University, Sweden. Prior to joining Re-Dwell, Marko worked in ICLEI European Secretariat in Freiburg, Germany, as a sustainable mobility expert. Marko managed European projects on urban governance, planning and mobility topics and he worked closely with many European and worldwide city representatives on planning for liveable cities by implementing, replicating and scaling-up measures. Before ICLEI, Marko has worked in Join Research Centre, Ispra, Italy in the sustainable mobility unit (C.4) and WSP Consulting in Stockholm, Sweden.

Marko is an expert in governance and social innovation and a sustainable travel enthusiast. He has experience in research, publication drafting, policy document writing and has great moderation and facilitation skills. Marko is keen on learning how measurements of the social and environmental impact of social housing can contribute to achieving more liveable and inclusive cities through policy, law, planning and technology.
September, 11, 2023
May, 09, 2022
September, 16, 2021
New global trends are shaping the European housing market. Population is rapidly concentrating in larger urban areas, leading to higher housing demand. In the absence of housing policies and regulations, housing markets are becoming speculative and unstable, affecting vulnerable groups in particular. While developed European countries have adopted policies, some post-socialist countries are struggling to establish a policy framework that ensures affordable and sustainable housing for rent and ownership. Slovenia, Croatia and Slovakia have undergone economic, social and political transformation with the fall of socialism. With the transition to a market economy, the housing market was liberalised. Extensive privatisation created a society of homeowners, making social and public rental housing residual tenures in circumstances of familism, and intergenerational solidarity with recent financialization of housing market.
Since the "modernisation" in the early 1990s, selected countries have shaped their institutions differently according to current needs and priorities, and have taken different approaches to institutionalising and shaping social housing policies.
This research aims to compare the development and response process in Slovenia, Croatia and Slovakia in relation to housing policy development since the fall of communism. The comparison includes the national and capital city level, analysing affordability and sustainability for the general population and for vulnerable groups, especially the homeless. The theoretical approach applied to understand the different processes in each country is the historical-institutionalist approach (path dependency). The methodology guiding this research is social constructivism. The method of comparison is guided by a qualitative design of the most similar systems in combination with comparative process tracing, while the data collection methods are literature review and policy analysis, database analysis and semi-structured interviews with identified relevant experts and stakeholders at national and local levels.
Comparative analysis of social housing policies' modernization impacts in selected post-socialist countries
New global trends are shaping the European housing market. Population in the cities is in increase, leading to higher housing demand. With a lack of housing policies and regulations, housing markets become speculative and unstable. This situation hits vulnerable groups and groups that are at risk of vulnerability harder than the rest, and they are the focus of this research when discussing housing needs. Examples of such social groups are the young generation entering the labour market, facing precarious work conditions or migrating for education, single and low-income families that do not have the means to become homeowners and face a free-rental market that is often unregulated, the homeless that are unable to re-integrate to the society, the elderly population that is increasing in number and requires special services, etc. Addressing their housing needs calls for a coherent and future-proof social policy in many areas of the welfare state.
Many eastern European countries went through a transition from socialism to a market economy in the early 1990s. For most of them, a "give-away" privatisation of public housing stock took place by a mass sell-off of public housing stock to sitting tenants. That led to unequal wealth distribution at the beginning of the capitalist market system and erased the social housing systems from the political map. It reduced the role of the government in the housing market and significantly reduced social and public rental housing stock.
This research will compare the development of Slovenian, Croatian and Slovakian housing policy development since its modernisation, focusing on the sustainability of social housing provisions and their contribution to affordability for vulnerable social groups. Firstly, the theoretical framework on social housing as a part of the welfare system will be analysed on a general level and separately for all three countries. This part of the research will seek synergies with the work of fellow ESRs and exchange knowledge on housing theory. Secondly, a mix of qualitative and quantitative methods will be developed to conduct empirical research including relevant stakeholders providing housing and related services on national and local levels, while understanding the main indicators that would be the best fit for the analysis of the social housing programme performances.
Reference documents

Abstract diagram Marko Horvat
View
ESR6: "Comparative analysis of social housing policies' modernization impacts in selected post-socialist countries"
With more than 60% of the population residing in cities, the world is dealing with unprecedented pressure on resources and infrastructure. Housing markets are unstable, supply chains fragile, and the trend of increasing wage gap presents an urgent need for coherent and future-proof social policy in many areas of the welfare state.
In Europe, many eastern countries went through transition from socialism to capitalism in the early 1990s. For most of them, a "give-away" privatisation of public housing stock took place, practicing a mass sell-off of public housing stock to sitting tenants. That led to unequal wealth distribution at the beginning of the capitalist market system and erased the social housing systems from the political map.
Over the course of three years, this research will look into Slovenian, Croatian and Slovakian social housing policy development since the transition period and the path-dependency that originated in the old regime. Evidence will be gathered to produce solid policy recommendations based on local knowledge and context, collaborating with a cross-European community of experts and academics.
A literature review will be conducted to produce a deep understanding of social housing theory and the role of the government in the current housing system and the ability of this system to provide affordable and sustainable housing. This will provide fundamental knowledge for a comparative analysis of how changes in social housing policies affected the social housing regime in Slovenia, Croatia and Slovakia. Moreover, good practice examples of housing provisions for vulnerable groups across Europe will be identified, having in focus the potential for transferability and scalability of solutions in selected countries.
Transdisciplinarity of the research will consider other ESRs' work and will work together with academic and non-academic stakeholders to understand the most important issues in developing and implementing social housing policies in these countries, focusing on the ability of different housing regimes to deliver affordable homes for vulnerable groups.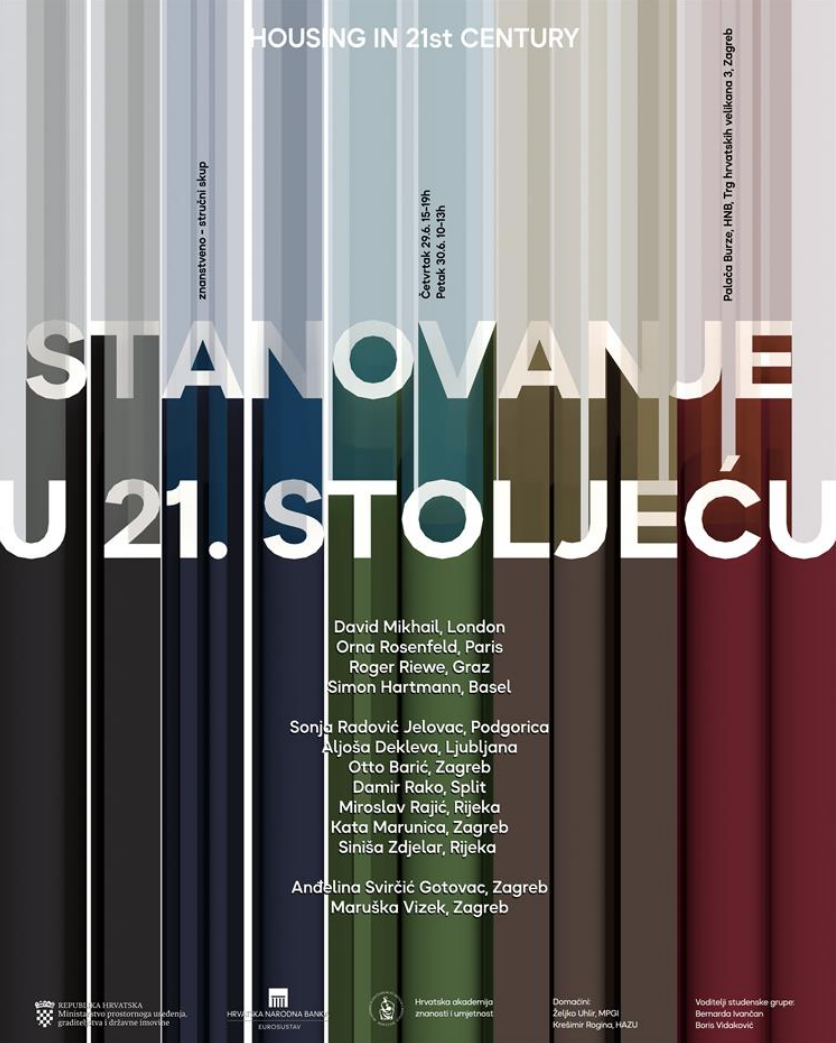 Housing in 21st century - Croatian National Housing Strategy 2030
Posted on 30-06-2023
Zagreb just hosted a two-day conference titled "Housing in the 21st Century," organized by the Ministry of Physical Planning, Construction, and State Assets. The primary objective of this conference was to address pressing issues in Croatia's housing market, explore global trends, and propose policy measures to achieve more affordable housing. These discussions were intended to inform the forthcoming national housing strategy for 2030. Prominent architects and policymakers from the field shared their insights during the event, with some presentations proving highly valuable while others lacked relevance in terms of decreasing housing affordability. Although the architects' perspective dominated the conference, it is crucial to recognize the significance of social scientists in understanding the role of housing within our welfare and society. Here are the key takeaways from the conference: Croatia requires a comprehensive national housing strategy that considers local housing strategies. This approach would enable the country to seek foreign funding and delegate responsibilities to suitable entities, such as housing funds or organizations, similar to Slovenia's model. In doing so, it is essential to ensure that land ownership, construction, and maintenance are overseen by the local (or national) government, rather than driven solely by profit motives. Utilizing existing space and minimizing material consumption should be prioritized. Local authorities own numerous vacant housing units that are not utilized for public or social rental purposes. Relying solely on new land development as a solution is inefficient in various ways. Sustainability does not always align with affordability. For instance, constructing buildings with timber may offer environmental benefits and create a more liveable environment. However, this approach typically increases project costs by approximately 15%. Careful consideration is necessary when implementing sustainable practices to balance cost-effectiveness. Local residents face competition from foreign capital, raising concerns about protecting "Croatian land" from foreign investment funds. Domestic buyers often struggle to compete with foreign entities, as there are no legal barriers for foreigners to acquire construction or agricultural land in Croatia due to EU membership status. Therefore, implementing measures to tax housing units based on their intended use (residential or business) could help address this issue. However, policymakers must be mindful of the impact on rural areas, ensuring that such policies do not exacerbate their economic challenges. The conference was timely, although some may argue it was long overdue. It is commendable that Croatia aspires to learn from countries like Austria and the Netherlands regarding affordable housing provision. However, valuable lessons should be drawn from countries such as Slovenia and Slovakia, which share similar historical and cultural backgrounds, but are much more advanced in affordable housing provision. I eagerly await the national strategy, hoping it includes a comprehensive needs assessment, an actionable plan, and measurable goals against which the success of housing policies can be evaluated.
Defining homelessness as a housing problem
Posted on 28-10-2022
Homelessness is a complex social problem and an extreme form of poverty that is on the rise. It is not only income-related, but it also includes quality of life and safety. It diminishes a person's dignity and productive potential. The most common causes of homelessness in Europe are limited access to affordable housing and a precarious labour market. As part of the RE-DWELL project, we are trying to define what affordable housing means, not only for the low- or middle-income population but also for those most in need of affordable and safe housing. The European Typology of Homelessness and Housing Market Exclusion (ETHOS) typology is an international typology that aims to define and recognise different types of homelessness. The methodology was developed in 2005 by the European Federation of Organisations Working on Homelessness (FEANTSA) and includes four broad categories of homelessness: rooflessness, houselessness, insecure housing, and inadequate housing. These four categories are further subdivided into thirteen categories covering different housing situations that can be compared internationally and targeted by different policies. The Croatian national definition of homelessness does not follow the ETHOS typology, but instead defines as homeless a person without a residence or means to meet housing needs who temporarily lives in a shelter or stays in public places for housing. The immediate limitations of this definition are obvious, as the definition does not recognise any safety or quality housing standards and does not take into account people coming from different institutions (social care or prisons) who have no housing options other than emergency shelters. In Croatia, local authorities are legally required to provide a minimum level of funding for soup kitchens and emergency shelters, but it is largely left to civil societies to apply for these funds and to provide these services to the homeless. Thus, Croatian service for homelessness is mostly "passive" and oriented towards emergency help and remedy programmes, with some additional services within shelters, but also there is an initiative towards an "active" form of service which is a Housing First pilot project in the city of Pula. During my two-month assignment at the RE-DWELL partner organisation "CERANEO - Centre for the Development of Non-Profit Organisations" in Zagreb, Croatia, I had first-hand access to CERANEO's resources, which are the result of the organisation's fruitful cooperation with many civil society organisations. CERANEO addresses not only homelessness but also other social issues and through its work strengthens the position of other civil society organisations in Croatia through networking, cooperation and funding. The aim of the secondment was to interview providers of homelessness services and assess their financial, organisational and social sustainability in providing services. To this end, one of the key contacts was the Croatian Homeless Network (HMB), which provided helpful insights into the problems faced by service providers in Croatia The bottom line is that civil society organisations providing services to the homeless in Croatia are the most important actors in the fight against homelessness and they need better dialogue with policy makers. They also need long-term funding for programmes that could improve services and eliminate homelessness. It is also important to properly define homelessness so that no one in need of housing is left behind.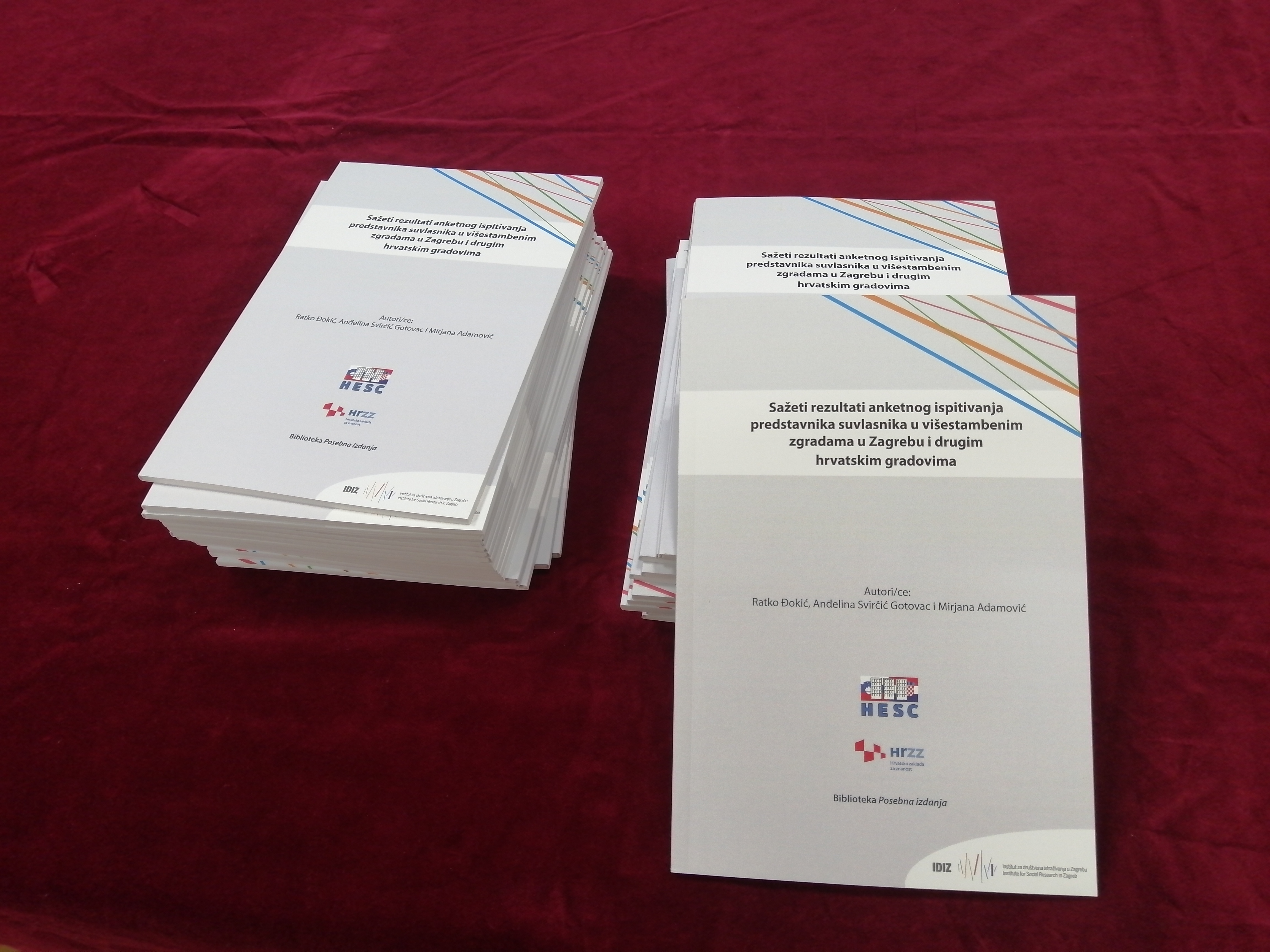 Energy efficiency renovation of buildings in Croatia
Posted on 24-03-2022
Around 90% of Croatians are homeowners. Homeownership was catalysed by the "give-away" privatisation in the beginning of 1990s, and it slowly became a part of mainstream investment choices for many Croats. Due to a lack of financialisation and investment incentives, a house or an apartment is seen as a potential investment whose intrinsic value will only increase, and is suitable for passing on to next generations. The potential lack of liquidity of the housing market never hampered the enthusiasm of investment in housing. However, with ownership comes responsibilities in terms of asset maintenance. Within the HESC project (Quality of living in the Housing Estates of the socialist and post-socialist era: a comparative analysis between Slovenia and Croatia), a survey was conducted among apartment representatives of 353 buildings in four large Croatian cities. Many apartment owners who live in socialist built buildings (built between 1945 and 1990) are overall satisfied with the quality of that building. However, these buildings need substantial upkeep and renovation in terms of energy efficiency improvement, which proves to be costly, whilst many of the residents are not united and willing to bear the cost of renovation. This was the topic of today's public discussion organised by the HESC project, bringing together the main stakeholders involved in this issue, including the relevant ministry, local administration, funds, academics and agencies from the top and owners representatives from the bottom. Issues that prevent a large-scale renovation is the lack of funds that is secured by the ministry and a lack of willingness of households to invest their own funds. Funds secured by the government could cater to only 1 in 12 buildings that apply for the grant by the ministry (60% of the total investment), and households who do not get the funding from the ministry often are not willing or do not have sufficient funds to fund the renovation themselves. Moreover, it seems that the general condition of the buildings is sought to be improved by the ministry's funding programme, not only targeting energy efficiency in terms of energy consumption and emissions. Some of the proposed solutions by the participants were reducing the bureaucracy of the application process for the funds issued by the ministry, introduction of subsidies for supply side, i.e. construction materials etc., establishment of a national buildings registry, other funding opportunities provided by publicly owned banks, and subsidies for funding the documentation needed to apply for the funds, that needs to be repeated every funding cycle.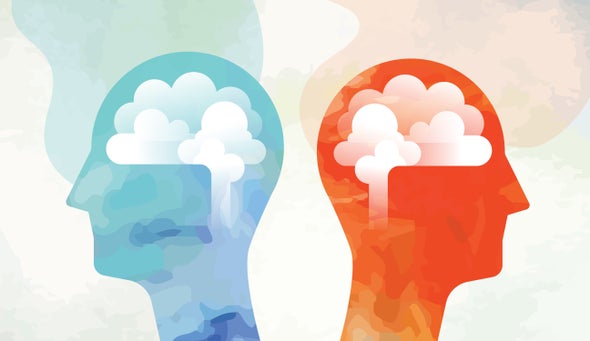 Understanding the differences between architects and the "rest of us"
Posted on 16-12-2021
As a social scientist with a background in economics and environmental science, I have received a training to question the current state of things and look at problems holistically. I will not dwell on the term holistic but in general, it requires different stakeholders from many disciplines to work towards the same context, each contributing with a unique point of view. On the other side, if I think of architects as engineers, I would presume they face specific problems, approaching them with exact solutions, following industry standards, checklists etc. But where I see the challenge, and what this project is trying to achieve is to create a dialogue between architects and the "rest of us" in problematising sustainable and affordable housing. I use the term the "rest of us" simply because I cannot at this point define architects as non-social scientist. Here is the brief logic behind my understanding of architects. I have some architects in my family, but I never stopped to think if they were social scientists, engineers, artists or something else? Even now after a quick Google search for "are architects social scientists", I am still not convinced in the results as no result can either fully confirm or deny it. For example, one blog post (Wood, 2015) with a title "Architecture as Social Science?" states different explanations, however, most significant is that architects are not social scientists. Literature however does clearly divide architects and social scientists (Lewis et al., 2018). Even more so, understanding from this paper is that a word "home" would probably trigger different perspectives for architects and social scientists. By joining Re-Dwell project, I started to really interact with fellow ESRs with the architectural background, and for the most of the time, we (social scientists) speak a different language. I am sure if I ask my ESR architect colleagues, I would receive a clear answer, but that was not the point of this blog. The point was to offer an angle of a non-architect towards problematizing sustainable and affordable housing, and to highlight the need of multidisciplinary approach towards formulating a problem, especially as wicked as housing. One cannot say architects are detached from social science simply because their ideas and design can include (or exclude) human interaction and influence how people use buildings or public space. Social scientist on the other side cannot problematise sustainable and affordable housing without architects either, as it has much to do with engineering, materials used, safety, accessibility etc. Thus, bringing together architects and social scientists who are most willing to interact and learn from each other in a project like Re-Dwell provides a safe environment and a good platform to question each others point of view and communicate towards finding solutions to different components of the problem. So far, formats such as interactive workshops and round tables gave us the opportunity to express our opinion and understand where we come from in terms of sustainable and affordable housing problem formulation. I can only hope that this type of dialogue will reach even higher level in the years to come. Literature Lewis, C., May, V., Hicks, S., Costa Santos, S. & Bertolino, N. (2018). Researching the home using architectural and social science methods. Methodological Innovations. 2018;11(2). doi:10.1177/2059799118796006 Wood, A. (2015). "Architecture as a Social Science?". Architecture and Education [accessed online 13 December 2021] https://architectureandeducation.org/2015/10/27/architecture-as-a-social-science/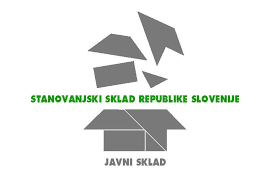 Housing Fund of the Republic of Slovenia
Created on 04-07-2023
National Housing Fond of the Republic of Slovenia: from inception to present day The Republic of Slovenia proclaimed its independence in 1991, and the new state was obliged to create proper housing for its citizens. The National Housing Fund of the Republic of Slovenia (the Fund) was founded in October 1991 under the National Housing Act (the Act) in order to oversee the implementation of the National Housing Programme (NHP) in collaboration with other governmental bodies and agencies at a national and municipal level (HFRS, 2021; European Commission, 2017). According to the Act, the proceedings from the privatisation were to be distributed as follows: 20% to the Fund, 30% refunded to tenants that relinquished the rights to purchase dwellings and 50% to purchase new housing (Sendi, 1995). The NHP aimed to ensure a higher standard of living for vulnerable groups. According to Kerbler and Kolar (2018), the four main objectives of the NHP are to create a balanced supply of suitable housing, to facilitate access to housing, to improve the quality and functionality of housing and to increase the residential mobility of the population. Over the years, the Fund's tasks have extended from policy implementation to investment, management and construction activities. After Slovenia gained independence in 1991, there was a massive privatisation of the public housing stock (Cirman, 2017). Overseeing the privatisation was one of the first tasks for the newly created Fund in Slovenia, as the role of the state in the housing market was slowly diminishing (Cirman & Mandič, 2013). Provisions from the privatisation of public dwellings were allocated to the Fund, and over the period of 30 years of the Fund's existence, almost 3,000 housing units were sold at favourable prices (HFRS, 2021). Originally, one of the Fund's main tasks was to provide favourable loans (around 3%) mainly to non-profit housing organisations so that they could construct housing units to accommodate young families with children, single-income families, the physically handicapped and three-generation households (Sendi, 1995). At present, there is a ten-year strategy in place, which is set to finish in 2025, that aims to increase the supply of dwellings and to support disadvantaged and vulnerable people The Fund's main activities currently include promoting investment in new construction to increase the public rental housing stock through long-term loans, housing saving schemes, direct investment in projects, management of the existing housing stock and the development of pilot projects. (HFRS, 2021). Under the NHP, for each public dwelling sold, the Fund is obliged to dedicate one dwelling for rental use (Cirman, 2017). The Fund develops its own projects as well as projects in cooperation with municipal housing associations and housing cooperatives. The current strategy runs from 2015 to 2025 and focuses on renewing the housing stock, increasing affordability through various financial instruments such as mortgage insurance and building new housing (BMVBS, 2009; European Commission, 2017). Among other objectives, the Fund plans to acquire up to 500 public rental housing units, 150 assisted rental housing units and 50 places in retirement homes, as well as up to 3,280 public rental housing units for young families in the period 2021-2025. One of the recently completed projects co-financed by the Fund is the construction of housing for young people and seniors in the city of Ljubljana. The Housing Fund received a favourable loan of €50 million from the Council of Europe Development Bank (CEB) for the construction of 500 rental flats for 498 families and individuals. According to the director of the Housing Fund, Črtomir Remec, on its completion in 2021, this will be the "largest housing construction in independent Slovenia". Some similar projects are in the development phase while others are scheduled to start in the near future, co-financed by the CEB and the Housing Fund. Moreover, around €60 million for affordable housing has been obtained from European Commissions Recovery and Resilience Fund. The Funds' structure The founding body of the Fund is the Republic of Slovenia. It is governed by a supervisory board consisting of two members of the Ministry of Spatial Planning, one member of the Ministry of Finance, one member of the beneficiaries and one member of the legal department. In addition to the Fund, there are 13 registered municipal public funds in Slovenia that are responsible for implementing municipal housing programmes. The day-to-day operations of the Fund are managed by 40 employees (31 December 2020) and the total assets of the Fund amount to more than €400 million (HFRS, 2021). The main sources of funding come from the sale of housing units, transfers from the state budget, foreign and domestic grants, the issuance of the Fund's securities, the sale of other non-operating assets under the Fund's management, and income from the rental of housing and long-term loans. The Fund owns two subsidy companies, a building management company and a property consultancy company, employing around 30 and 20 people respectively. At the end of 2020, there were 3,825 public rental housing units managed by the Fund. It is modernising its platform to better manage rental housing applications (HFRS, 2021). Shortcomings of the Fund's operations At the beginning of the Fund's operation in the early 1990s, the Minister of Environment, who was one of the authors of the Housing Act on the basis of which the Housing Funds had been established, claimed that 20% of the proceeds from the sale of the housing stock owned by the local authorities had not been paid into the Housing Fund by the local authorities, as stipulated in the Act. Due to the lack of these funds, the objectives of the fund were not achieved in the first years of its operation and its development was hampered. (Sendi, 1995). Other observations by the European Commission (2017) state that the programme is not on the right track because of the lack of legislation to facilitate new pilot projects and innovative solutions. This report also points to the underfunding of the fund. It estimates that at least 220 million euros are needed to achieve the goals, while claiming that the administration, with 40 staff, is not sufficiently staffed to fulfil all the tasks. Moreover, since the rentals the Fund charges are below market levels, it has difficulty attracting private companies to invest in social housing. The last remark in the report is that homeless people, people who have been evicted and live in overcrowded flats, do not fall within the scope of the fund's activities (see also FIlipovič Hrast, 2019). Final remarks Compared to neighbouring EU Member States, namely Croatia, the Fund is seen as an innovation in the context of the post-privatisation period. For example, after its privatisation in the early 1990s, Croatia sold almost all of its public housing stock without developing a vision or strategy to reinvest the proceeds in affordable housing. In contrast, Slovenia had the institutional capacity to establish a national governing body to oversee and implement the housing strategy and take responsibility for the construction and maintenance of the public and social housing stock. Since then, the Fund has become the cornerstone of any future housing policy development. With its 30 years of experience and expertise, the Fund is an example of best practise and a goal that countries with similar circumstances should strive for, namely post-socialist countries with high levels of home ownership and a non-existent national housing strategy.
Asset-based Welfare
Housing Governance
Area: Policy and financing
In Europe, increasingly longevity is driving the trend towards an ageing population . Furthermore, at a global level, average life expectancy has increased over the last fifty years from 58.6 years in 1970 to 72.7 years in 2019 (World Bank, 2021), and could reach 76,6 years by 2050 (Statista, 2021). In the literature reviewed, "older people" are described as the population aged 65 and over (Harper et al., 2016; Johnson, 2015). A recent UK study (Harper et al., 2016) found that the average age of the UK population exceeds 40 years for the first time in history. The same study predicts the working age group of older people, which makes up the population aged 50-66, will increase from 26% in 2012 to 34% in 2050, an increase of 5.5 million people. However, longevity is not usually accompanied by an understanding of the quality of living. The increase in the elderly population is overwhelming the health care system of the modern welfare state. The elderly are becoming more dependent on health services, while the support of younger generations is decreasing due to their increased occupational mobility and different lifestyles (Bađun & Krišto, 2021). Asset-based welfare could be defined as a set of policies and measures that address and promote individual wealth accumulation over the course of our lives in order to reduce an individual's dependence on the pension system through the consumption of that asset (Lennartz & Ronald, 2016). There could be many forms of asset-based welfare, and it should be oriented toward the local context. For example, asset-based welfare is embedded in the housing market in Japan, Singapore and South Korea (Doling et al., 2013); (Oh & Yoon, 2019). Retirees in the US or the UK are more likely to finance a reverse mortgage, while retirees in post-socialist countries are more likely to enter into care exchange contracts or an intergenerational transfer. In the post-socialist countries of Eastern Europe, most pensioners are homeowners who have high assets and low monthly income (Kunovac, 2020). For pensioners who became homeowners during their working years, there are a few ways to use their homes in order to secure a higher standard of living in retirement. There are two main scenarios for using your assets to increase the standard of living: one is to move out of the current home, either by downsizing or selling it; the other does not require moving and usually involves renting part of the home or entering into a financial transaction such as a reverse mortgage or insurance contract (Bađun & Krišto, 2021). Both scenarios represent asset-based welfare, as assets (rather than income) are used to increase well-being. In the past, asset-based welfare used to be practised in traditional rural communities when elderly people without successors contracted with their neighbours to provide for them in exchange for their family assets. The European financial market for asset-based welfare is at an early stage of development and is only available to a limited extent in the UK, Spain, France and Germany (Bađun & Krišto, 2021). In other countries, there are different forms of transaction in play. For example, according to a survey carried out by the European Commission, 86% of the Croatians prefer to take care of their parents, rather than having their parents sell their property to increase their income (Bađun & Krišto, 2021). Similar results could be found in other post-socialist countries with a high level of "familialism", i.e., intergenerational living with strong family ties (Eggers et al., 2020; Sendi et al., 2019; Stephens et al., 2015) , and homeownership, where the idea of "consuming" the equity to pay for old-age care is unpopular. According to (Kerbler & Kolar, 2018), the Slovenian pensioner, even if starving, would rather not sell or mortgage their homes, while according to Sendi et al., (2019) pensioners in Slovenia "strongly reject all equity release products". A potential model of asset-based welfare that could be implemented in Croatia was presented in 2015 in the policy document "Social picture of the City of Zagreb" (CERANEO, 2016). This model would represent an innovation in social welfare by creating an institutional support for a contract through which the assets would be transferred to the city after the death of the person and in return the city would provide care for the elderly. This contract would ensure adequate care for the elderly and provide the city with a housing stock for public or social rental. In addition, this type of contract would be a viable alternative to the current practise of doing business under a "lifetime support contract" or a "support contract until death". In 2021, 1,300 such contracts were concluded, but in practice this is not well regulated (Annual report of the Ombudswoman of the Republic of Croatia, 2021). There have been cases of contracts between only one individual providing services to tens of benefactors. Many of these contracts end up contested by the surviving family in court, making this type of transaction risky (CERANEO, 2016).
Created on 03-06-2022
Read more

->
Area: Policy and financing
The shift from 'government' to 'governance' has been debated since the early 1970s. Whilst state interventionism had been widely embraced within western societies during the post-war decades, governments gradually moved from exercising constitutional powers to acting as facilitators and cooperative partners (Rhodes, 1997). Over the course of a few decades, this resulted in governance as 'interactive social-political forms of governing' (Nag, 2018, p. 124). Hira and Cohn (2003, p. 12), influenced by Keohane (2002), define governance as "the processes and institutions, both formal and informal, that guide and restrain the collective activities of a group". Its decentralised and flexible nature could still include public actors but would also leave space for private and third-sector parties to provide services in hybrid and temporary institutional arrangements. To formulate one single definition of 'housing governance' as a particular mode of governance is however difficult due to its multilevel character. Housing could relate to either a family home, a housing association, or a complete local/national housing governance framework. On a household level, Wotschack (2005, p. 2) defines governance as managing "the daily time allocation of spouses by household rules and conflict handling strategies". The work of Wijburg (2021) indicates that local/municipal governance entails a set of public interventions, strategies, policies and provisions used to provide local needs (e.g. housing supply). On the national level, Yan et al. (2021) define public rental housing (PRH) governance as "a structure of a wide range of government and non-governmental actors that act in all its phases of PRH provision from policy design to implementation and realisation".[1] This specific definition on PRH combines the domestic definition of governance with Wijburg's understanding of governance on the local level. Within the Chinese context, the national government provides policies and creates nationwide operational methods, whilst local governments implement and formulate the policies locally (Yan et al., 2021). Critics point out that a more decentralised governance structure complicates the public accountability of housing provision. Peters and Pierre (2006, p. 40) distinguish problems concerning the 'isolation' and 'enforcement' of accountability. The former refers to demarcation, as it is easier to measure the performance of a government housing agency directly responsible for new build and operations, than those from the private sector in an indirect role trying to stimulate and facilitate other actors and contracting out construction and operations (Shamsul Haque, 2000). The latter relates to the accountability deficit that arises when responsibility is transferred from democratically governed municipal agencies to actors without a representative institutional arrangement, and thus without control mechanisms for tenants or the wider population (Mullins, 2006). Throughout history, understanding of governing has evolved together with the role of government. The state plays a different role in capitalism, corporatism and socialism, which has varying effects on local and/or (inter)national levels. Whilst the above paragraphs describe housing governance within a democratic governance regime, transferring the conceptual debate to autocratic or hybrid regimes would pose difficulties. Thus, finding a unique definition of housing governance applicable in all spheres remains a challenge, and the specific context must be carefully considered. Important challenges remain, and as housing provision mechanisms evolve, further exploration of housing governance, especially on a municipal level, are likely to gain importance (Hoekstra, 2020). [1] "Housing provision is a physical process of creating and transferring a dwelling to its occupiers, its subsequent use and physical reproduction and at the same time, a social process dominated by the economic interests involved" ibid.
Created on 16-02-2022
Read more

->
Horvat, M. & Bežovan, G. (2022, August-September). Analysis of sustainability of service providers for social integration of the homeless in Croatia [Conference paper]. European Network for Housing Research (ENHR) Conference 2022. Barcelona, Spain.
Posted on 27-05-2022
THE COMEBACK OF THE DUTCH SOCIAL LANDLORDS? HISTORY AND FUTURE PERSPECTIVES
Posted on 04-10-2023