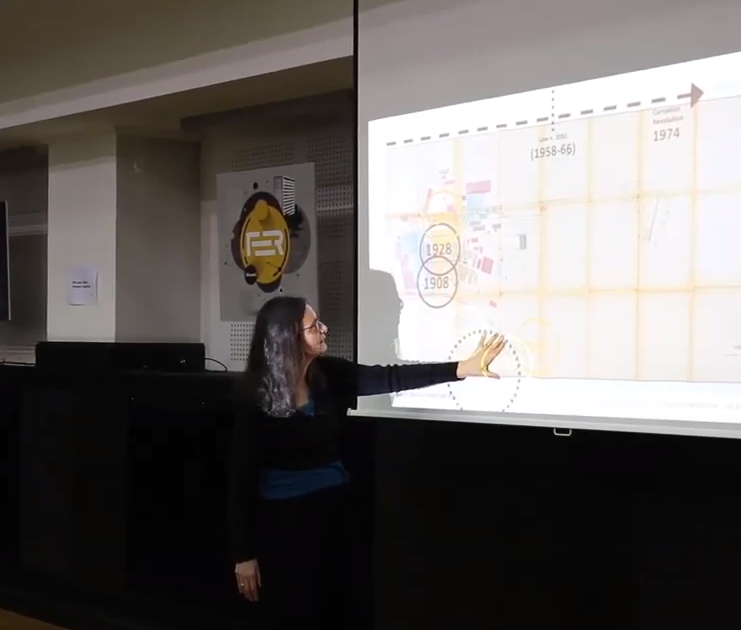 Keynote Ana Vaz Milheiro - Zagreb Workshop
Posted on 23-06-2023
"Portuguese residential strategies before the Carnation Revolution: designing affordable neighbourhoods", keynote held by Ana Vaz Milheiro, ISCTE- University Institute of Lisbon, 31 March 2023, at the workshop organized by the University of Zagreb.
Keynote Montserrat Pareja-Eastaway - Zagreb Workshop
Posted on 23-06-2023
"Beyond the market: transforming the housing agenda in Europe", keynote by Montserrat Pareja-Eastaway, University of Barcelona, on 30 March 2023, at the workshop organized by the University of Zagreb.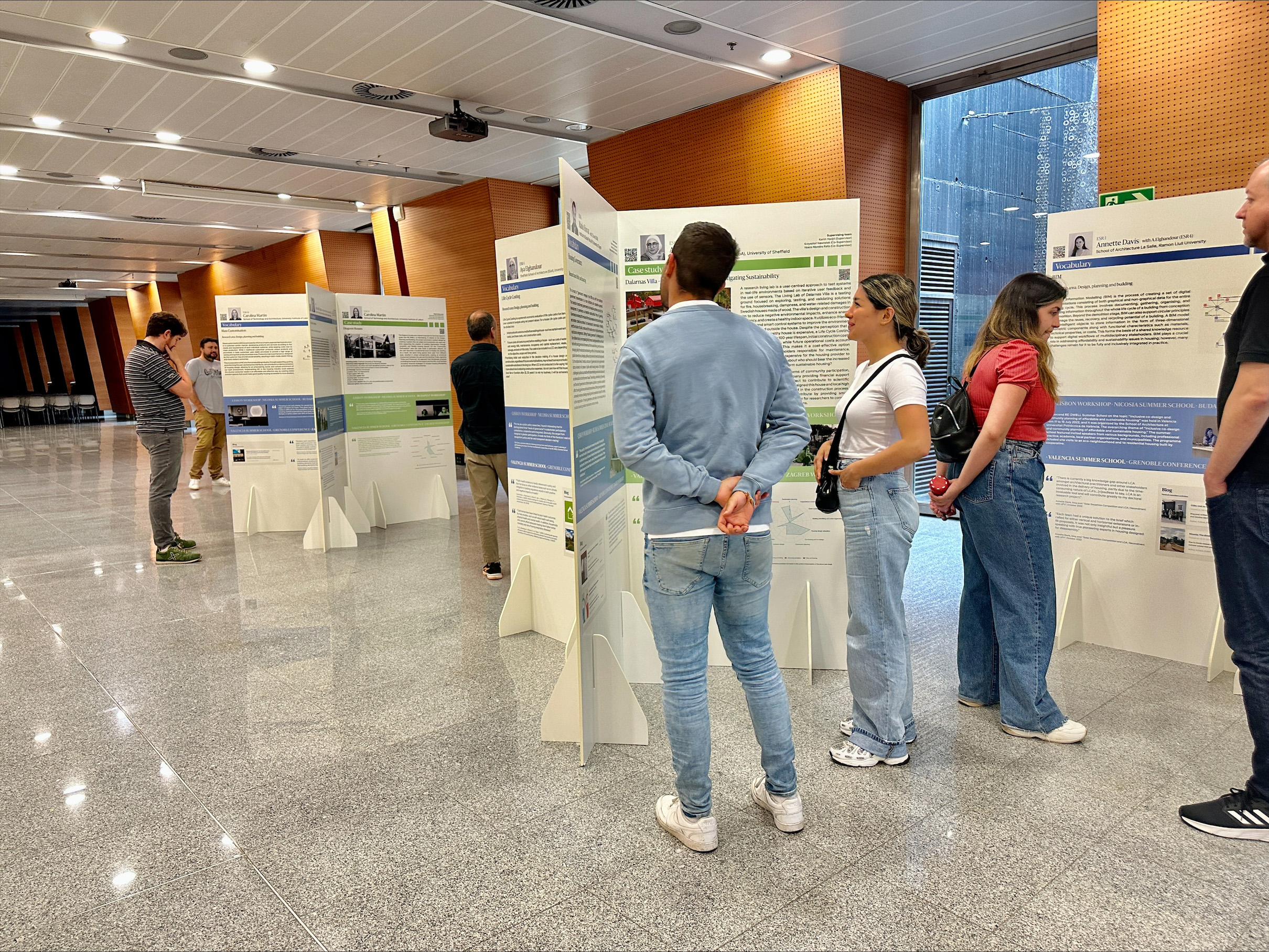 Exhibition at La Salle Campus Barcelona
Posted on 15-06-2023
The collective research work of the network is on display at La Salle Campus Barcelona, from June 15 to June 22, 2023. The panels had been displayed before at the ISHF 2023. The panels in the original size (1m x 2m) are availalble in the section Materials.
Last news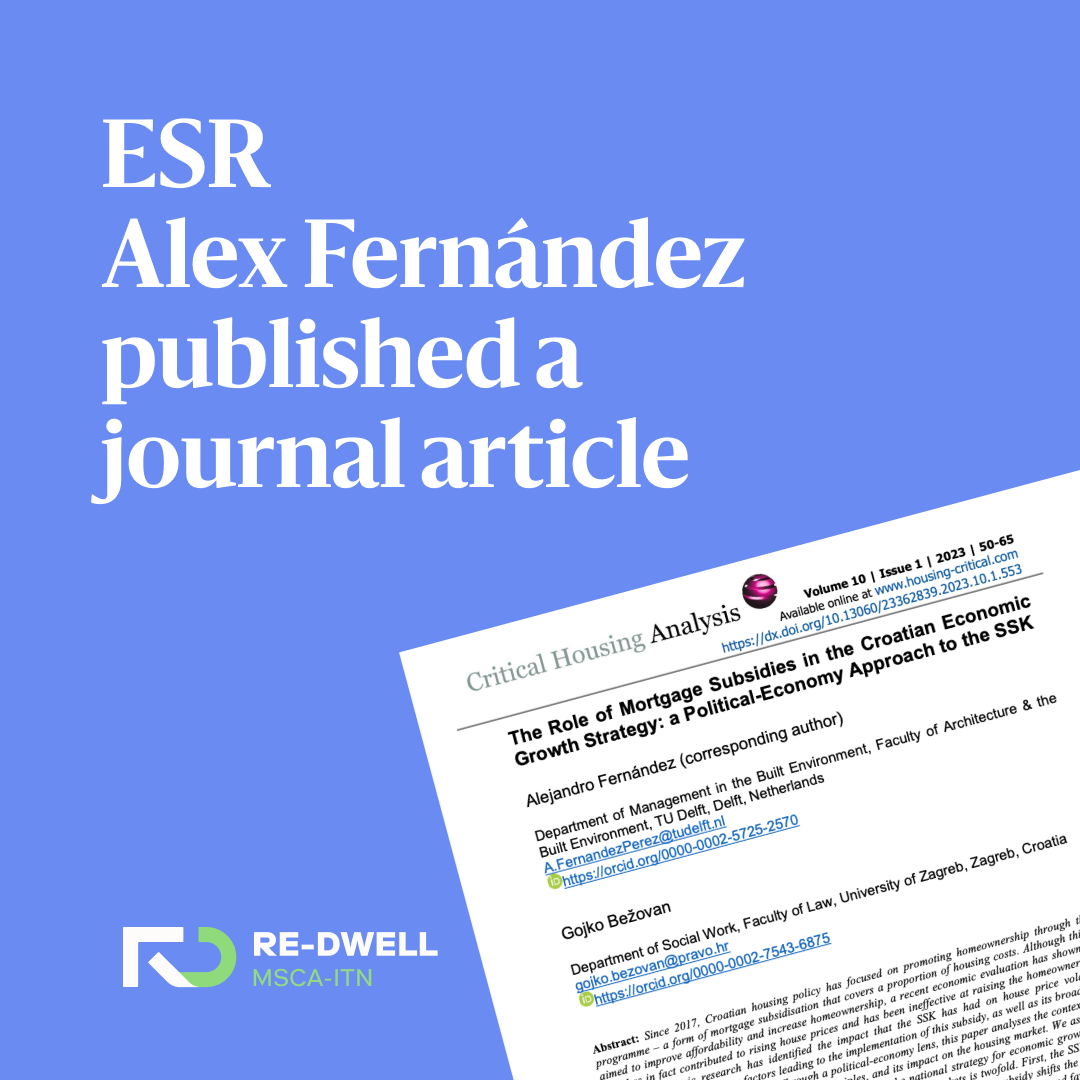 ESR Alex Fernández published a journal article with supervisor Gojko Bežovan in Critical Housing Analysis
Published on 14-07-2023
On June 16, ESR Alex Fernández, together with his supervisor, Prof. Gojko Bežovan, published the article "The Role of Mortgage Subsidies in the Croatian Economic Growth Strategy: A Political-Economy Approach to the SSK" in the journal Critical Housing Analysis.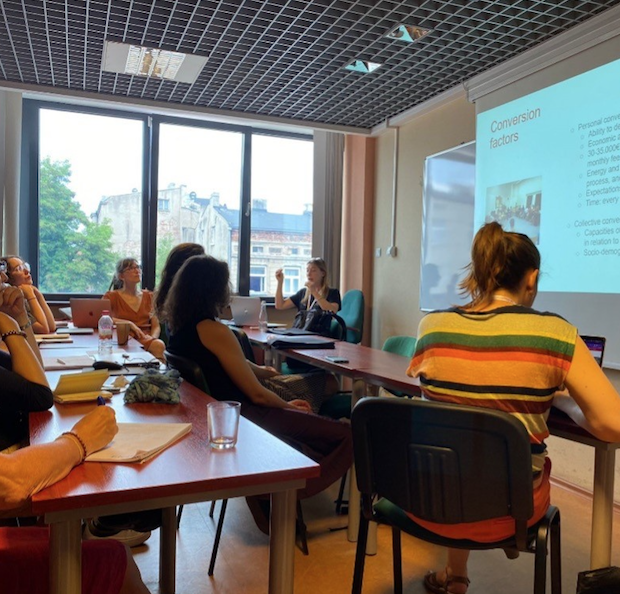 RE-DWELL present in the ENHR annual conference
Published on 14-07-2023
RE-DWELL participated in the European Network Housing Research (ENHR) annual conference "Urban Regeneration: Shines and Shadows", which was held in Łódź, Poland, from June 28 to 30. Zoe Tzika presented the paper "Understanding community participation in cooperative housing using the capabilities approach: The case of Catalonia" at a collaborative housing workshop organised by Prof. Henrik Gutzon Larsen, Prof. Darinka Czischke and Prof. Claire Carriou. Also, Prof. Gerard Van Bortel, RE-DWELL co-supervisor, presented the paper "Quadruple helix innovations in the provision of sustainable and affordable housing: the role of universities" at the social housing workshop. More information: https://www.uni.lodz.pl/enhr2023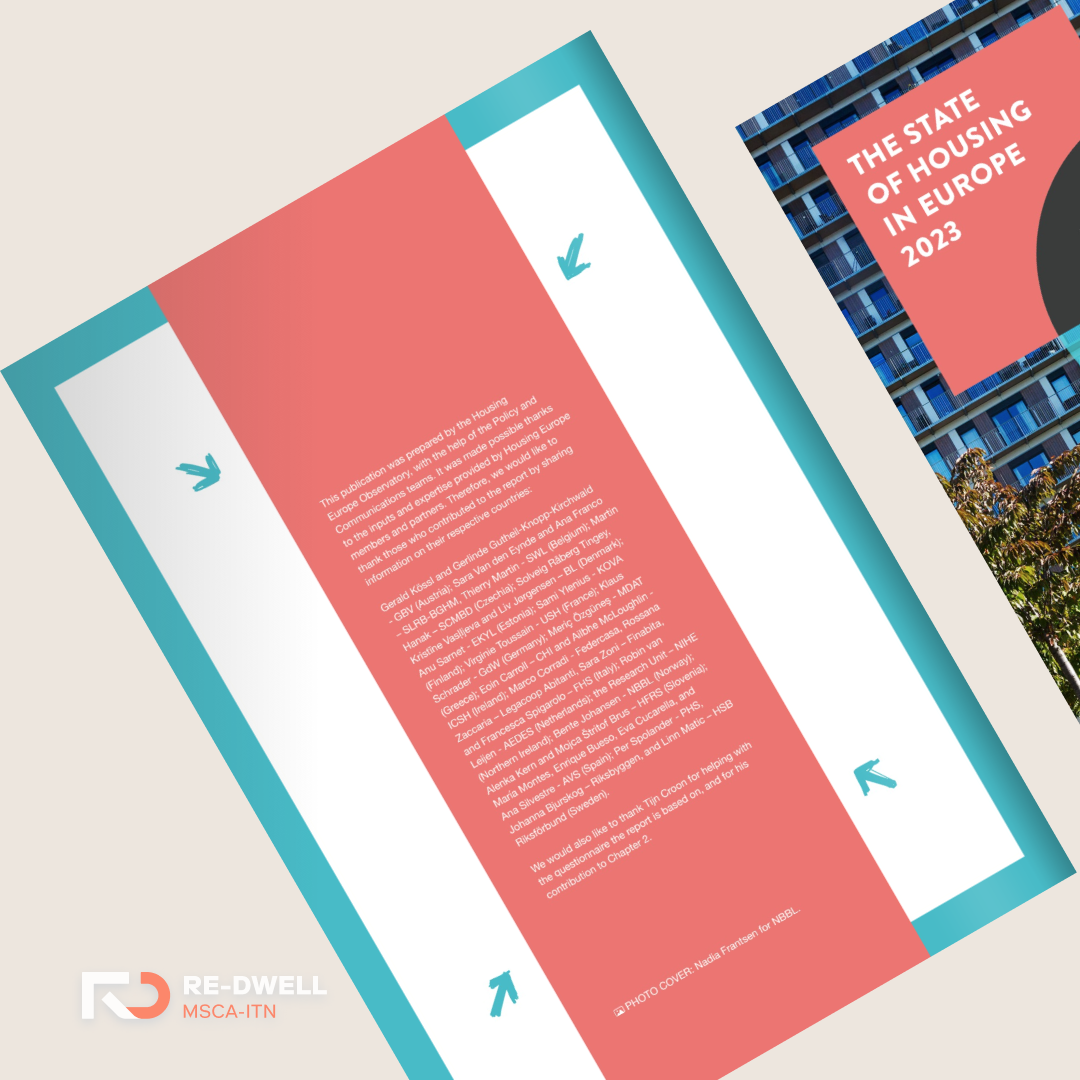 ESR 11 Tijn Croon contributes to State of Housing in Europe 2023 report
Published on 28-06-2023
RE-DWELL's ESR 11, Tijn Croon, has contributed to the State of Housing in Europe 2023 report, which was produced by the Housing Europe (HE) Observatory in collaboration with the HE's Policy and Communications teams. The report's main authors, Alice Pittini and Dara Turnbull, worked alongside social housing providers to examine the state of housing in Europe, with particular attention given to the ongoing cost of living crisis. Tijn contributed to the questionnaire upon which the report is based and provided input for Chapter 2, which delves into "Energy and Cost of Living Crisis: Trends and Responses from the Sector".
View more
Last blog entries
Exploring the right to housing in Spain: some reflections
Posted on 22-09-2023
I had the chance to participate in the seminar, `Housing and Neighborhood´ (Vivienda y Vecindario), held in Valencia and organized by the Universidad Internacional Menéndez Pelayo. The seminar, directed by Carles Dolç Soriano and David Estal Herrero, provided an interdisciplinary platform for learning from academics, policymakers, and members of social movements and reflecting on the state of housing in Spain and the ongoing challenges it faces. Historically, Spain has favoured private ownership in housing, and there have been limited public housing options. However, in recent decades, the landscape of housing has undergone significant changes. As affordable, adequate and sustainable housing seems unreachable for a big part of the population, issues such as the scarcity of social housing, the increasing vulnerability of the residents in certain urban areas and neighbourhoods, the growing need for community-oriented housing solutions, and the issue of reuse of vacant properties through rehabilitation, need to be addressed. The starting point for the discussions was the new housing law, which came into effect in Spain in May. This landmark legislation is the first of its kind, aimed at establishing principles and guidelines for ensuring equal access to affordable and adequate housing for all. Doubts have arisen about the law's effectiveness, particularly regarding the lack of specific implementation mechanisms, as the responsibility for regulating the housing market and providing solutions falls on each autonomous community. Despite these challenges, the recognition of housing as a fundamental human right is steadily gaining ground. As a consequence, the debate that took place focused on how this right to housing should be realized, taking into account all the current challenges, as well as the mistakes of past policies, and thinking on strategies and tools to achieve it. The seminar provided an opportunity for collective reflection on public housing policies, new architectural typologies and models that promote and support community living, and the enhancement of energy efficiency in vulnerable households facing energy poverty. In the world that we live in today, a world vastly different from the times that produced the established housing systems, we face urgent social and environmental crises. Housing can no longer be viewed as a commodity with exchange value, it must be recognised as a shelter, a fundamental human need that takes precedence over all other societal concerns. This makes us wonder whether now is the moment for radical changes, to push for tangible solutions and for new models. These discussions and reflections make us think that we are maybe evolving towards new cultures of inhabiting.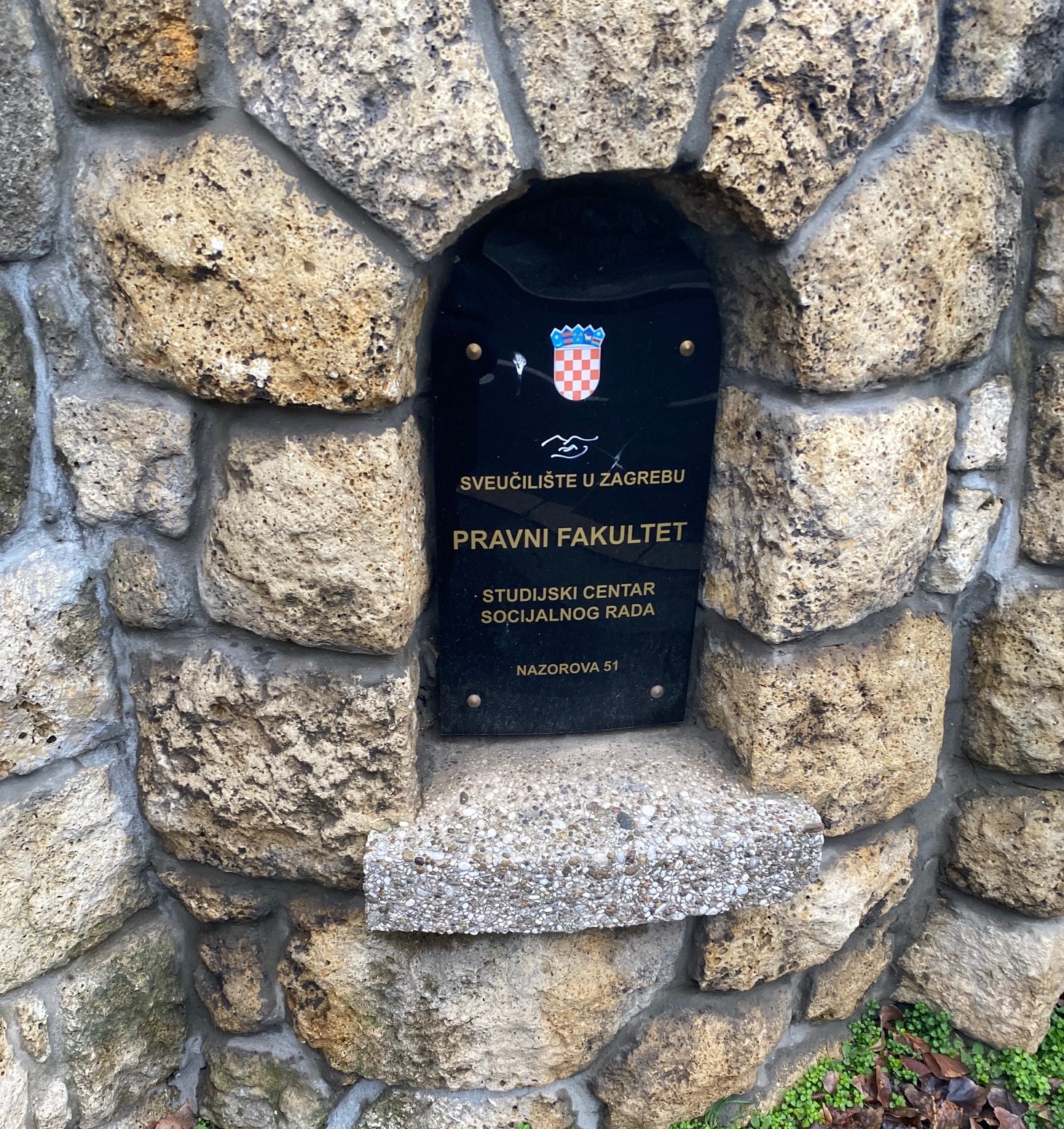 Social Sustainability in post-communist countries
Posted on 18-09-2023
During my secondment at CERANEO, I gained valuable knowledge about housing needs in Croatia and about the causes and effects of homelessness together with the various programs and interventions that can be used to prevent and reduce homelessness. I also learned about advocacy and how to collaborate with civil society organizations to achieve social change. I am grateful for the opportunity to meet with such dedicated and passionate people, like Mr. Zvonko Mlinar (Croatian Network for the Homeless), Professor Olja Druzic Ljubotina (University of Zagreb, Faculty of Law, Department of Social Work) and Maja Bukovšak (Croatian National Bank). In the case of the Croatioan Network for the Homeless, I had an insight into the work of the network. I saw the "different faces" of homelessness and how the network continues to advocate for the rights of homeless people and to promote policies that will improve their lives. Hopefully, Housing First can be proven effective in Croatia, helping homeless people find and maintain permanent housing. My visit to the Croatian National Bank was useful for my macro investigations. I familiarized myself with statistics and different studies (about relevant provisions, and loan schemes that are/were unique or highly relevant) that can help my work. I checked out and discussed the proportion of housing loans compared to GDP (total outstanding residential loans to GDP ratio), also, I looked for information about existing subsidies, the number of transactions per year, and the characteristics of the system of housing finance. (We discussed questions, such as: Is there a relevant difference between the number of "investment" loans - and the number of traditional housing loans? What are your thoughts about the relevance of spatial inequalities in the country? What do you think of the importance of Euro? Is there a correlation between housing loans and housing costs? Who is the main target group of housing loans? What do you think about the role and consequences of inflation these days? What do you think about the risk of people not paying back loans? Do you see significant patterns in building permits/housing completions? Is there an estimation for new constructions? And so on.) During my stay in Zagreb, I explored the possibility of making a comparative study between Croatia and Hungary. My specific interest lies with social sustainability in these post-communist countries, where homeownership is a dominant form of housing tenure (it is accepted as a social norm), while adequate housing is unaffordable to more and more people. It is interesting to see (historically) how Croatia and Hungary succeeded/failed in "regulating" the market, noting special "cracks" in their systems. Altogether this secondment completes my previous secondments nicely. I like the way CERANEO is working on projects with a focus on trends in social development, such as poverty and unemployment, and monitoring the provision of social services, such as housing and healthcare. I honestly believe that housing and healing (care) have a close connection and it is timely to investigate and critically reflect on the contested provisioning of these two sectors. CERANEO and the Croatian Network for the Homeless are making a real difference in the lives of homeless people in Croatia. I commend them for their work, and I encourage them to continue to fight for the rights of homeless people. Finally, I would very much like to thank Professor Bežovan and Marko Horvat for making my stay worthwhile with their constant support and productive help.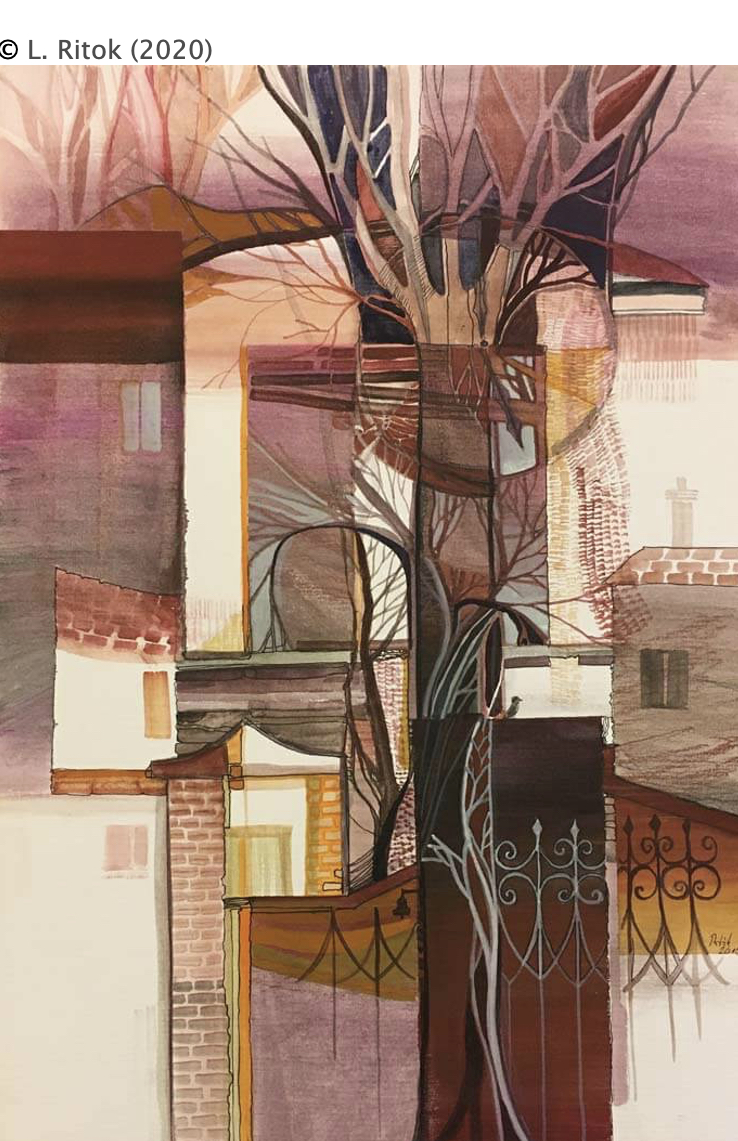 Activism and Philanthropy: A Call for Collaboration in Addressing Housing Affordability and Social Challenges in Europe
Posted on 13-09-2023
Over the past few decades, housing affordability for low-income individuals and families in Europe has been on a steady decline. The marketized housing systems, which once promised a sustainable and socially vibrant living environment, have been plagued by long-term issues that have threatened the very fabric of our communities. Within the European Union, member states share both similarities and differences, ranging from institutional and legal frameworks to political landscapes. Following the transition to multiparty democracies in Eastern European countries, there was a glimmer of hope as these nations boasted a well-educated and cost-effective workforce. However, the path to development has been marred by various challenges, including recession, privatization, restitution, and price liberalization. These hurdles have particularly impacted the social aspects of these countries, leading to persistent social tensions. Despite significant progress since the early 1990s, negative demographic trends continue to exacerbate the existing social challenges. Additionally, the prevalence of informal economies in these countries remains higher compared to their counterparts. This can be attributed to reduced tax revenues and inadequate support schemes that fail to target those in need. It is clear that the current support systems are dysfunctional and require a collaborative effort from various stakeholders to bridge the gaps and foster mutual learning. In light of these pressing issues, it is crucial for activism and philanthropy to join forces and work hand in hand. Activism, with its ability to raise awareness and mobilize communities, can shed light on the dire housing affordability situation and advocate for policy changes that prioritize the needs of low-income owners and renters. Philanthropy, on the other hand, can provide the necessary resources and support to implement sustainable solutions that address the root causes of the problem. By fostering a close collaboration between activists, philanthropists, policymakers, and other stakeholders will enable us to develop innovative strategies that tackle housing affordability and social challenges in a holistic manner. It is only through such collective efforts that we can restore sustainability and social cohesion within our communities. Here are some key elements that can contribute to addressing challenges: 1. Long-term Vision and Housing Policy Framework: A clear and comprehensive housing policy framework is essential to guide decision-making and ensure a long-term vision for affordable and sustainable housing. This framework should prioritize the needs of low-income individuals and families and address the root causes of housing affordability issues. 2. Strategy to Fight Homelessness: It is crucial to develop a strategy that focuses on preventing and addressing homelessness. This includes measures to stop the criminalization of homelessness and provide protection for vulnerable groups, such as families with children. Adequate support and resources should be allocated to ensure that those in need have access to safe and stable housing. 3. Alleviation of Housing Poverty: Housing subsidization should be targeted towards those who are in genuine need, ensuring that the most vulnerable individuals and families receive the support they require. 4. Increasing the Stock of Affordable Housing: Efforts should be made to increase the availability of not-for-profit and affordable housing. This can be achieved through partnerships with housing providers, philanthropic organizations, and other stakeholders. Investing in the development of new homes and renovating existing ones can help expand the stock of affordable housing. 5. Supporting Energy-Efficient Renovations: Many housing units are in poor condition, contributing to energy poverty and environmental degradation. Supporting energy-efficient renovations can improve living conditions, reduce energy costs, and contribute to sustainability goals. Funding and incentives should be provided to encourage homeowners and landlords to undertake these renovations. 6. Collaboration between Housing Providers and Philanthropy: Housing providers, including local authorities and community organizations, play a crucial role in delivering affordable and sustainable housing services. However, they often face challenges in funding and resources. Philanthropic organizations can play a vital role in providing funding and support for essential community investments. This collaboration can lead to the development of stronger community efforts and innovative housing solutions. 7. Flexibility in Funding: Greater flexibility in utilizing EU funding for housing initiatives, combined with central state support, can help foster the growth of affordable rental housing and combat energy poverty. This flexibility allows for tailored approaches that address the specific needs of different regions and communities.
View more