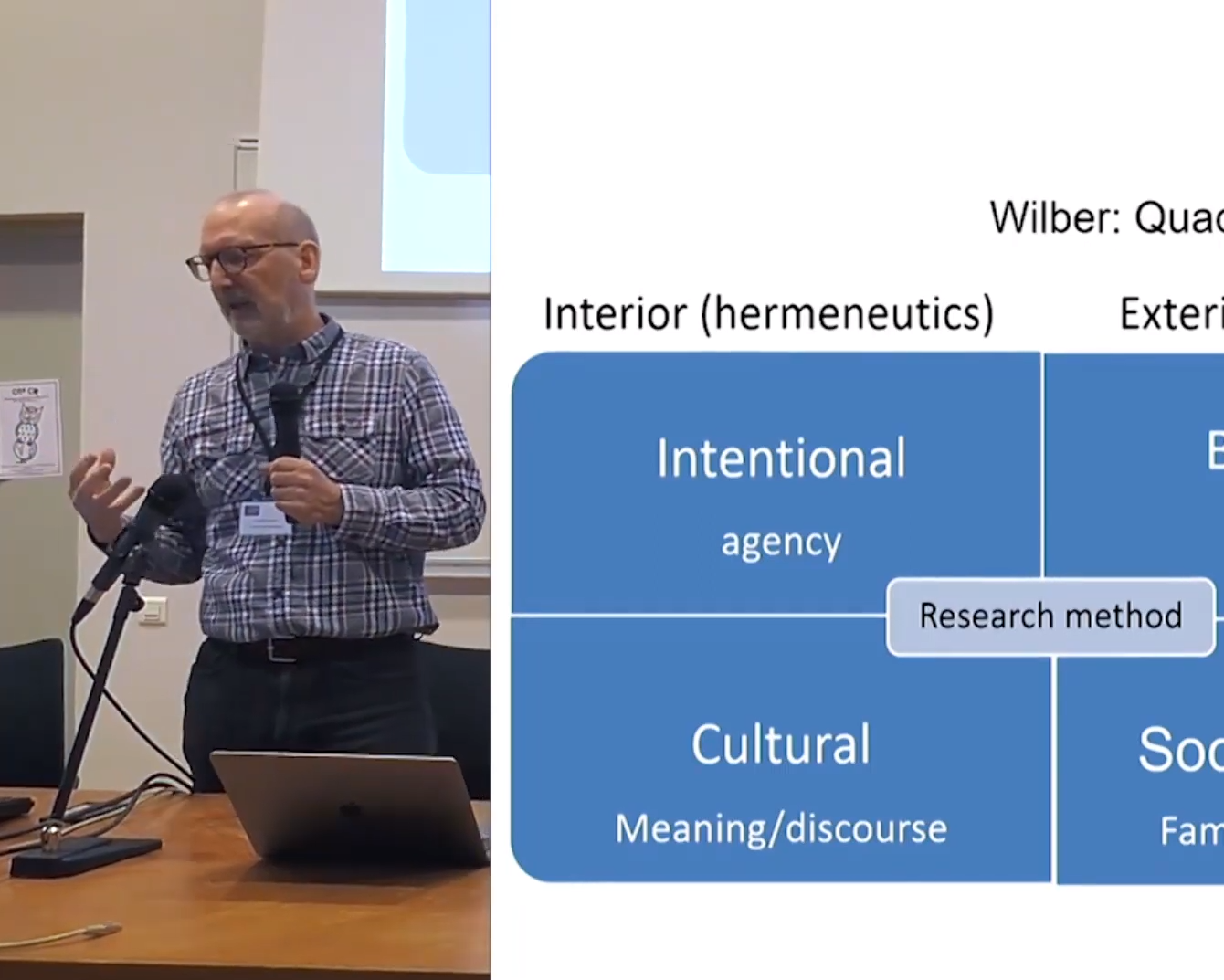 Keynote David Clapham - Grenoble Conference
Posted on 14-03-2023
"Inhabitation in Nature: houses, people and practices", keynote held by David Clapham, Glasgow University, at the RE-DWELL Grenoble conference, 8 December 2022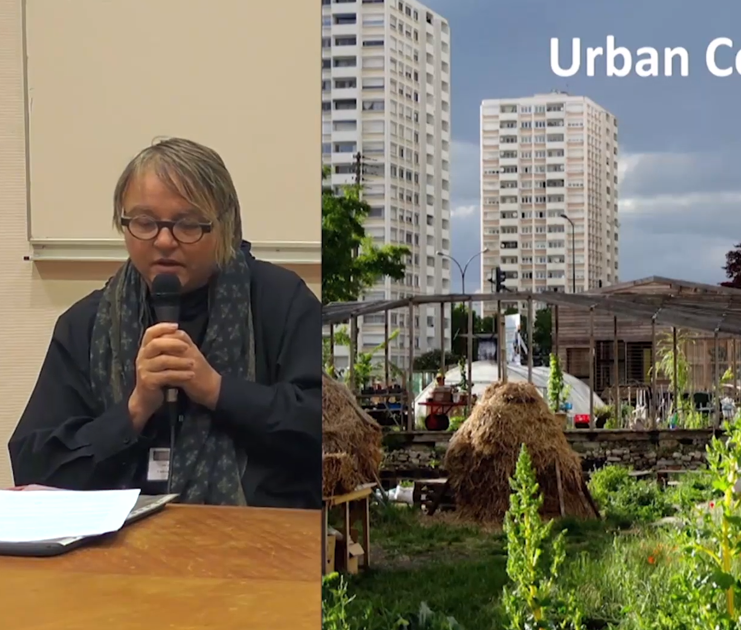 Keynote Doina Petrescu- Grenoble Conference
Posted on 14-03-2023
"Commons-based resliience and ecological reparation in social housing estates", keynote held by Doina Petrescu, University of Sheffield, at the RE-DWELL Grenoble conference, 9 December 2022.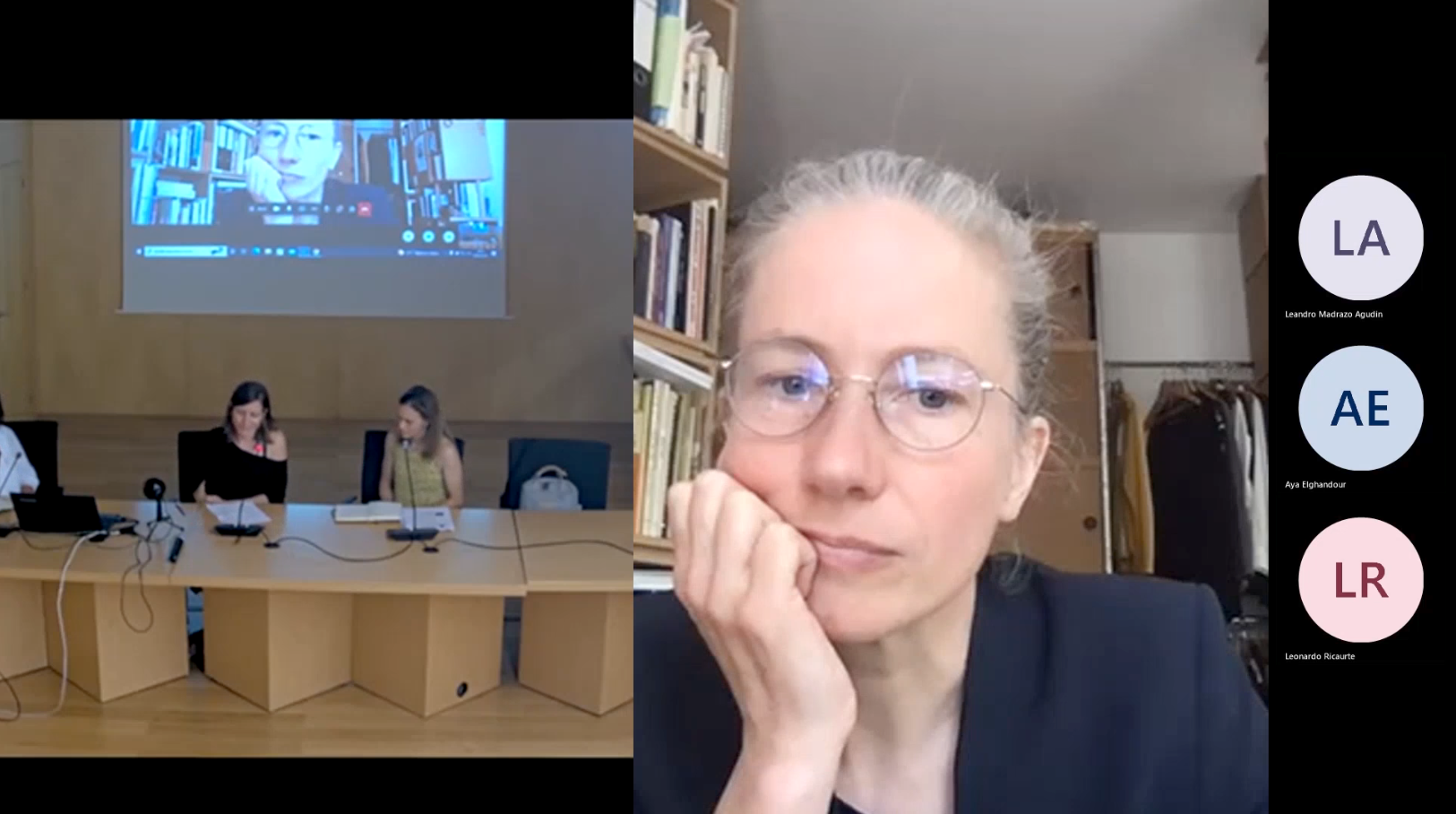 RE-DWELL Roundtable #4: How can community participation in the provision of affordable and sustainable housing be guided?
Posted on 28-07-2022
This roundtable took place in the Universitat Politècnica de València, during the Valencia Summer School, on 14 July 2022. The panel members were: • Anne Kockelkorn, Assistant Professor of Dwelling in the Department of Architecture, TU Delft. • Blanca Pedrola, architect, Associate Professor, CEU Cardenal Herrera University. • Isabel González, architect, Fent Estudi Cooperative. The discussion was moderated by: • Nadia Charalambous, Associate Professor, Department of Architecture, UCY.
Last news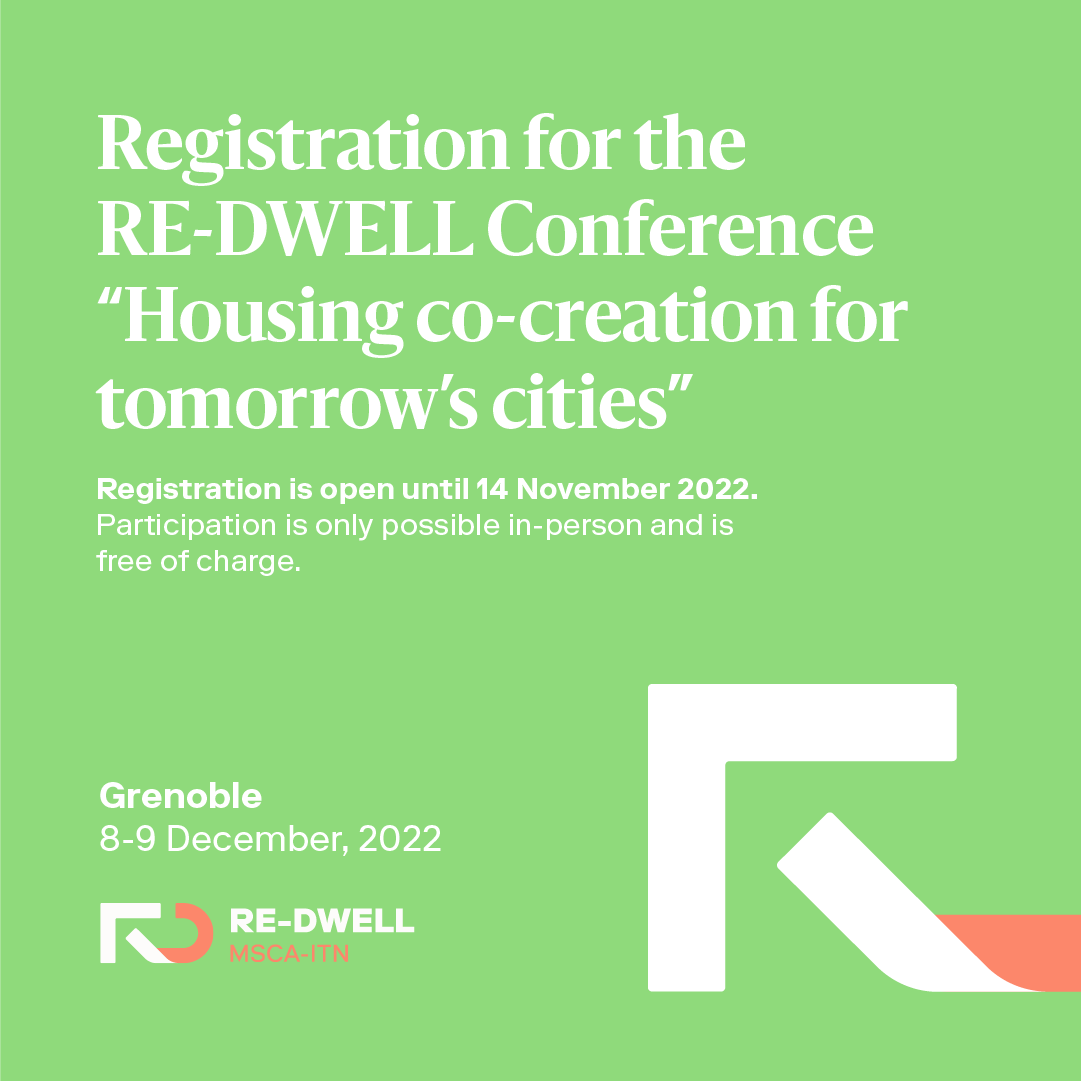 Registration for the RE-DWELL Conference "Housing co-creation for tomorrow's cities" is now open.
Published on 21-10-2022
RE-DWELL Conference, Grenoble https://www.re-dwell.eu/activities/conferences/grenoble Registration for the RE-DWELL Conference "Housing co-creation for tomorrow's cities", Grenoble, December 8-9, 2022 is now open. Participation is only possible in-person and is free of charge. You can register at https://re-dwell2022.sciencesconf.org/
Two new reports published
Published on 07-10-2022
Two new reports are published in RE-DWELL website about the Budapest Worskhop and the blended learning methods and tools to support a transdisciplinary collaborative research on affordable and sustainable housing. They can be accessed at https://www.re-dwell.eu/reports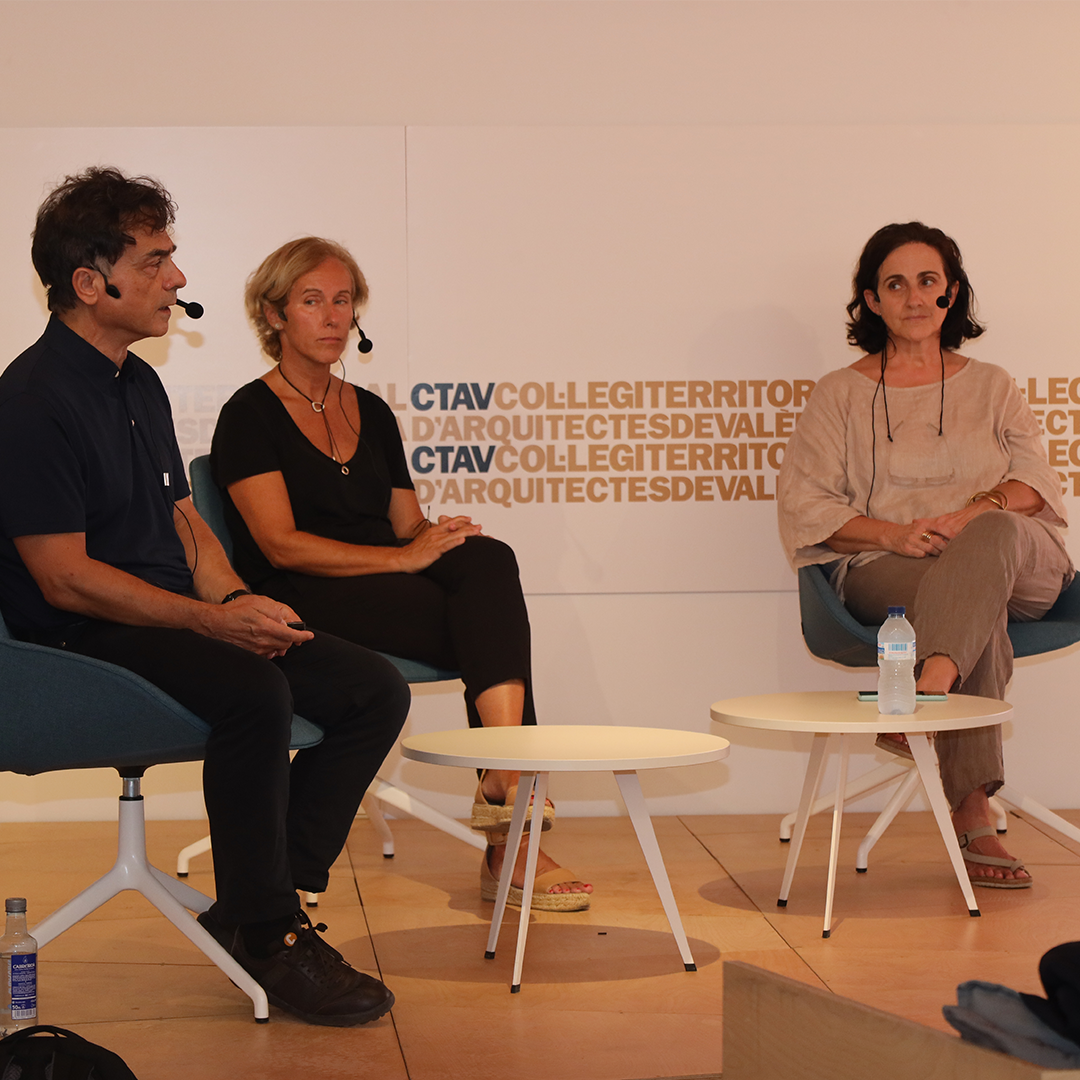 RE-DWELL exhibition. Closing session "Innovation in sustainable and affordable housing"
Published on 22-09-2022
The RE-DWELL exhibition, which began on 8 September at the Valencia Chamber of Architects, ended on 22 September 2022. Carla Sentieri from the School of Architecture of the Universitat Politècnica de València, partner of RE-DWELL, curated the exhibition. The closing session was dedicated to the theme "Innovation in affordable and sustainable housing". Leandro Madrazo, project coordinator, addressed the intertwining between housing affordability and sustainability and explained the research and training framework that is being implemented in RE-DWELL to address this issue from a holistic and transdisciplinary perspective. Video closing session: https://www.youtube.com/watch?v=cQTaIiMj-6k Closing session: http://arquitectosdevalencia.es/contenido/conferencia-innovacion-en-vivienda-sostenible-y-asequible/ Exhibition: http://arquitectosdevalencia.es/contenido/conferencia-innovacion-en-vivienda-sostenible-y-asequible/
View more
Last blog entries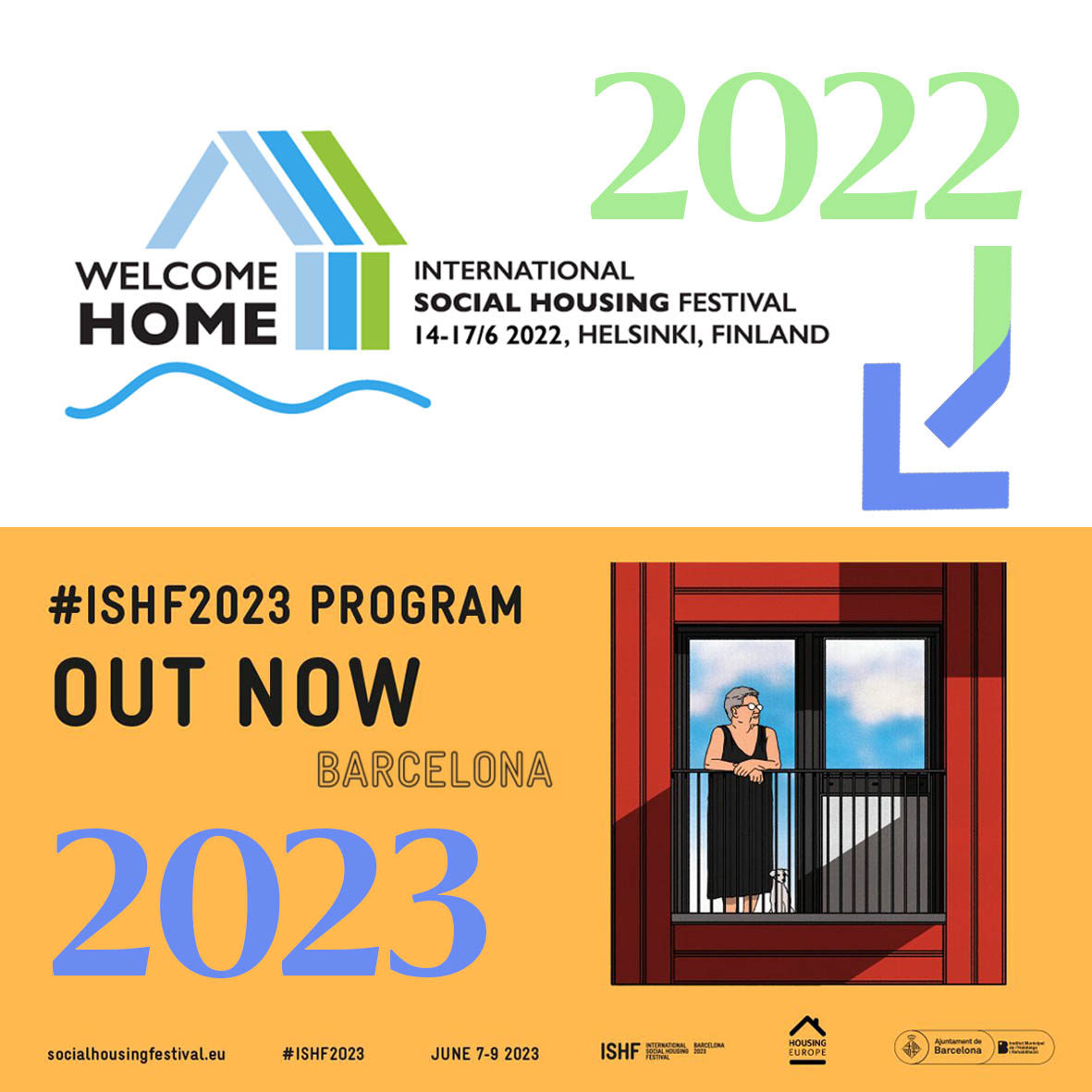 Celebrating Social Housing
Posted on 29-05-2023
My dad's family immigrated to London from what was then called Bombay, now known as Mumbai, in 1962 and would often recount fond memories of living in the East End Dwellings* in Whitechapel, despite not having any running hot water or heating, a proper stove, or toilet (let alone a bath) in their own home. Their first winter was one of the coldest on record, known as the 'big freeze', reaching a staggering -16°C in London. They did not own any proper winter clothing and it was a massive shock to them having come from the considerably warmer climate of India just a few months prior, and I can only imagine how cold it must have felt. After living for 10 long years in the Dwellings in shocking conditions by todays standards, the building was torn down as part of a 'slum clearance' and demolition programme, and my grandma, dad, and his siblings and were moved to a council flat further east in Mile End. Then in the early 1980s they exchanged their flat with one in a council estate in Barnet, North-West London. Fast forward to the 1990s, and I would spend a lot of time at my grandma and aunt's who continued to live in the council flat, which was in walking distance from the home I grew up in, until the 2010s. It was a ten-story tower block with an eclectic mix of residents with immigrant and non-immigrant backgrounds, including families, single mothers and those living alone. I witnessed first-hand the joys of living in a close-knit community, but also the stresses and dangers of the estate environment. Clearly not everyone who grows up in social housing will be disadvantaged, however I became acutely aware of the impact architecture can have on people's future prospects. Whilst studying architecture I was initially struck by the fact that there was no limit to what we could design; whilst the building had to be beautiful, there was never a budget, it could theoretically be clad in gold. During the years I worked in practice, most residential projects I worked on were for the richest 1% and a far cry from the urgently needed social and affordable housing. Despite years of experience and training, I found that social impacts and political contexts were not discussed despite the obvious influence that architecture and housing have on society. Several architecture practices began to raise the profile of social housing and dedicated their efforts to designing beautiful social housing projects, such as Peter Barber, Karakusevic Carson, and Mikhail Riches. The Royal Institute of British Architects (RIBA) then launched a new design award in 2019 called the 'Neave Brown Award for Housing', recognising "the UK's best contributions to affordable housing", named in honour of the late architect Neave Brown who is revered as a pioneer of social housing in the UK. You may be surprised to learn, as I was, that there is now a festival dedicated to celebrating and promoting social housing, jovially named the International Social Housing Festival (ISHF). The festival was initiated by Housing Europe - a RE-DWELL consortium partner - and is now in its fourth edition. I participated in the ISHF this time last year in the Finnish capital Helsinki with a group of fellow RE-DWELLers. We designed and facilitated a participatory workshop that interlinked our three research areas of design building and planning, policy and finance, and community participation. I can confirm that like a true festival, there was indeed singing with a live a cappella performance during the opening event. Though I sadly won't be joining this year, RE-DWELL will be participating in the festival next week in Barcelona, Spain. As I am nearing the end of the second year of my PhD researching social and affordable housing in the circular economy transition, I remain determined to leave a positive impact on the built environment and help drive change in practice. Social housing is a worthy cause that needs more dedicated professionals in the built environment to ensure it remains something truly worth celebrating. *The East End Dwellings were built between 1885-1906 to provide housing for the Victorian working class by The East End Dwelling Company (EEDC), which was set up by local philanthropists. Dwellings were a form of social housing which partially evolved into council or social housing as we know it today. Further reading on the history of the East End Dwellings https://www.tandfonline.com/doi/epdf/10.1080/02673030082351?needAccess=true&role=button Architecture practices mentioned and Neave Brown award winners: Peter Barber Architects with McGrath Road https://www.architecture.com/awards-and-competitions-landing-page/awards/neave-brown-award-for-housing/Neave-Brown-Award-for-Housing-2021 Mikhail Riches Architects with Goldsmith Street https://www.architecture.com/awards-and-competitions-landing-page/awards/neave-brown-award-for-housing/neave-brown-award-for-housing-2019 Article dedicated to Neave Brown written by Paul Karakusevic from Karakusevic Carson Architects https://www.theguardian.com/housing-network/2017/oct/20/neave-brown-architect-council-housing-beautiful-riba-gold-medal RE-DWELL workshop from the International Social Housing Festival 2022 https://www.re-dwell.eu/reports/re-dwell-ishf-helsinki-workshop International Social Housing Festival 2023 https://socialhousingfestival.eu/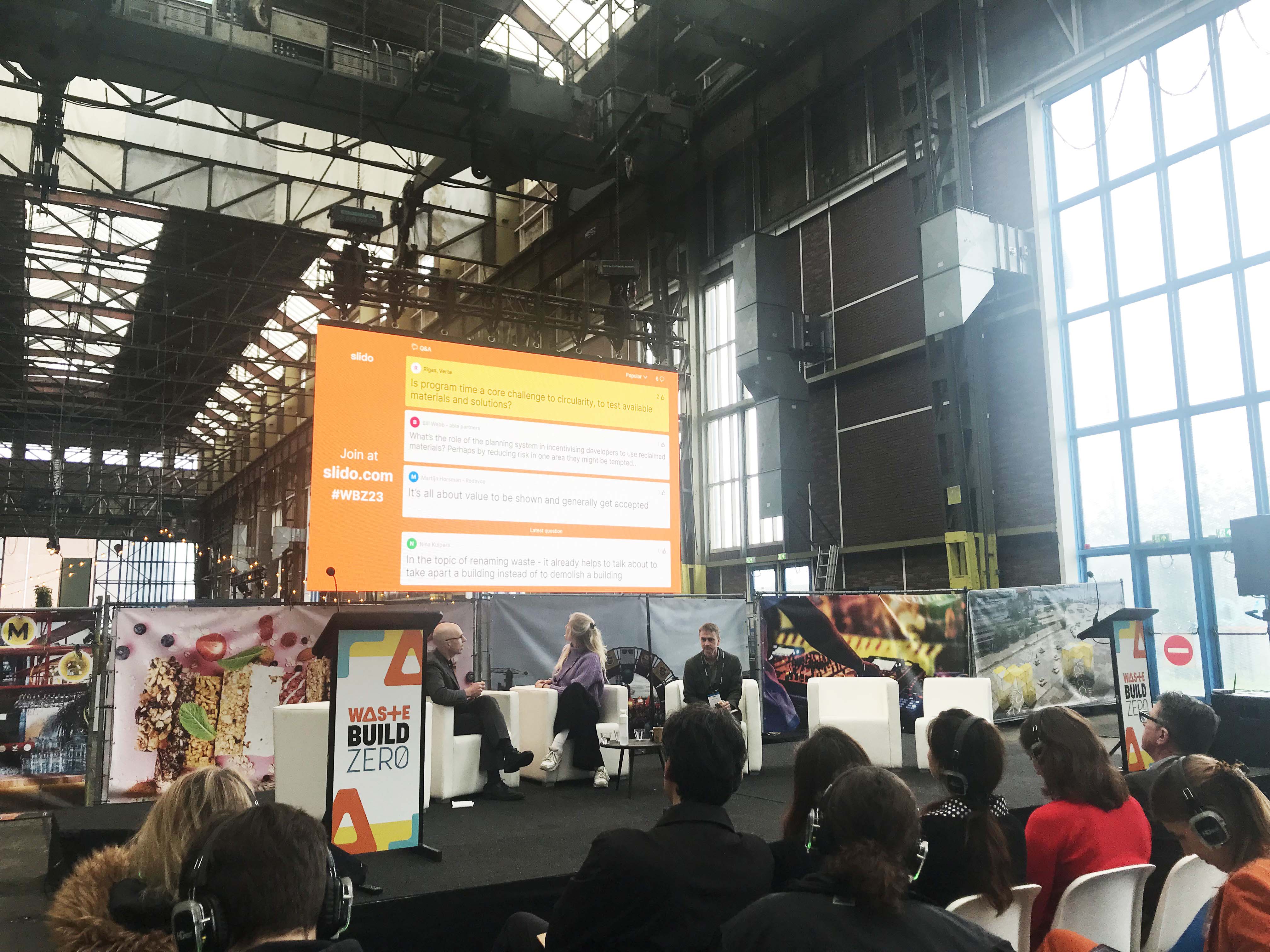 WasteBuild Zero conference in Amsterdam
Posted on 18-05-2023
During my current secondment in the Netherlands at TU Delft, I attended the two-day WasteBuild Zero conference at the NSDM in Amsterdam, which pushes circularity in the built environment to the forefront. There was so much to unpack after many great presentations and panel discussions with people passionate about sustainability. Speakers included practicing architects, engineers, deconstruction and demolition experts, sustainability experts, economists, and researchers. Here are some of my key takeaways: Defining circularity: There are inconsistent ways to calculate circularity across industries and stakeholder groups, it still needs to be defined with a series of agreed metrics and measures. Embodied carbon on the other hand has clear metrics, but few countries regulate it*. Economic incentive: Circular construction and bio-based materials are more expensive; we need to make these solutions more attractive. This can be achieved by shifting taxation from labour to resources. Otherwise, demolition and downcycling are inevitable. In the UK the problem of 20% VAT levy on reuse and refurbishments as opposed to zero on demolition or new-build needs to be fixed. A lack of timber industry: For designers to responsibly specify mass timber (which also sequesters carbon) that doesn't incur excessive embodied carbon in transport, countries other than Austria and Scandinavia need their own local timber industries. Early interdisciplinary engagement: Figuring out solutions and identifying opportunities for material reuse early-on makes it more likely to be cheaper. Demolition teams and contractors have a lot of knowledge and should lead in strategies from the get-go. Furthermore, demolition companies should also provide a disassembly team to minimise destruction and increase reuse. Flexibility: The design, budget, and scope should have more flexibility and not be fixed to test new methods and products to innovate and challenge the status quo. Pre-demolition audits: Documenting all existing materials on-site helps them go back into the supply chain, maximise reuse and know-how, and should inform the design process. Waste classification: Bodies such as the Environmental Agency are preventing the reuse of existing materials on-site such as excavated clay to make earth-blocks and tiles - there were several examples of this presented in case studies. Procurement: Contractors are not incentivised to incorporate reuse and accept a higher level of risk. Tender documents should also state on the first page the requirement for second-life materials, if it's on page five it won't get looked at. Warranties: We need more protocols and standardisation to speed up the warranty process, otherwise each material must be tested which takes too long and is too expensive. Risk engineers and insurers should be engaged early on. If possible, try to involve the company that originally produced the material/product. Supply chains: There is a huge gap in the supply chain, lots of materials are available but performance criteria and a lack of warranties prevent reuse. The supply chain should provide a breakdown of materials and as-built information, and should be engaged to take materials back and remanufacture them. Material passports: These are key at the demolition/disassembly and preparation stage, but there is concern over the level of information needed, it is useful at an element level (products made from few materials) otherwise we could get bogged down with too much data. It's tough for construction teams to make sustainable choices when we are living and working in a broken system, where it is currently acceptable to landfill almost absolutely everything and it's often cheaper and easier to source products from China than to reuse local materials. Architects cannot rely on 'enlightened clients' during the continued climate crisis, to quote Hans Hammink from De Architekten Cie, we should rethink the role of the architect as "protector of materials". Lastly, the lack of information sharing is holding back more widespread and urgent change, research in industry is usually confidential and money is still the main driver. The transition to a circular economy will require a true sharing economy of both materials and knowledge, and we need to ensure lessons learnt are also looped back into the cycle. See you next year WasteBuild! *The Architects Climate Action Network UK are continuing to push forward a bill to regulate embodied carbon: https://www.architectscan.org/embodiedcarbon
The Social Climate Fund: Materialising Just Transition Principles?
Posted on 17-05-2023
The EU's Social Climate Fund (SCF) was officially approved by the European Parliament on 18 April 2023 as part of the broader Green Deal initiative, which seeks to expand the scope of the Emission Trading Scheme (ETS) to encompass buildings, transport, and other sectors. This extension of the ETS is expected to result in increased energy costs and gasoline prices for households and businesses. To assist vulnerable households, micro-enterprises, and transport users in mitigating the financial impact of these price increases, EU member states may use resources from the SCF to finance various measures and investments. The SCF will primarily be funded through the revenues generated by the new emissions trading system, with a maximum allocation of 65 billion, supplemented by national contributions. Temporarily established for the period of 2026-2032, the fund aims to provide support during this specified timeframe. The initiation of the SCF has received praise from various NGOs advocating for a just transition. Supporters highlight its significance in integrating a social dimension into EU climate policies, despite some remaining weaknesses. The SCF's spending rules are commended for striking a suitable balance between financing structural investments and providing temporary direct income support to vulnerable households. Investments from the Fund will enable these households to renovate their homes, adopt energy-efficient technologies, and access renewable energy and sustainable transportation. The requirement for government consultation with sub-national administrations and civil society organizations is welcomed. Notably, the SCF introduces a definition of transport poverty, aiding member states in identifying those eligible for support, marking a first in EU policy. Regarding the aforementioned weaknesses, there exists a range of concerns. Firstly, the projected timeline may pose a limitation. Initiating green investments for vulnerable households only a year before the introduction of carbon pricing may not allow sufficient time for the desired impact. Projects related to energy renovation and improved public mobility infrastructure typically require several years to yield tangible results. Additionally, while member states are required to include consultation with various stakeholders in their national 'Social Climate Plans' (SCPs), the level of participatory approach outlined in the proposed regulation is minimalistic, raising concerns about ensuring procedural justice. This landmark EU proposal offers fascinating research opportunities for me on both academic and personal levels. As my research project focuses on vulnerabilities within the European energy transition and renovation wave, I could not have asked for better data opportunities to draw comparisons between the EU member states. The SCF, with its call for national Social Climate Plans, addresses one of my key research questions, as it prompts member states to identify the most vulnerable populations in their respective countries and develop effective policies to target them. The process of identifying these vulnerable groups, engaging with them in policy drafting, and assessing the effectiveness of the resulting policies is of great interest to me. Moreover, the SCF presents an opportunity to examine the extent to which these policies are successful in achieving their goals. By integrating the SCF into the broader Green Deal initiative, the EU demonstrates its commitment to addressing climate change while considering social equity. While there are concerns regarding the projected timeline of the SCF and the level of stakeholder participation outlined in the proposed regulation, these weaknesses could be overcome, and present additional research avenues on themselves. It goes without saying that I eagerly anticipate the further development and concretisation of SCPs and the broader SCP roll-out.
View more