Social Value
Area: Design, planning and building
Social value (SV) is a wide-ranging concept that encompasses the wider economic, social and environmental well-being impacts of a specific activity. Given its applicability across various sectors, diverse interpretations and definitions exist, often leading to its interchangeable use with other terms, such as social impact. This interchangeability makes it difficult to establish a universally accepted definition that satisfies all stakeholders, contributing to the term's adaptability and to a variety of methods for identification, monitoring, measurement and demonstration.
Nevertheless, common themes emerge from literature definitions. First, SV involves maximizing benefits for communities and society beyond an organisation's primary goals, which requires innovation and a focus that goes beyond financial values. It is often referred to as the added value of an intervention. Second, the short-, medium- and long-term effects of activities, as well as their broader community reach, need to be assessed in terms of a life-cycle project perspective. Thirdly, SV aligns with the triple bottom line of sustainability, which underlines social, environmental and economic considerations in well-being.
In the UK, SV gained prominence with the introduction of the Public Services (Social Value) Act 2012. This legislation mandates organisations commissioning public services to consider and account for the wider impacts of their operations (UK Government 2012; UKGBC, 2020, 2021). The Act has provided incentives to quantitatively measure the impact of projects on communities and standardise approaches in the built environment, a sector that has been significantly influenced by this regulatory framework. Organisations such as the UK Green Building Council (UKGBC) have played a crucial role in shaping a common agenda through reports such as Delivering Social Value: Measurement (2020) and Framework for Defining Social Value (2021), which set out the steps needed to determine social value. Recognising that SV is strongly influenced by contextual factors, these publications emphasize the challenge for formulating an all-encompassing definition. Instead, they advocate for focusing efforts on developing context-specific steps and methods for measurement.
However, the existing literature is mainly concerned with SV during the procurement and construction phases, overlooking the SV of buildings during the use phase and the potential opportunities and benefits they offer to users. This bias is due to the construction sector's rapid response to the Act and its easier access to certain types of information. This influences the prominence of certain data in project's impact assessments and SV reports, such as employment opportunities, training, placements, and support of local supply chains through procurement. More intangible outcomes such as community cohesion, quality of life improvements, enhanced social capital, cultural preservation, empowerment and long-term social benefits are rarely featured as they are deemed more challenging to quantify due to their subjective or qualitative nature.
Similarly, there remains a lack of clarity and consensus regarding a standardised approach to assessing the added value created. The challenge stems from diverse interpretations of value among stakeholders, influenced by their unique interests and activities. Communicating something inherently subjective becomes particularly daunting due to these varying perspectives. Additionally, translating all outcomes into financial metrics is also problematic. This is primarily due to the unique circumstances that characterise each development and community, making it impractical to hastily establish targets and universal benchmarks for their assessment. (Raiden et al., 2018; Raiden & King, 2021a, 2023). This complexity is recognised by Social Value UK (2023: n.p.), stating: "Social value is a broader understanding of value. It moves beyond using money as the main indicator of value, instead putting the emphasis on engaging people to understand the impact of decisions on their lives."
Moreover, the growing significance and momentum that SV is gaining are evident in the emergence of analogous legislations that have appeared in recent years and that have a direct influence on shaping how the built environment sector operates in their respective countries. Noteworthy examples of social value-related regulations include the Well-being of Future Generations Act 2015 in Wales; the Procurement Reform Act 2014 in Scotland; the social procurement frameworks in Australia; the Community Benefit Agreements in Canada; the Government Procurement Rules in New Zealand; and the Environmental, Social, and Governance (ESG) criteria considered in various countries around the world, among others.
Identifying and measuring social value
SV should be an integral aspect of project development and, therefore, must be considered from the early stages of its conception, taking into account the entire lifecycle. The literature highlights a three-step process for this: 1) identifying stakeholders, 2) understanding their interests, and 3) agreeing on intended outcomes (UKGBC 2020, 2021). More recently, Raiden & King (2021b) linked the creation of SV to the achievement of the United Nations Sustainable Development Goals (SDGs). In the context of the built environment, SV can contribute to reporting on the SDGs, elevating the value the sector creates to society onto the international agenda (Caprotti et al., 2017; United Nations, 2017).
While SDG 11 "Make cities and human settlements inclusive, safe, resilient and sustainable", is often placed within the remit of the built environment, SV programmes developed by social housing providers, for example, extend the sector's impact beyond SDG 11, covering a broader range of areas (Clarion Housing Group, 2023; Peabody, 2023). This aspect is also echoed in the Royal Institute of British Architects (RIBA) Sustainable Outcomes Guide, which links the SDGs to specific outcomes, including the creation of SV (Clark & HOK, 2019).
Over the past decade, various methodologies have been proposed to undertake the intricate task of assessing value beyond financial metrics, drawing inspiration from the work of social enterprises. Among the most prominent and widely adopted by diverse stakeholders in the sector are the Social Return on Investment (SROI), Cost-Benefit Analysis (CBA) — sometimes referred to as SCBA when given the social epithet—, and the well-being valuation approach. (Fujiwara & Campbell, 2011; Trotter et al., 2014; Watson et al., 2016; Watson & Whitley, 2017). The widespread implementation of these approaches can be explained by the development of tools such as the UK Social Value Bank, linked to the well-being valuation method. This tool, used to monetise 'social impacts', is endorsed by influential stakeholders in the UK's housing sector, including HACT (2023), or the Social Value Portal and National TOMs (Themes, Outcomes and Measures) (Social Value Portal 2023). In the measuring of SV, these methodologies unanimously emphasize the importance of avoiding overclaiming or double-counting outcomes and discounting the so-called deadweight, which refers to the value that would have been created anyway if the intervention had not taken place, either through inertia or the actions of other actors.
While the development of these approaches to measuring SV is pivotal for advancing the social value agenda, some critics contend that there is an imbalance in presenting easily quantifiable outcomes, such as the number of apprenticeships and jobs created, compared to the long-term impact on the lives of residents and communities affected by projects. This discrepancy arises because these easily quantifiable metrics are relatively simpler to convert into financial estimates.
Steve Taylor (2021), in an article for The Developer, pointed out that the methods employed to measure social value, coupled with the excessive attention given to monetisation and assigning financial proxy values to everything, may come at the expense of playing down the bearing of hard-to-measure well-being outcomes:
"As long as measurement of social value is forced into the economist's straightjacket of cost-benefit analysis, such disconnects will persist. The alternative is to ask what outcomes people and communities actually want to see, to incorporate their own experiences and perspectives, increase the weighting of qualitative outcomes and wrap up data in narratives that show, holistically, how the pieces fit together. We loosen the constraints of monetisation by mitigating the fixed sense of value as a noun; switching focus to its role as an active verb – to 'value' – measuring what people impacted by changes to their built environment consider important or beneficial."
The process of comprehensively measuring and reporting on SV can be challenging, time-consuming and resource-intensive. It is therefore important that stakeholders truly understand the importance of this endeavour and appreciate the responsibilities it entails.
Recently, Raiden and King (2021a, 2023) have highlighted the use of a mixed-methods approach for assessing SV, proposing it as a strategy that can offer a more thorough understanding of the contributions of actors in the field. They argue that an assessment incorporating qualitative methods alongside the already utilized quantitative methods can provide a better picture of the added value created by the sector. These advancements contribute to the overarching goal of showcasing value and tracking the effects of investments and initiatives on people's well-being. Nevertheless, a lingering question persists regarding the feasibility of converting all outcomes into monetary values.
Social value in architecture and housing design
In the field of architecture, the RIBA, in collaboration with the University of Reading, took a significant step by publishing the Social Value Toolkit for Architecture (Samuel, 2020). This document provides a set of recommendations and examples, emphasizing why architects should consider the SV they create and providing guidance on how to identify and evaluate projects, incorporating techniques such as Post-Occupancy Evaluation. This is a remarkable first step in involving architects in the SV debate and drawing attention to the importance of design and the role of architecture in creating value (Samuel, 2018). More recently, Samuel (2022:76) proposed a definition of SV in housing that places the well-being of residents at the centre of the discussion. Accordingly, SV lies in "fostering positive emotions, whether through connections with nature or offering opportunities for an active lifestyle, connecting people and the environment in appropriate ways, and providing freedom and flexibility to pursue different lifestyles (autonomy)."
In this context, it is also relevant to highlight the work of the Quality of Life Foundation (QoLF) & URBED, who published The Quality of Life Framework (URBED, 2021). This evidence-based framework identifies six themes in the built environment crucial for assessing relationships between places and people: control, health, nature, wonder, movement, and community. More recently, Dissart & Ricaurte (2023) have proposed the capability approach as a more comprehensive conceptual basis for the SV of housing. This approach expands the work of the QoLF, focusing the discussion on the effective freedoms and opportunities that the built environment, specifically housing, offers its inhabitants. It serves as a means to gauge the effectiveness of housing solutions and construe SV.
References
Caprotti, F., Cowley, R., Datta, A., Broto, V. C., Gao, E., Georgeson, L., Herrick, C., Odendaal, N., & Joss, S. (2017). The New Urban Agenda: key opportunities and challenges for policy and practice. Urban Research & Practice, 10(3), 367–378. https://doi.org/10.1080/17535069.2016.1275618
Clarion Housing Group. (2023). Making a Difference. https://www.clarionhg.com/about-us/what-we-do/making-a-difference-report
Clark, G., & HOK. (2019). RIBA Sustainable Outcomes Guide. https://www.architecture.com/knowledge-and-resources/resources-landing-page/sustainable-outcomes-guide
Dissart, J.-C., & Ricaurte, L. (2023). Assessing social value in housing design: contributions of the capability approach. Buildings and Cities, 4(1), 867–882. https://doi.org/10.5334/BC.328
Fujiwara, D., & Campbell, R. (2011). Valuation techniques for social cost–benefit analysis: Stated preference, revealed preference and subjective well-being approaches: A discussion of the current issues. https://assets.publishing.service.gov.uk/government/uploads/system/uploads/attachment_data/ file/209107/greenbook_valuationtechniques.pdf
HACT. (2023). UK Social Value Bank: Demonstrating social value. Housing Associations' Charitable Trust (HACT). https://hact.org.uk/tools-and-services/uk-social-value-bank/
Peabody. (2023). Maintaining momentum. Plan for Thamesmead 2023-28.
Raiden, A., & King, A. (2021a). Social Value in Practice (1st ed.). Routledge. https://doi.org/https://doi.org/10.1201/9781003024910
Raiden, A., & King, A. (2021b). Social value, organisational learning, and the sustainable development goals in the built environment. Resources, Conservation and Recycling, 172. https://doi.org/10.1016/j.resconrec.2021.105663
Raiden, A., & King, A. (2023). Added value and numerical measurement of social value: a critical enquiry. Buildings and Cities, 4(1), 767–782. https://doi.org/10.5334/BC.330
Raiden, A., Loosemore, M., King, A., & Gorse, C. (2018). Social Value in Construction (1st ed.). Routledge. https://doi.org/https://doi.org/10.1201/9781315100807
Samuel, F. (2018). Why architects matter: Evidencing and communicating the value of architects. Routledge.
Samuel, F. (2020). RIBA social value toolkit for architecture. Royal Institute of British Architects. https://www.architecture.com/-/media/GatherContent/Social-Value-Toolkit-for-Architecture/Additional-Documents/RIBAUoR-Social-Value-Toolkit-2020pdf.pdf
Social Value Portal. (2023, February 10). The national toms. Social Value Portal. https://socialvalueportal.com/solutions/national-toms/
Social Value UK. (2023, April 5). What is social value and why does it matter? Social Value UK. https://socialvalueuk.org/what-is-social-value/
Taylor, S. (2021, February 22). The price of everything and the social value of nothing. The Developer. https://www.thedeveloper.live/opinion/opinion/the-price-of-everything-and-the-social-value-of-nothing
Trotter, L., Vine, J., Leach, M., & Fujiwara, D. (2014). Measuring the Social Impact of Community Investment: A Guide to using the Wellbeing Valuation Approach. www.hact.org.uk
UKGBC. (2020). Delivering Social Value: Measurement. https://www.ukgbc.org/ukgbc-work/delivering-social-value-measurement/
UKGBC. (2021). Framework for Defining Social Value. https://www.ukgbc.org/ukgbc-work/framework-for-defining-social-value/
UK Government. (2012). Public Services (Social Value) Act 2012. UK Government. https://www.legislation.gov.uk/ukpga/2012/3
United Nations. (2017). New Urban Agenda. https://habitat3.org/wp-content/uploads/NUA-English.pdf
URBED. (2021). The Quality of Life Framework. https://www.qolf.org/framework/
Watson, K. J., Evans, J., Karvonen, A., & Whitley, T. (2016). Capturing the social value of buildings: The promise of Social Return on Investment (SROI). Building and Environment, 103, 289–301. https://doi.org/10.1016/J.BUILDENV.2016.04.007
Watson, K. J., & Whitley, T. (2017). Applying Social Return on Investment (SROI) to the built environment. Building Research & Information, 45(8), 875–891. https://doi.org/10.1080/09613218.2016.1223486
Created on 16-11-2023 | Update on 17-11-2023
Related definitions
Community Empowerment
Area: Community participation
Community empowerment appears in the literature of participatory action research (Minkler, 2004), participatory planning (Jo & Nabatchi, 2018), and community development (Luttrell et al., 2009) as a key element of participatory practices, understanding it as a process that enables communities to take control of their lives and their environments (Rappaport, 2008; Zimmerman, 2000). Many argue that community participation becomes meaningless if it does not lead to, or pass through community empowerment. As the term is being used in diverse and ubiquitous ways, it runs the risk of ending up as an empty definition and a catch-all phrase (McLaughlin, 2015). It is therefore important to specify the perspective through which we will view the term and clarify the nuances. Since its origins, empowerment has been used in two different ways. Firstly, top-down as the power that had been 'granted' by a higher authority, such as the state or a religious institution, and secondly, bottom-up, as a process by which groups or individuals come to develop the capacity to act and acquire power. Examples of the latter can be found in social groups such as feminists working in nongovernmental organizations throughout the global south in the 1970s, who found a way to address social issues and inequalities that enabled social transformation based on women's self-organization (Biewener & Bacqué, 2015). The term was gradually appropriated by welfare, neoliberal, and social-neoliberal agendas whose priority was individual agency and choice. In neoliberal rationality, empowerment is related to efficiency, economic growth, business productivity, and individual rational choice to maximize profit in a competitive market economy. In social liberalism agendas, empowerment is understood as 'effective agency', where 'agency' is not an inherent attribute, but something that needs to be constructed through 'consciousness-raising' (McLaughlin, 2016). A broader definition sees empowerment as a social action process through which individuals, communities, and organizations take control of their lives in the context of changing the social and political environment to improve equity and quality of life (Rappaport, 2008; Zimmerman, 2000). Rowlands (1997), refers to four types of empowerment: power over, as the ability to influence and coerce; power to, to organize and change existing hierarchies; power with, as the power from the collective action and power within, as the power from the individual consciousness. Using this classification, Biewener & Bacqué (2015), adopting a feminist approach, understand empowerment as a multilevel construct with three interrelated dimensions: 1) an internal, psychological one, where 'power within' and 'power to' are developed, 2) an organizational, where 'power with' and 'power over' are strengthened and 3) a social or political level, where institutional and structural change is made possible through collective action. Thus, community empowerment links the individual level, which involves self-determination, growth of individual awareness, and self-esteem, to the collective level, relating critical consciousness and capacity building with the structural level, where collective engagement and transformative social action take place. This view of empowerment, which considers its goals and processes, has a social dimension that is lacking in other approaches that prioritize individual empowerment. Aside from the feminist movements, the philosophy and practices of community empowerment have been greatly influenced by the work of Paulo Freire, a Brazilian educator and an advocate on critical pedagogy. Freire proposed a dialogic problem-solving process based on equality and mutual respect between students and teachers; that engaged them in a process of iterative listening-discussing-acting. Through structured dialogue, group participants shared their experiences, discussed common problems, and looked for root causes and the connections among "problems behind the problems as symptoms" (Freire, 1970). The term conscientization, that Freire proposed, refers to the consciousness that arises through the involvement of people in the social analysis of conditions and their role in changing them. This awareness enables groups to be reflexive and open spaces, to enact change or to understand those limited situations that may deter change (Barndt, 1989). Empowerment can be understood as both a process and an outcome (Jo & Nabatchi, 2018). As a process, it refers to "the development and implementation of mechanisms to enable individuals or groups to gain control, develop skills and test knowledge"(Harrison & Waite, 2015) and it entails the creation of new subjects who have developed a critical consciousness and the formation of groups with a 'collective agency' ' or 'social collective identity' (Biewener & Bacqué, 2015). Empowerment as an outcome refers to "an affective state in which the individual or group feels that they have increased control, greater understanding and are involved and active" (Harrison & Waite, 2015). This can lead to a transformation of the social conditions by challenging the structures and institutionalized forms that reproduce inequalities. The values and the significance of community empowerment can be further applied in the participatory and community-based approaches of the housing sector. Examples of such approaches in the housing provision are the housing cooperatives, and self-developed and self-managed housing groups. Housing cooperatives aim at promoting co-creation to engage future residents, professionals, and non-profit organizations in all the stages of a housing project: problem-framing, designing, developing, cohabiting, managing, and maintaining. Such organisational models stress the importance and pave the way for community empowerment by uniting individuals with similar interests and ideals, enabling them to have housing that responds to their needs, preferences, and values. The participation of the residents aims to strengthen their sense of ownership of the process, the democratic decision-making and management, and the social collective identity, making community empowerment an integral characteristic of cooperative housing initiatives. With this social perspective, residents can gain individual and collective benefits while contributing to fairer and more sustainable urban development on a larger scale (Viskovic Rojs et al., 2020).
Created on 03-06-2022 | Update on 03-06-2022
Read more

->
Social Sustainability
Area: Community participation
From the three pillars of sustainable development, economic, environmental and social, the latter involving social equity and the sustainability of communities, has been especially neglected. Ongoing problems caused by conflicting economic, environmental and social goals with regard to the processes of urbanisation continue. underpinning economic growth that contradict principles of environmental and social justice (Boström, 2012; Cuthill, 2010; Winston, 2009). Research on sustainable development highlights the need for further investigation of social sustainability (Murphy, 2012; Vallance et al., 2011). Social sustainability has been interpreted as an umbrella term encompassing many other related concepts; "social equity and justice, social capital, social cohesion, social exclusion, environmental justice, quality of life, and urban liveability" (Shirazi & Keivani, 2019, p. 4). A vast number of studies have been dedicated to defining social sustainability by developing theoretical frameworks and indicators particularly relevant to urban development and housing discourse (Cuthill, 2010; Dempsey et al., 2011; Murphy, 2012; Woodcraft, 2012). However, with a lack of consensus on the way of utilising these frameworks in a practical way, especially when applied to planning, social sustainability has remained difficult to evaluate or measure. Consequently, planning experts, housing providers and inhabitants alike understand social sustainability as a normative concept, according to established social norms, and less as an opportunity to critically examine existing institutions. Vallance et al (2011) provide three categories to analyse social sustainability, development, bridge and maintenance sustainability: (a) social development improves conditions of poverty and inequity, from the provision of basic needs to the redistribution of power to influence existing development paradigms; (b) the conditions necessary to bridge social with ecological sustainability, overcoming currently disconnected social and ecological concerns; and (c) the social practices, cultural preferences as well as the environments which are maintained over time. Maintenance social sustainability particularly deals with how people interpret what is to be maintained and includes "new housing developments, the layout of streets, open spaces, residential densities, the location of services, an awareness of habitual movements in place, and how they connect with housing cultures, preferences, practices and values, particularly those for low-density, suburban lifestyles" (Vallance et al., 2011, p. 345). Therefore, the notion of maintenance is especially important in defining social sustainability by directly investigating the established institutions, or "sets of norms" that constitute the social practices and rules, that in turn, affect responsibilities for planning urban spaces. A conceptual framework that appears frequently in social sustainability literature is that of Dempsey et al. (2011)⁠ following Bramley et al. (2009), defining social sustainability according to the variables of social equity and sustainability of community and their relationship to urban form, significantly at the local scale of the neighbourhood. In terms of the built environment, social equity (used interchangeably with social justice) is understood as the accessibility and equal opportunities to frequently used services, facilities, decent and affordable housing, and good public transport. In this description of local, as opposed to regional services, proximity and accessibility are important. Equitable access to such local services effectively connects housing to key aspects of everyday life and to the wider urban infrastructures that support it. Sustainability of community is associated with the abilities of society to develop networks of collective organisation and action and is dependent on social interaction. The associated term social capital has also been used extensively to describe social norms and networks that can be witnessed particularly at the community level to facilitate collective action (Woolcock, 2001, p. 70). They might include a diversity of issues such as resident interaction, reciprocity, cooperation and trust expressed by common exchanges between residents, civic engagement, lower crime rates and other positive neighbourhood qualities that are dependent on sharing a commitment to place (Foster, 2006; Putnam, 1995; Temkin & Rohe, 1998). In fact, "the heightened sense of ownership and belonging to a locale" is considered to encourage the development of social relations (Hamiduddin & Adelfio, 2019, p. 188). However, the gap between theoretical discussions about social sustainability and their practical application has continued. For example, the emphasis of social sustainability as a target outcome rather than as a process has been prioritised in technocratic approaches to planning new housing developments and to measuring their success by factors which are tangible and easier to count and audit. Private housing developers that deal with urban regeneration make bold claims to social sustainability yet profound questions are raised regarding the effects of gentrification (Dixon, 2019). Accordingly, the attempted methods of public participation as planning tools for integrating the 'social' have been found to be less effective - their potential being undercut due to the reality that decision-making power has remained at the top (Eizenberg & Jabareen, 2017). Therefore, social sustainability is not a fixed concept, it is contingent on the interdependence of the procedural aspects (how to achieve social sustainability) and substantive aspects (what are the outcomes of social sustainability goals) (Boström, 2012). From this point of view, social sustainability reveals its process-oriented nature and the need to establish processes of practicing social sustainability that begin with the participation of citizens in decision-making processes in producing equitable (i.e. socially sustainable) development. As a dimension of sustainable development that is harder to quantify than the economic or environmental aspects, the operationalisation of social sustainability goals into spatial, actionable principles has remained a burgeoning area of research. In such research, methods for enhancing citizen participation are a particularly important concern in order to engage and empower people with "non-expert" knowledge to collaborate with academic researchers.
Created on 03-06-2022 | Update on 08-06-2022
Read more

->
Energy Poverty
Area: Policy and financing
The in-depth study of energy poverty as a social phenomenon commenced in the late 19th century through the works of British social researchers Booth and Rowntree (O'Connor, 2016). This era was characterised by significant social and economic transformation, and these scholars were troubled by the living conditions and welfare of impoverished urban populations, who were residing in congested and unsanitary environments. Throughout the 20th century, poverty in policy contexts became quite narrowly defined as a lack of income. However, it was another social concern in the UK that led to the development of concepts like 'fuel poverty' or 'energy poverty' a century after Booth and Rowntree.[i] Following the 1973 oil crisis, the Child Poverty Action Group took the initiative to address how increasing energy costs were affecting low-income households in the UK (Johnson & Rowland, 1976). As essentials like heating, electricity, and fuels became necessary for maintaining a decent standard of living in modern British society, this advocacy group pushed for government financial support. Later, Bradshaw and Hutton (1983) introduced a narrower definition of energy poverty: "the inability to afford adequate heat in the home". Since then, studies on energy poverty have typically excluded motor fuels, as they fall under transport poverty, a related but separate area of study (Mattioli et al., 2017). Energy poverty, as defined by Bouzarovski and Petrova (2015, p. 33), refers to "the inability to secure or afford sufficient domestic energy services that allow for participation in society." Although the precise boundaries of relevant domestic energy usage are still debated, this definition expands beyond mere heating as it encompasses energy used for cooling, which is particularly relevant in warmer climates (Thomson et al., 2019). Moreover, it enables a socially and culturally dependent understanding of what it means to participate in society (Middlemiss et al., 2019). On 13 September 2023, the European Union (2023) officially defined energy poverty as "a household's lack of access to essential energy services, where such services provide basic levels and decent standards of living and health, including adequate heating, hot water, cooling, lighting, and energy to power appliances, in the relevant national context, existing national social policy and other relevant national policies, caused by a combination of factors, including at least non-affordability, insufficient disposable income, high energy expenditure and poor energy efficiency of homes". The doctoral thesis and subsequent book by Brenda Boardman, Fuel Poverty: From Cold Homes to Affordable Warmth (1991), marked a significant breakthrough in energy poverty research. She emphasised the detrimental impact of energy-inefficient housing on health and quality of life. In the decades that followed, substantial literature confirmed her qualitative findings (Thomson et al., 2017). Notably, studies have demonstrated the adverse effects of living in energy poverty on physical health (Liddell & Morris, 2010), mental health (Liddell & Guiney, 2015), stress levels (Longhurst & Hargreaves, 2019), social isolation (Harrington et al., 2005), and absenteeism (Howden-Chapman et al., 2007). Boardman's work introduced an indicator that has remained influential to this date, although it was not the first attempt to operationalise the concept of fuel poverty (Isherwood & Hancock, 1979). Her '2M' indicator categorises a household as energy poor if it needs to allocate twice the median share of its budget for energy expenses to heat its home adequately. Boardman calculated this threshold to be 10% at that time. Due to its simplicity and ease of comprehension, many governments directly adopted this 10% threshold without considering specific contextual circumstances. Since the early nineties, numerous attempts have been made to develop alternative indicators. Highly influential ones include 'Low Income High Cost' (LIHC) by John Hills (2012), 'Low Income Low Energy Efficiency' (LILEE) that subsequently became the official British indicator (BEIS, 2022), and a 'hidden' energy poverty indicator by (Meyer et al., 2018). Critiques of these indicators focus, amongst other things, on their simplicity and perceived 'technocratic' approach (Croon et al., 2023; Middlemiss, 2017). This marked the beginning of significant government commitment, initially in the UK and later in other countries to address energy poverty. Although certain forms of cold weather payments had already been introduced by the UK's Conservative administrations, it was under the successive governments of Blair and Brown, following the publication of Boardman's work, that programmes such as the Winter Fuel Payment and Warm Home Discount were implemented (Koh et al., 2012). The UK examples highlight bipartisan support for addressing energy poverty, with both the Conservatives and Labour backing these efforts. This policy objective has also gained momentum in various legislative contexts, leading the EU to incorporate energy poverty alleviation as a fundamental pillar of the European Green Deal and a specific goal of its landmark Social Climate Fund (European Commission, 2021). Over the last three decades, public interest in energy poverty as a 'wicked' problem has surged, particularly during the recent energy crisis. This crisis began in 2021 when energy markets tightened due to a post-pandemic economic rebound, and it worsened dramatically after Russia's invasion of Ukraine in February 2022 (IEA, 2023). Extensive research on the impact of this price surge on energy poverty levels has been carried out throughout Europe and globally (Guan et al., 2023; Simshauser, 2023). Consequently, energy poverty has become a significant focal point in discussions related to the 'just transition,' especially within the realm of energy justice, as it serves as a valuable concept for targeting policies towards a specific vulnerable group in this context (Carrosio & De Vidovich, 2023). [i] 'Fuel poverty' and 'energy poverty' are used interchangeably, with the former being more common in the UK and the latter in mainland Europe (Bouzarovski & Petrova, 2015). Previously, scholars in the UK used 'energy poverty' to denote a lack of access to energy and 'fuel poverty' when affordability was the concern (Li et al., 2014). However, this distinction is no longer maintained.
Created on 17-10-2023 | Update on 06-11-2023
Read more

->
Post-occupancy Evaluation
Area: Design, planning and building
As the name suggests, Post-Occupancy Evaluation (POE) is the process of assessing the performance of a building once it has been occupied. It is often conflated and falls under the umbrella of Building Performance Evaluation (BPE) (Boissonneault & Peters, 2023; Preiser, 2005; Stevenson, 2018). Other definitions refer to POE as any activity intended to assess how buildings perform and the level of satisfaction of their users, ranging from simple survey questionnaires to indoor environmental quality (IEQ) measurements, which makes its scope very broad (Li et al., 2018). Nevertheless, in the case of POE, the focus should be on the occupants' experience of the building and the impact of spaces on their behaviour and well-being (Watson, 2003 in Sanni-Anibire et al., 2016). It is commonly suggested that POE should be conducted at least a year after the handover and occupation of the building so that users can experience and test it under different weather conditions (RIBA et al., 2016). In the context of housing, housing providers, developers and architecture practices can benefit from enquiring what makes a good design from the occupants' point of view. A systematic and rigorous POE combined with periodic user experience surveys can be very beneficial as it helps to improve relationships with tenants and provide a better picture of the quality of the housing stock. Thus, POEs do not only help to balance the scale between the social, economic and environmental aspects of buildings but also revitalise the role of research in the whole life cycle of projects. Despite its potential benefits for the various stakeholders engaged in the production of the built environment, POE is not a widespread practice in the sector. There is a notable absence of literature and research on the subject (Durosaiye et al., 2019; Hadjri & Crozier, 2009). However, since the 2010s, there has been a growing academic interest in POE, as evidenced by the increasing number of scientific publications, including studies related to post-occupancy evaluation (Li et al., 2018). There is a consensus in literature that learning from experience, whether from unintended consequences of ill-considered design or from successful projects, through the active involvement of occupants and users of buildings is a pathway for innovation. POE is commonly considered as an activity that requires long-term commitment and can be time and resource-consuming. This is a limitation that can be explained by the short-term logic of the construction sector and the fleeting commitment of developers, especially private and profit-driven, to the communities and clients they work with. In the same vein, the question of who is responsible for commissioning and conducting a POE represents the biggest barrier to its widespread implementation in the sector (Cooper, 2001). Concerns are inextricably linked to the cost and scope of the assessment, the equipment and professionals involved, and the possibility of being held accountable for flaws that might be exposed by the activity. Discussions around the importance of inspecting buildings after completion to assess their environmental performance have gained momentum in recent decades as a consequence of the evidenced climate crisis and the significant share of carbon emissions attributable to activities related to the built environment (according to UNEP (2022), 37 per cent of CO2 emissions in 2021). Nonetheless, the emergence of POE as a concept for the built environment dates back to the 1960s in the USA, where it was originally used to assess institutional facilities and fell mainly within the remit of facility managers (Preiser, 1995). Later, the PROBE (Post Occupancy Review of Building Engineering) research conducted between 1995 to 2002 on 23 non-residential case studies in the UK helped spread the concept among the whole gamut of professionals involved in the design and construction of buildings (Bordass et al., 2001; Cohen et al., 2001). With respect to design and housing, the work of Marcus and Sarkissian (1986) in Housing as if People Mattered is worth mentioning. In this book, the authors have outlined a set of design guidelines derived from evidence gathered through POEs. Their research was conducted with the aim of comprehending people's preferences and dislikes about their neighbourhoods and homes, utilizing a people-centred perspective that delves into " the quality of housing environments from a social standpoint, as defined by residents" (p.5). Their approach to POE is grounded in viewing housing as a process rather than a mere product. They propose rethinking the relationship between the designer and inhabitant, extending beyond the completion of buildings. This perspective aligns with that of Brand (1995), who views buildings as intricate systems governed by the 'Shearing layers of change', a concept developed from Duffy's proposal (Duffy & Hannay, 1992). Accordingly, buildings are understood as layered structures in which time plays a pivotal role in the way they interact with each other and with the user. As Duffy stated, quoted in Brand (1995, p.12): "The unit of analysis for us isn't the building, it's the use of the building through time. Time is the essence of the real design problem." This renders it necessary to go back to the building once finished and continue doing so throughout its lifecycle. The levels of POE The literature distinguishes between three 'levels of effort' at which POE can be conducted, which differ mainly in terms of the thoroughness and purpose of the assessment: indicative, investigative, and diagnostic (Hadjri & Crozier, 2009; Preiser, 1995; Sanni-Anibire et al., 2016). These levels vary in methods and the degree of engagement of researchers and participants, and encompassing the phases of planning, conducting and applying. They can be described briefly as follows: Indicative: This level provides a general assessment of the most important positive and negative aspects of the building from the users' point of view. It involves a brief data collection period, characterised by walk-throughs, interviews and survey questionnaires with occupants. It is not exhaustive and may reveal more complex problems that need to be addressed with an investigative or diagnostic POE. It can be completed in a few hours or days. Investigative: If a relevant problem identified in an indicative POE requires further research, an investigative POE is carried out. This second level implies a more robust amount of data to be collected, the use of more specialised methods, and possibly the disruption of occupants' routines and building use due to the prolonged engagement in the research endeavour. It can take weeks to months to complete. Diagnostic: This level is characterised by its approach which is both longitudinal and cross-sectional. It may involve one or more buildings and a research process that may take months to a year or more to complete. It is more akin to research conducted by specialised institutions or scholars. The scope can be very specific but also have sector-wide implications. Possible applications of the information gathered through POE A more recent review of the literature on POE studies highlights the variegated range of purposes behind it: impact of indoor environmental quality on occupants, design and well-being, testing of technologies, informing future decision-making or feedforward, and impact of building standards and green rating systems, to name a few (Boissonneault & Peters, 2023; Li et al., 2018). The breadth of applications and rationale for conducting POE studies show that it is a powerful tool for assessing a wide array of issues in the built and living environment, and partly explain the interest it holds for researchers. However, the industry is still lagging behind, which hinders the dissemination and further implementation of the findings and results. More collaboration between academia and industry is therefore crucial as the great impact lies in applying POE and BPE as a structural part of the sector's practice. Moreover, since POE primarily relies on fieldwork and the collection of empirical data, a more comprehensive assessment that incorporates mixed methods and a systematic approach can yield greater benefits for the entire building production chain. The collected feedback, analysis and resulting conclusions can create learning loops within organisations and bring about real changes in the lives of current and future building users. Therefore, a robust POE should be accompanied by the implementation of the concomitant action plan to address the problems identified. For this purpose, a theory of change approach can be helpful. In this sense, POE can become a very effective facility management tool (Preiser, 1995). Some examples of the varied uses of data provided by robust POE and BPE include the creation of databases for informed decision-making, benchmarking and integration into BIM protocols or GIS-powered tools. In this sense, generating data that can be compared and benchmarked is critical to the long-term impact and value for money of undertaking the activity. It is therefore imperative to recognise POE for its benefits rather than viewing it as a liability or a mere nice-to-have feature. On the other hand, POE inherently involves a wide range of disciplines within the built environment, including design, engineering, psychology, policy and finance, among others. This multidisciplinary aspect can be leveraged to promote transdisciplinary research to help better understand the relationships between buildings and people It delves into the impact of these relationships, considering human behaviour and well-being. This perspective is often referred to as the building performance-people performance paradigm, as denominated by other POE researchers (Boissonneault & Peters, 2023). Architectural geographers, for instance, have explored the various meanings and emotions ascribed by inhabitants to buildings, particularly council estates in the UK, through actor-network theory-informed research (Jacobs et al., 2008, 2016; Lees, 2001; Lees & Baxter, 2011). Similarly, the work of organisations such as the Quality of Life Foundation encompassed in the Quality of Life Framework (Morgan & Salih, 2023; URBED, 2021), has highlighted the link between the places where we live and its impact on our quality of life through systematic POEs conducted in collaboration with social housing providers and local authorities. Amid the climate emergency and the pressing need to curtail carbon emissions, there is now a need for the sector to innovate and mitigate the impact of building construction and operation. It has been argued that sustainability cannot be achieved only by adopting energy-efficient technologies or by promoting certifications such as LEED, Passivhaus, or assessment protocols such as BREEAM (Building Research Establishment Environmental Assessment Methodology). As discussed earlier, conducting these assessments is an effective tool to mitigate and solve the discrepancy between the expected energy performance of the designed building vis à vis that of its real-life counterpart, the so-called performance gap. POE can be used to ascertain the social performance gap by including qualitative and well-being-related indicators (Brown, 2018). In this way, buildings are evaluated not only in terms of their ability to comply with building regulations and environmental goals, but also in meeting social objectives in order to provide greater sustainability and affordability, particularly in housing.
Created on 22-10-2023 | Update on 16-11-2023
Read more

->
Placemaking
Area: Community participation
Placemaking in the urban realm is a holistic approach that foments the collaborative transformation of public spaces into vibrant, inclusive and engaging places. The core objective of placemaking is reflected in David Engwicht's analogy: "placemaking is like turning a house into a home" (Placemaking.Education, no date), that is, to transform a mere physical location or space into an emotionally resonant and socially connected place. Placemaking encompasses not only the planning and design of spaces but also their sustainable management (Project for Public Spaces, 2016). The placemaking theory has been developed on the principle that urban and architectural projects should prioritize people and their emotions over cars and shopping centres. This idea originated in groundbreaking work of intellectuals from the 1960s, such as Jane Jacobs[1] and William H. Whyte[2]. Building upon their work, the term 'placemaking' started being used in the 1970s by architects and planners to describe the process of transforming public spaces into enjoyable destinations. Since then, a number of placemaking organisations, most notably the pioneering Project for Public Spaces (PPS)[3], have played a pivotal role in guiding community leaders toward the value of reinvesting in existing communities instead of pursuing endless urban sprawl. These organisations have raised awareness that this approach is both economically and environmentally more sustainable (Ellery, Ellery and Borkowsky, 2021). Over the last few decades, placemaking has been extensively used to describe various approaches in urban development, ranging from community-driven emancipatory practices, such as reclaiming underused neighbourhood spaces, to top-down strategic plans for neighbourhood revitalisations. Theoretical discussions have attempted to categorize placemaking processes with regards to ignition, goal, scale, budget and involvement, among others (Courage et al., 2021). One widely adopted classification among placemaking scholars is Wyckoff's (2014) distinction of four types: Standard Placemaking (or simply placemaking) aims at creating quality places and reviving existing public spaces. This approach is pursued by the public, non-profit, or private sector, employing community participation into a variety of projects and activities. These projects are often incremental, such as street and façade improvements, residential rehabs, which may encompass public spaces and small-scale projects. Tactical Placemaking focuses on creating quality places using a deliberate approach to change, developed in phases that begin with quick, short-term commitments and realistic expectations. Over time, short-term activities and projects achieve gradual transformations in public spaces. Tactical placemaking can be initiated by local development strategies or from bottom-up. It includes activities such as parking space conversions, self-guided historic walks, outdoor music events, and temporary conversion of buildings. Creative Placemaking utilises arts and cultural activities to strategically shape the identity of a neighbourhood, city, or region. The processes include revitalisation of buildings, structures and streetscapes, often improving the local business viability and public safety. Strategic Placemaking is targeted at achieving specific goals, such as raising the economic, social and cultural prosperity of a community in addition to creating quality places. This can be achieved by interventions that attract talented workers in certain locations, such as mixed-use places that are pedestrian-oriented, bike-friendly, as well as supporting recreation, arts and housing options. Naturally, implementing placemaking processes come with their own risks. Similar to other forms of civic participation, placemaking can sometimes become a buzzword for urban renewal programmes, especially when used to drive economic development of an area through spatial upgrade. When the goal is to replace an existing place with one considered an improvement, it is likely that the affected people may experience negative effects, such as direct or indirect displacement. In this regard, as placemaking strategies, aimed at revitalising underutilised spaces into vibrant places, consequently enhancing the location's attractiveness and value, are often criticised for potentially fuelling gentrification trends rather than alleviating them (Placemaking Europe, 2019). [1] In her work, epitomised in her book The Death and Life of Great American Cities (1961), Jacobs introduced the idea of "eyes on the street" that advocates for citizen ownership on the street. [2] Whyte's groundbreaking work The social Life of Small Urban Spaces (1980), summarises his extensive research on the Street Life Project in New York, in which he recorded the human behaviour in the urban setting, concluding to the essential elements for creating social life in public spaces. (see more at Projects for Public Spaces, William H. Whyte) [3] Organisation led by Fred Kent and consisted of an interdisciplinary team, has been advancing placemaking processes since 1975 originally in the US and recently globally. Developing roadmaps and toolboxes that place community participation at the centre of action they have engaged with more than 35000 communities in 52 countries (About — Project for Public Spaces, no date), while at the same time sharing their placemaking experiences and principles (see Project for Public Spaces Inc., 2015) through networking activities and courses.
Created on 08-11-2023 | Update on 15-11-2023
Read more

->
Related case studies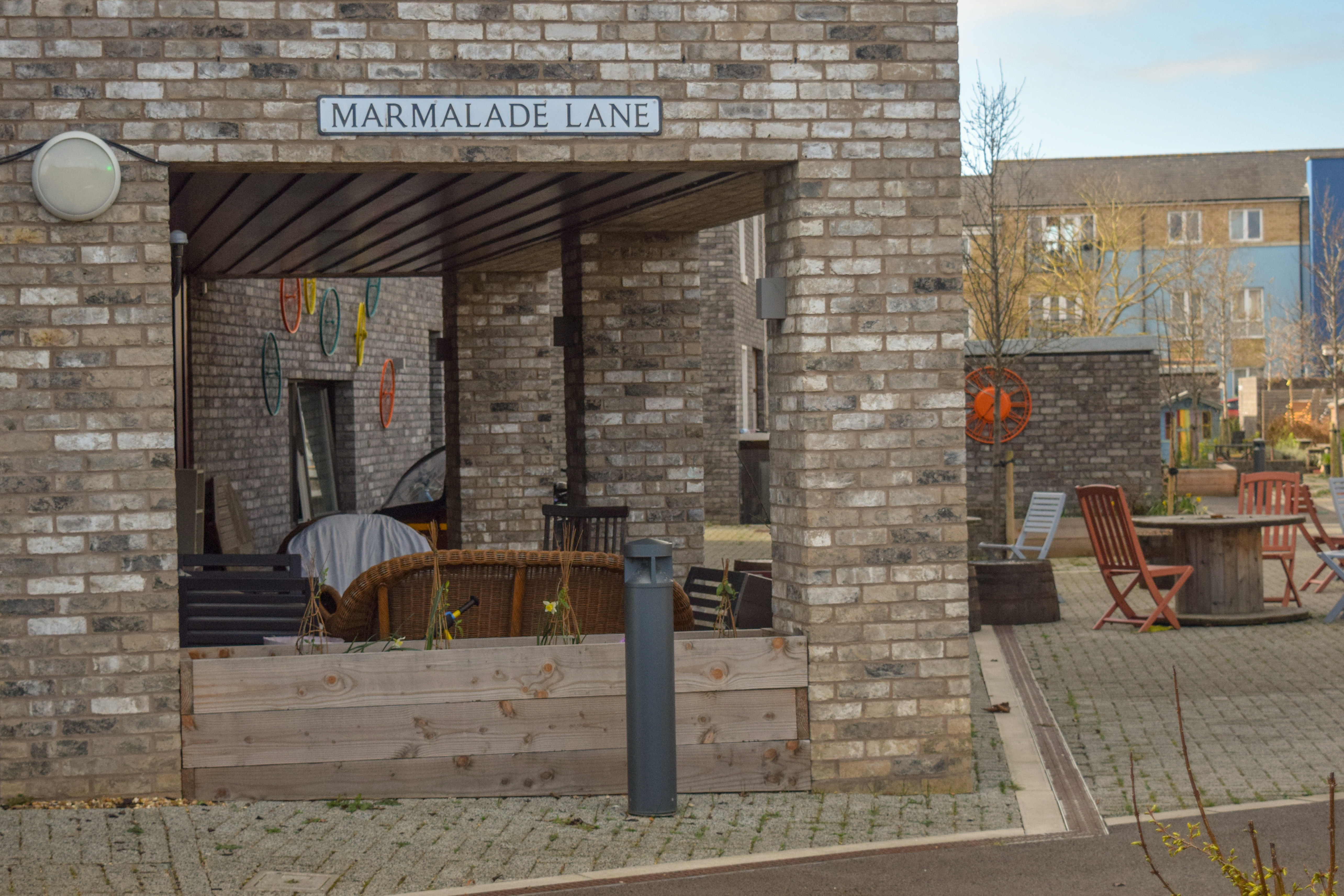 Marmalade Lane
Created on 08-06-2022
Background An aspect that is worth highlighting of Marmalade Lane, the biggest cohousing community in the UK and the first of its kind in Cambridge, is the unusual series of events that led to its realisation. In 2005 the South Cambridgeshire District Council approved the plan for a major urban development in its Northwest urban fringe. The Orchard Park was planned in the area previously known as Arbury Park and envisaged a housing-led mix-use master plan of at least 900 homes, a third of them planned as affordable housing. The 2008 financial crisis had a profound impact on the normal development of the project causing the withdrawal of many developers, with only housing associations and bigger developers continuing afterwards. This delay and unexpected scenario let plots like the K1, where Marmalade Lane was erected, without any foreseeable solution. At this point, the city council opened the possibilities to a more innovative approach and decided to support a Cohousing community to collaboratively produce a brief for a collaborative housing scheme to be tendered by developers. Involvement of users and other stakeholders The South Cambridgeshire District Council, in collaboration with the K1 Cohousing group, ventured together to develop a design brief for an innovative housing scheme that had sustainability principles at the forefront of the design. Thus, a tender was launched to select an adequate developer to realise the project. In July 2015, the partnership formed between Town and Trivselhus 'TOWNHUS' was chosen to be the developer. The design of the scheme was enabled by Mole Architects, a local architecture firm that, as the verb enable indicates, collaborated with the cohousing group in the accomplishment of the brief. The planning application was submitted in December of the same year after several design workshop meetings whereby decisions regarding interior design, energy performance, common spaces and landscape design were shared and discussed. The procurement and development process was eased by the local authority's commitment to the realisation of the project. The scheme benefited from seed funding provided by the council and a grant from the Homes and Communities Agency (HCA). The land value was set on full-market price, but its payment was deferred to be paid out of the sales and with the responsibility of the developer of selling the homes to the K1 Cohousing members. Who, in turn, were legally bounded to purchase and received discounts for early buyers. As relevant as underscoring the synergies that made Marmalade Lane's success story possible, it is important to realise that there were defining facts that might be very difficult to replicate in order to bring about analogue housing projects. Two major aspects are securing access to land and receiving enough support from local authorities in the procurement process. In this case, both were a direct consequence of a global economic crisis and the need of developing a plot that was left behind amidst a major urban development plan. Innovative aspects of the housing design Spatially speaking, the housing complex is organised following the logic of a succession of communal spaces that connect the more public and exposed face of the project to the more private and secluded intended only for residents and guests. This is accomplished by integrating a proposed lane that knits the front and rear façades of some of the homes to the surrounding urban fabric and, therefore, serves as a bridge between the public neighbourhood life and the domestic everyday life. The cars have been purposely removed from the lane and pushed into the background at the perimeter of the plot, favouring the human scale and the idea of the lane as a place for interaction and encounters between residents. A design decision that depicts the community's alignment with sustainable practices, a manifesto that is seen in other features of the development process and community involvement in local initiatives. The lane is complemented by numerous and diverse places to sit, gather and meet; some of them designed and others that have been added spontaneously by the inhabitants offering a more customisable arrangement that enriches the variety of interactions that can take place. The front and rear gardens of the terraced houses contiguous to the lane were reduced in surface and remained open without physical barriers. A straightforward design decision that emphasises the preponderance of the common space vis-a-vis the private, blurring the limits between both and creating a fluid threshold where most of the activities unfold. The Common House is situated adjacent to the lane and congregates the majority of the in-doors social activities in the scheme, within the building, there are available spaces for residents to run community projects and activities. They can cook in a communal kitchen to share both time and food, or organise cinema night in one of the multi-purpose areas. A double-height lounge and children's playroom incite gathering with the use of an application to organise easily social events amongst the inhabitants. Other practical facilities are available such as a bookable guest bedroom and shared laundry. The architecture of its volume stands out due to its cubic-form shape and different lining material that complements its relevance as the place to convene and marks the transition to the courtyard where complementary outdoor activities are performed. Within the courtyard, children can play without any danger and under direct supervision from adults, but at the same time enjoy the liberty and countless possibilities that such a big and open space grants. Lastly, the housing typologies were designed to recognise multiple ways of life and needs. Consequently, adaptability and flexibility were fundamental targets for the architects who claim that units were able to house 29 different configurations. They are arranged in 42 units comprehending terraced houses and apartments from one to five bedrooms. Residents also had the chance to choose between a range of interior materials and fittings and one of four brick colours for the facade. Construction and energy performance characteristics Sustainability was a prime priority to all the stakeholders involved in the project. Being a core value shared by the cohousing members, energy efficiency was emphasised in the brief and influenced the developer's selection. The Trivselhus Climate Shield® technology was employed to reduce the project's embodied and operational carbon emissions. The technique incorporates sourced wood and recyclable materials into a timber-framed design using a closed panel construction method that assures insulation and airtightness to the buildings. Alongside the comparative advantages of reducing operational costs, the technique affords open interior spaces which in turn allow multiple configurations of the internal layout, an aspect that was harnessed by the architectural design. Likewise, it optimises the construction time which was further reduced by using industrialised triple-glazed composite aluminium windows for easy on-site assembly. Furthermore, the mechanical ventilation and heat recovery (MVHR) system and the air source heat pumps are used to ensure energy efficiency, air quality and thermal comfort. Overall, with an annual average heat loss expected of 35kWh/m², the complex performs close to the Passivhaus low-energy building standard of 30kWh/m² (Merrick, 2019). Integration with the wider community It is worth analysing the extent to which cohousing communities interact with the neighbours that are not part of the estate. The number of reasons that can provoke unwanted segregation between communities might range from deliberate disinterest, differences between the cohousing group's ethos and that one of the wider population, and the common facilities making redundant the ones provided by local authorities, just to name a few. According to testimonies of some residents contacted during a visit to the estate, it is of great interest for Marmalade Lane's community to reach out to the rest of the residents of Orchard Park. Several activities have been carried out to foster integration and the use of public and communal venues managed by the local council. Amongst these initiatives highlights the reactivation of neglected green spaces in the vicinity, through gardening and 'Do it yourself' DIY activities to provide places to sit and interact. Nonetheless, some residents manifested that the area's lack of proper infrastructure to meet and gather has impeded the creation of a strong community. For instance, the community centre run by the council is only open when hired for a specific event and not on a drop-in basis. The lack of a pub or café was also identified as a possible justification for the low integration of the rest of the community. Marmalade Lane residents have been leading a monthly 'rubbish ramble' and social events inviting the rest of the Orchard Park community. In the same vein, some positive impact on the wider community has been evidenced by the residents consulted. One of them mentioned the realisation of a pop-up cinema and a barbecue organised by neighbours of the Orchard Park community in an adjacent park. Perhaps after being inspired by the activities held in Marmalade Lane, according to another resident.