Energy Retrofit
Area: Design, planning and building
Buildings are responsible for approximately 40% of energy consumption and 36% of greenhouse gas emissions in the EU (European Commission, 2021). Energy retrofit is also referred to as building energy retrofit, low carbon retrofit, energy efficiency retrofit and energy renovation; all terms related to the upgrading of existing buildings energy performance to achieve high levels of energy efficiency. Energy retrofit significantly reduces energy use and energy demand (Femenías et al., 2018; Outcault et al., 2022), tackles fuel (energy) poverty, and lowers carbon emissions (Karvonen, 2013). It is widely acknowledged that building energy retrofit should result in a reduction of carbon emissions by at least 60% compared with pre-retrofit emissions, in order to stabilise atmospheric carbon concentration and mitigate climate change (Fawcett, 2014; Outcault et al., 2022). Energy retrofit can also improve comfort, convenience, and aesthetics (Karvonen, 2013).
There are two main approaches to deep energy retrofit, fabric-first and whole-house systems. The fabric-first approach prioritises upgrades to the building envelope through four main technical improvements: increased airtightness; increased thermal insulation; improving the efficiency of systems such as heating, lighting, and electrical appliances; and installation of renewables such as photovoltaics (Institute for Sustainability & UCL Energy Institute, 2012). The whole-house systems approach to retrofit further considers the interaction between the climate, building site, occupant, and other components of a building (Institute for Sustainability & UCL Energy Institute, 2012). In this way, the building becomes an energy system with interdependent parts that strongly affect one another, and energy performance is considered a result of the whole system activity.
Energy retrofit can be deep, over-time, or partial (Femenías et al., 2018). Deep energy retrofit is considered a onetime event that utilises all available energy saving technologies at that time to reduce energy consumption by 60% - 90% (Fawcett, 2014; Femenías et al., 2018). Over-time retrofit spreads the deep retrofit process out over a strategic period of time, allowing for the integration of future technologies (Femenías et al., 2018). Partial retrofit can also involve several interventions over time but is particularly appropriate to protect architectural works with a high cultural value, retrofitting with the least-invasive energy efficiency measures (Femenías et al., 2018).
Energy retrofit of existing social housing tends to be driven by cost, use of eco-friendly products, and energy savings (Sojkova et al., 2019). Energy savings are particularly important in colder climates where households require greater energy loads for space heating and thermal comfort and are therefore at risk of fuel poverty (Sojkova et al., 2019; Zahiri & Elsharkawy, 2018). Similarly, extremely warm climates requiring high energy loads for air conditioning in the summer can contribute to fuel poverty and will benefit from energy retrofit (Tabata & Tsai, 2020). Femenías et al's (2018) extensive literature review on property owners' attitudes to energy efficiency argues that retrofit is typically motivated by other needs, referred to by Outcault et al (2022) as 'non-energy impacts' (NEIs). While lists of NEIs are inconsistent in the literature, categories related to "weatherization retrofit" refer to comfort, health, safety, and indoor air quality (Outcault et al., 2022).
Worldwide retrofit schemes such as RetrofitWorks and EnerPHit use varying metrics to define low carbon retrofit, but their universally adopted focus has been on end-point performance targets, which do not include changes to energy using behaviour and practice (Fawcett, 2014). An example of an end-point performance target is Passivhaus' refurbishment standard (EnerPHit), which requires a heating demand below 25 kWh/(m²a) in cool-temperate climate zones; zones are categorised according to the Passive House Planning Package (PHPP) (Passive House Institute, 2016).
References
European Commission. (2021). 2021/0426 (COD) DIRECTIVE OF THE EUROPEAN PARLIAMENT AND OF THE COUNCIL on the energy performance of buildings (recast). https://eur-lex.europa.eu/legal-content/EN/TXT/PDF/?uri=CELEX:52021DC0550&from=EN
Fawcett, T. (2014). Exploring the time dimension of low carbon retrofit: Owner-occupied housing. Building Research and Information, 42(4), 477–488. https://doi.org/10.1080/09613218.2013.804769
Femenías, P., Mjörnell, K., & Thuvander, L. (2018). Rethinking deep renovation: The perspective of rental housing in Sweden. Journal of Cleaner Production, 195, 1457–1467. https://doi.org/10.1016/j.jclepro.2017.12.282
Institute for Sustainability, & UCL Energy Institute. (2012). Retrofit strategies. Key Findings: Retrofit project team perspectives. https://www.instituteforsustainability.co.uk/uploads/File/2236_KeySummary03.pdf
Karvonen, A. (2013). Towards systemic domestic retrofit: A social practices approach. Building Research and Information, 41(5), 563–574. https://doi.org/10.1080/09613218.2013.805298
Outcault, S., Sanguinetti, A., Dessouky, N., & Magaña, C. (2022). Occupant Non-Energy Impact Identification Framework: A human-centered approach to understanding residential energy retrofits. Energy and Buildings, 263, 112054. https://doi.org/10.1016/j.enbuild.2022.112054
Passipedia: The Passive House Resource. (n.d.). EnerPHit – the Passive House Certificate for Retrofits. Retrieved 11 April, 2022, from https://passipedia.org/certification/enerphit
Passive House Institute. (2016). Criteria for the Passive House, EnerPHit and PHI Low Energy Building Standard. www.passivehouse.com
RetrofitWorks. (n.d.). RetrofitWorks: Building Energy Efficiency Together. Retrieved 11 April, 2022, from https://retrofitworks.co.uk/
Sojkova, K., Volf, M., Lupisek, A., Bolliger, R., & Vachal, T. (2019). Selection of favourable concept of energy retrofitting solution for social housing in the Czech Republic based on economic parameters, greenhouse gases, and primary energy consumption. Sustainability (Switzerland), 11(22). https://doi.org/10.3390/su11226482
Tabata, T., & Tsai, P. (2020). Fuel poverty in Summer: An empirical analysis using microdata for Japan. Science of the Total Environment, 703. https://doi.org/10.1016/j.scitotenv.2019.135038
Zahiri, S., & Elsharkawy, H. (2018). Towards energy-efficient retrofit of council housing in London: Assessing the impact of occupancy and energy-use patterns on building performance. Energy and Buildings, 174, 672–681. https://doi.org/10.1016/j.enbuild.2018.07.010
Created on 23-05-2022 | Update on 20-09-2022
Related definitions
Housing Retrofit
Area: Design, planning and building
Environmental Retrofit Buildings are responsible for approximately 40% of energy consumption and 36% of carbon emissions in the EU (European Commission, 2021). Environmental retrofit, green retrofit or low carbon retrofits of existing homes ais to upgrade housing infrastructure, increase energy efficiency, reduce carbon emissions, tackle fuel poverty, and improve comfort, convenience and aesthetics (Karvonen, 2013). It is widely acknowledged that environmental retrofit should result in a reduction of carbon emissions by at least 60% in order to stabilise atmospheric carbon concentration and mitigate climate change (Fawcett, 2014; Johnston et al., 2005). Worldwide retrofit schemes such as RetrofitWorks, EnerPHit and the EU's Renovation Wave, use varying metrics to define low carbon retrofit, but their universally adopted focus has been on end-point performance targets (Fawcett, 2014). This fabric-first approach to retrofit prioritises improvements to the building fabric through: increased thermal insulation and airtightness; improving the efficiency of systems such as heating, lighting and electrical appliances; and the installation of renewables such as photovoltaics (Institute for Sustainability & UCL Energy Institute, 2012). The whole-house systems approach to retrofit further considers the interaction between the occupant, the building site, climate, and other elements or components of a building (Institute for Sustainability & UCL Energy Institute, 2012). In this way, the building becomes an energy system with interdependent parts that strongly affect one another, and energy performance is considered a result of the whole system activity. Economic Retrofit From an economic perspective, retrofit costs are one-off expenses that negatively impact homeowners and landlords, but reduce energy costs for occupants over the long run. Investment in housing retrofit, ultimately a form of asset enhancing, produces an energy premium attached to the property. In the case of the rental market, retrofit expenses create a split incentive whereby the landlord incurs the costs but the energy savings are enjoyed by the tenant (Fuerst et al., 2020). The existence of energy premiums has been widely researched across various housing markets following Rosen's hedonic pricing model. In the UK, the findings of Fuerst et al. (2015) showed the positive effect of energy efficiency over price among home-buyers, with a price increase of about 5% for dwellings rated A/B compared to those rated D. Cerin et al. (2014) offered similar results for Sweden. In the Netherlands, Brounen and Kok (2011), also identified a 3.7% premium for dwellings with A, B or C ratings using a similar technique. Property premiums offer landlords and owners the possibility to capitalise on their retrofit investment through rent increases or the sale of the property. While property premiums are a way to reconcile split incentives between landlord and renter, value increases pose questions about long-term affordability of retrofitted units, particularly, as real an expected energy savings post-retrofit have been challenging to reconcile (van den Brom et al., 2019). Social Retrofit A socio-technical approach to retrofit elaborates on the importance of the occupant. To meet the current needs of inhabitants, retrofit must be socially contextualized and comprehended as a result of cultural practices, collective evolution of know-how, regulations, institutionalized procedures, social norms, technologies and products (Bartiaux et al., 2014). This perspective argues that housing is not a technical construction that can be improved in an economically profitable manner without acknowledging that it's an entity intertwined in people's lives, in which social and personal meaning are embedded. Consequently, energy efficiency and carbon reduction cannot be seen as a merely technical issue. We should understand and consider the relationship that people have developed in their dwellings, through their everyday routines and habits and their long-term domestic activities (Tjørring & Gausset, 2018). Retrofit strategies and initiatives tend to adhere to a 'rational choice' consultation model that encourages individuals to reduce their energy consumption by focusing on the economic savings and environmental benefits through incentive programs, voluntary action and market mechanisms (Karvonen, 2013). This is often criticized as an insufficient and individualist approach, which fails to achieve more widespread systemic changes needed to address the environmental and social challenges of our times (Maller et al., 2012). However, it is important to acknowledge the housing stock as a cultural asset that is embedded in the fabric of everyday lifestyles, communities, and livelihoods (Ravetz, 2008). The rational choice perspective does not consider the different ways that occupants inhabit their homes, how they perceive their consumption, in what ways they interact with the built environment, for what reasons they want to retrofit their houses and which ways make more sense for them, concerning the local context. A community-based approach to domestic retrofit emphasizes the importance of a recursive learning process among experts and occupants to facilitate the co-evolution of the built environment and the communities (Karvonen, 2013). Involving the occupants in the retrofit process and understanding them as "carriers" of social norms, of established routines and know-how, new forms of intervention can emerge that are experimental, flexible and customized to particular locales (Bartiaux et al., 2014). There is an understanding that reconfiguring socio-technical systems on a broad scale will require the participation of occupants to foment empowerment, ownership, and the collective control of the domestic retrofit (Moloney et al., 2010).
Created on 16-02-2022 | Update on 07-10-2022
Read more

->
Sustainability
Area: Community participation
Sustainability is primarily defined as 'the idea that goods and services should be produced in ways that do not use resources that cannot be replaced and that do not damage the environment' (Cambridge Advanced Learner's Dictionary & Thesaurus, n.d.) and is often used interchangeably with the term "sustainable development"(Aras & Crowther, 2009). As defined by the UN, sustainable development is the effort to "meet the needs of the present without compromising the ability of future generations to meet their own needs" (United Nations, 1987) and is often interpreted as the strategies adopted towards sustainability with the latter being the overall goal/vision (Diesendorf, 2000). Both of these relatively general and often ambiguous terms have been a focal point for the past 20 years for researchers, policy makers, corporations as well as local communities, and activist groups, among others, (Purvis et al., 2019). The ambiguity and vagueness that characterise both of these terms have contributed to their leap into the global mainstream as well as the broad political consensus regarding their value and significance (Mebratu, 1998; Purvis et al., 2019), rendering them one of the dominant discourses in environmental, socio-political and economic issues (Tulloch, 2013). It is, however, highly contested whether their institutionalisation is a positive development. Tulloch, and Tulloch & Nielson (2013; 2014) argue that these terms -as they are currently understood- are the outcome of the "[colonisation of] environmentalist thought and action" which, during the 1960s and 1970s, argued that economic growth and ecological sustainability within the capitalist system were contradictory pursuits. This "colonisation" resulted in the disempowerment of such discourses and their subsequent "[subordination] to neoliberal hegemony" (Tulloch & Neilson, 2014, p. 26). Thus, sustainability and sustainable development, when articulated within neoliberalism, not only reinforce such disempowerment, through practices such as greenwashing, but also fail to address the intrinsic issues of a system that operates on, safeguards, and prioritises economic profit over social and ecological well-being (Jakobsen, 2022). Murray Bookchin (1982), in "The Ecology of Freedom" contends that social and environmental issues are profoundly entangled, and their origin can be traced to the notions of hierarchy and domination. Bookchin perceives the exploitative relationship with nature as a direct outcome of the development of hierarchies within early human societies and their proliferation ever since. In order to re-radicalise sustainability, we need to undertake the utopian task of revisiting our intra-relating, breaking down these hierarchical relations, and re-stitching our social fabric. The intra-relating between and within the molecules of a society (i.e. the different communities it consists of) determines how sustainability is understood and practised (or performed), both within these communities and within the society they form. In other words, a reconfigured, non-hierarchical, non-dominating intra-relationship is the element that can allow for an equitable, long-term setting for human activity in symbiosis with nature (Dempsey et al., 2011, p. 290). By encouraging, striving for, and providing the necessary space for all voices to be heard, for friction and empathy to occur, the aforementioned long-term setting for human activity based on a non-hierarchical, non-dominating intra-relating is strengthened, which augments the need for various forms of community participation in decision-making, from consulting to controlling. From the standpoint of spatial design and architecture, community participation is already acknowledged as being of inherent value in empowering communities (Jenkins & Forsyth, 2009), while inclusion in all facets of creation, and community control in management and maintenance can improve well-being and social reproduction (Newton & Rocco, 2022; Turner, 1982). However, much like sustainability, community participation has been co-opted by the neoliberal hegemony; often used as a "front" for legitimising political agendas or as panacea to all design problems, community participation has been heavily losing its significance as a force of social change (Smith & Iversen, 2018), thus becoming a depoliticised, romanticised prop. Marcus Miessen (2011) has developed a critical standpoint towards what is being labelled as participation; instead of a systematic effort to find common ground and/or reach consensus, participation through a cross-benching approach could be a way to create enclaves of disruption, i.e. processes where hierarchy and power relations are questioned, design becomes post-consensual spatial agency and participation turns into a fertile ground for internal struggle and contestation. Through this cross-benching premise, community participation is transformed into a re-politicised spatial force. In this context, design serves as a tool of expressing new imaginaries that stand against the reproduction of the neoliberal spatial discourse. Thus, sustainability through community participation could be defined as the politicised effort to question, deconstruct and dismantle the concept of dominance by reconfiguring the process of intra-relating between humans and non-humans alike.
Created on 08-06-2022 | Update on 09-06-2022
Read more

->
Indoor Thermal Comfort
Area: Design, planning and building
Improving indoor thermal comfort is a widely agreed motivate for housing retrofit (Femenías et al., 2018; Outcault et al., 2022; Sojkova et al., 2019; Zahiri & Elsharkawy, 2018). Low carbon retrofit of existing social housing tends to be driven by cost, the use of eco-friendly products, and energy savings (Sojkova et al., 2019). Energy savings are particularly important in colder climates where households require larger energy loads for space heating and thermal comfort and are therefore at greater risk of fuel (energy) poverty (Sojkova et al., 2019; Zahiri & Elsharkawy, 2018). Femenías et al.'s (2018) extensive literature review on property owners' attitudes to energy efficiency argues that renovations are typically motivated by other needs, referred to by Outcault et al (2022) as 'non-energy impacts' (NEIs). While lists of NEIs are inconsistent in the literature, categories related to "weatherization retrofit" (Outcault et al., 2022, p.3) refer to comfort, modernity, health, safety, education, and better indoor air quality (Amann, 2006; Bergman & Foxon, 2020; Broers et al., 2022; Outcault et al., 2022). In poorly maintained social housing, however, the desire to improve indoor air quality and thermal comfort will have an impact on energy consumption. Occupants will, for example, use extra heating to feel comfortable in a damp, mouldy, or cold home. (Zahiri & Elsharkawy, 2018). There are three main technical improvements to low carbon retrofit: (1) enhancing the building fabrics thermal properties; (2) improving systems efficiency; and (3) renewable energy integration (Institute for Sustainability & UCL Energy Institute, 2012). In order for the Passivehaus Institut's EnerPHit Retrofit Plan to meet Passivhaus standards for indoor air quality, homes must achieve high levels of air tightness complemented by a mechanical ventilation system including heat recovery (MVHR). Specifically, "airtightness of a building must achieve an air change per hour rate of less than 0.6 at 50 Pa of pressure (n50), and have ventilation provided by either a balanced mechanical heat recovery ventilation or demand-controlled ventilation systems" (McCarron et al., 2019, p.297). This airtightness concept is revered for saving energy, avoiding structural damage, and contributing to thermal comfort (Bastian et al., 2022) while requiring no natural ventilation such as open windows. Mechanical HVAC units alter indoor air temperature, air movement, ventilation, noise levels, and humidity (Outcault et al., 2022). But despite known benefits to physical health and clean air, this may not lead to optimum user-comfort. This is because social housing residents have unique housing needs that differ from homeowners (Sunikka-Blank et al., 2018) and cannot be predicted without resident engagement, as residents are experts in the way they live and use their homes (Boess, 2022; Gianfrate et al., 2017; Walker et al., 2014). Post Occupancy Evaluation after retrofit has found that social housing residents are often unfamiliar with mechanical systems and their sustainable benefits, especially when retrofit occurs without resident input (Garnier et al., 2020). This can lead to misuse, overheating, the prebound effect, and the rebound effect where affordable energy bills lead to excessive heating—at times 25-26°C (Zoonnekindt, 2019)—contributing to performance gaps as high as five times the predicted energy consumption (Traynor, 2019). Other households considered mechanical systems to be bulky, ugly, and noisy, prompting removal, lack of use, and at times emotional distress (Lowe et al., 2018). DREEAM's Berlin pilot site found one household blocking mechanical ventilation with tissue paper because they considered the air too cold and residents "haven't been informed about the positive impact of a well working ventilation on their health and on the energy efficiency of the heating in their apartment" (Zoonnekindt, 2019). DREEAM continued the project with Green Neighbours (Zoonnekindt, 2019), an innovative engagement program co-designed with and for residents to better inform mechanical systems usage. However, literature shows (Boess, 2022; Gianfrate et al., 2017; Walker et al., 2014) that informing residents on how to use mechanical systems is unlikely to change use-habits or adequately combat performance gaps. In order to change residents' energy behaviours, resident stakeholders should be integrated in retrofit decision-making.
Created on 20-09-2022 | Update on 01-12-2023
Read more

->
Life Cycle Costing
Area: Design, planning and building
Life Cycle Costing (LCC) is a method used to estimate the overall cost of a building during its different life cycle stages, whether from cradle to grave or within a predetermined timeframe (Nucci et al., 2016; Wouterszoon Jansen et al., 2020). The Standardised Method of Life Cycle Costing (SMLCC) identifies LCC in line with the International Standard ISO 15686-5:2008 as "Methodology for the systematic economic evaluation of life cycle costs over a period of analysis, as defined in the agreed scope." (RICS, 2016). This evaluation can provide a useful breakdown of all costs associated with designing, constructing, operating, maintaining and disposing of this building (Dwaikat & Ali, 2018). Life cycle costs of an asset can be divided into two categories: (1) Initial costs, which are all the costs incurred before the occupation of the house, such as capital investment costs, purchase costs, and construction and installation costs (Goh & Sun, 2016; Kubba, 2010); (2) Future costs, which are those that occur after the occupancy phase of the dwelling. The future costs may involve operational costs, maintenance, occupancy and capital replacement (RICS, 2016). They may also include financing, resale, salvage, and end-of-life costs (Karatas & El-Rayes, 2014; Kubba, 2010; Rad et al., 2021). The costs to be included in a LCC analysis vary depending on its objective, scope and time period. Both the LCC objective and scope also determine whether the assessment will be conducted for the whole building, or for a certain building component or equipment (Liu & Qian, 2019; RICS, 2016). When LCC combines initial and future costs, it needs to consider the time value of money (Islam et al., 2015; Korpi & Ala-Risku, 2008). To do so, future costs need to be discounted to present value using what is known as "Discount Rate" (Islam et al., 2015; Korpi & Ala-Risku, 2008). LCC responds to the needs of the Architectural Engineering Construction (AEC) industry to recognise that value on the long term, as opposed to initial price, should be the focus of project financial assessments (Higham et al., 2015). LCC can be seen as a suitable management method to assess costs and available resources for housing projects, regardless of whether they are new or already exist. LCC looks beyond initial capital investment as it takes future operating and maintenance costs into account (Goh & Sun, 2016). Operating an asset over a 30-year lifespan could cost up to four times as much as the initial design and construction costs (Zanni et al., 2019). The costs associated with energy consumption often represent a large proportion of a building's life cycle costs. For instance, the cumulative value of utility bills is almost half of the cost of a total building life cycle over a 50-year period in some countries (Ahmad & Thaheem, 2018; Inchauste et al., 2018). Prioritising initial cost reduction when selecting a design alternative, regardless of future costs, may not lead to an economically efficient building in the long run (Rad et al., 2021). LCC is a valuable appraising technique for an existing building to predict and assess "whether a project meets the client's performance requirements" (ISO, 2008). Similarly, during the design stages, LCC analysis can be applied to predict the long-term cost performance of a new building or a refurbishing project (Islam et al., 2015; RICS, 2016). Conducting LCC supports the decision-making in the design development stages has a number of benefits (Kubba, 2010). Decisions on building programme requirements, specifications, and systems can affect up to 80% of its environmental performance and operating costs (Bogenstätter, 2000; Goh & Sun, 2016). The absence of comprehensive information about the building's operational performance may result in uninformed decision-making that impacts its life cycle costs and future performance (Alsaadani & Bleil De Souza, 2018; Zanni et al., 2019). LCC can improve the selection of materials in order to reduce negative environmental impact and positively contribute to resourcing efficiency (Rad et al., 2021; Wouterszoon Jansen et al., 2020), in particular when combined with Life Cycle Assessment (LCA). LCA is concerned with the environmental aspects and impacts and the use of resources throughout a product's life cycle (ISO, 2006). Together, LCC and LCA contribute to adopt more comprehensive decisions to promote the sustainability of buildings (Kim, 2014). Therefore, both are part of the requirements of some green building certificates, such as LEED (Hajare & Elwakil, 2020). LCC can be used to compare design, material, and/or equipment alternatives to find economically compelling solutions that respond to building performance goals, such as maximising human comfort and enhancing energy efficiency (Karatas & El-Rayes, 2014; Rad et al., 2021). Such solutions may have high initial costs but would decrease recurring future cost obligations by selecting the alternative that maximises net savings (Atmaca, 2016; Kubba, 2010; Zanni et al., 2019). LCC is particularly relevant for decisions on energy efficiency measures investments for both new buildings and building retrofitting. Such investments have been argued to be a dominant factor in lowering a building's life cycle cost (Fantozzi et al., 2019; Kazem et al., 2021). The financial effectiveness of such measures on decreasing energy-related operating costs, can be investigated using LCC analysis to compare air-condition systems, glazing options, etc. (Aktacir et al., 2006; Rad et al., 2021). Thus, LCC can be seen as a risk mitigation strategy for owners and occupants to overcome challenges associated with increasing energy prices (Kubba, 2010). The price of investing in energy-efficient measures increase over time. Therefore, LCC has the potential to significantly contribute to tackling housing affordability issues by not only making design decisions based on the building's initial costs but also its impact on future costs – for example energy bills - that will be paid by occupants (Cambier et al., 2021). The input data for a LCC analysis are useful for stakeholders involved in procurement and tendering processes as well as the long-term management of built assets (Korpi & Ala-Risku, 2008). Depending on the LCC scope, these data are extracted from information on installation, operating and maintenance costs and schedules as well as the life cycle performance and the quantity of materials, components and systems, (Goh & Sun, 2016) These information is then translated into cost data along with each element life expectancy in a typical life cycle cost plan (ISO, 2008). Such a process assists the procurement decisions whether for buildings, materials, or systems and/or hiring contractors and labour, in addition to supporting future decisions when needed (RICS, 2016). All this information can be organised using Building Information Modelling (BIM) technology (Kim, 2014; RICS, 2016). BIM is used to organise and structure building information in a digital model. In some countries, it has become mandatory that any procured project by a public sector be delivered in a BIM model to make informed decisions about that project (Government, 2012). Thus, conducting LCC aligns with the adoption purposes of BIM to facilitate the communication and transfer of building information and data among various stakeholders (Juan & Hsing, 2017; Marzouk et al., 2018). However, conducting LCC is still challenging and not widely adopted in practice. The reliability and various formats of building related-data are some of the main barriers hindering the adoption of LCCs (Goh & Sun, 2016; Islam et al., 2015; Kehily & Underwood, 2017; Zanni et al., 2019).
Created on 05-12-2022 | Update on 20-05-2023
Read more

->
Performance Gap in Retrofit
Area: Design, planning and building
The performance gap in retrofit refers to the disparity between the predicted and actual energy consumption after a retrofit project, measured in kWh/m2/year. This discrepancy can be substantial, occasionally reaching up to five times the projected energy usage (Traynor, 2019). Sunikka-Blank & Galvin (2012) identify four key factors as contributing to the performance gap: (1) the rebound effect, (2) the prebound effect, (3) interactions of occupants with building components, and (4) the uncertainty of building performance simulation outcomes. Gupta & Gregg (2015) additionally identify elevated building air-permeability rates as a factor leading to imbalanced and insufficient extract flowrates, exacerbating the performance gap. While post occupancy evaluation of EnerPhit—the Passivhaus Institut certification for retrofit—has shown far better building performance in line with predictions, the human impact of building users operating the building inefficiently will always lead to some sort of performance gap (Traynor, 2019, p. 34). Deeper understanding of the prebound effect and the rebound effect can improve energy predictions and aid in policy-making (Galvin & Sunikka-Blank, 2016). Therefore, the 'prebound effect' and the 'rebound effect', outlined below, are the most widely researched contributors to the energy performance gaps in deep energy retrofit. Prebound Effect The prebound effect manifests when the actual energy consumption of a dwelling falls below the levels predicted from energy rating certifications such as energy performance certificates (EPC) or energy performance ratings (EPR). According to Beagon et al. (2018, p.244), the prebound effect typically stems from "occupant self-rationing of energy and increases in homes of inferior energy ratings—the type of homes more likely to be rented." Studies show that the prebound effect can result in significantly lower energy savings post-retrofit than predicted and designed to achieve (Beagon et al., 2018; Gupta & Gregg, 2015; Sunikka-Blank & Galvin, 2012). Sunikka-Blank & Galvin's (2012) study compared the calculated space and water heating energy consumption (EPR) with the actual measured consumption of 3,400 German dwellings and corroborated similar findings of the prebound effect in the Netherlands, Belgium, France, and the UK. Noteworthy observations from this research include: (1) substantial variation in space heating energy consumption among dwellings with identical EPR values; (2) measured consumption averaging around 30% lower than EPR predictions; (3) a growing disparity between actual and predicted performance as EPR values rise, reaching approximately 17% for dwellings with an EPR of 150 kWh/m²a to about 60% for those with an EPR of 500 kWh/m²a (Sunikka-Blank & Galvin, 2012); and (4) a reverse trend occurring for dwellings with an EPR below 100 kWh/m²a, where occupants consume more energy than initially calculated in the EPR, referred to as the rebound effect. Galvin & Sunikka-Blank (2016) identify that a combination of high prebound effect and low income is a clear indicator of fuel poverty, and suggest this metric be utilised to target retrofit policy initiatives. Rebound Effect The rebound effect materializes when energy-efficient buildings consume more energy than predicted. Occupants perceive less guilt associated with their energy consumption and use electrical equipment and heating systems more liberally post-retrofit, thereby diminishing the anticipated energy savings (Zoonnekindt, 2019). Santangelo & Tondelli (2017) affirm that the rebound effect arises from occupants' reduced vigilance towards energy-related behaviours, under the presumption that enhanced energy efficiency in buildings automatically decreases consumption, regardless of usage levels and individual behaviours. Galvin (2014) further speculates several factors contributing to the rebound effect, including post-retrofit shifts in user behaviour, difficulties in operating heating controls, inadequacies in retrofit technology, or flawed mathematical models for estimating pre- and post-retrofit theoretical consumption demand. The DREEAM project, funded by the European Union, discovered instances of electrical system misuse in retrofitted homes upon evaluation (Zoonnekindt, 2019). A comprehensive comprehension of the underlying causes of the rebound effect is imperative for effective communication with all retrofit stakeholders and for addressing these issues during the early design stages. Engaging residents in the retrofit process from the outset can serve as a powerful strategy to mitigate performance gaps. Design-thinking (Boess, 2022), design-driven approaches (Lucchi & Delera, 2020), and user-centred design (Awwal et al., 2022; van Hoof & Boerenfijn, 2018) foster socially inclusive retrofit that considers Equality, Diversity, and Inclusion (EDI). These inclusive approaches can increase usability of technical systems, empower residents to engage with retrofit and interact with energy-saving technology, and enhance residents' energy use, cultivating sustainable energy practices as habitual behaviours. Consequently, this concerted effort not only narrows the performance gap but simultaneously enhances overall wellbeing and fortifies social sustainability within forging communities.
Created on 08-09-2023 | Update on 01-12-2023
Read more

->
Related case studies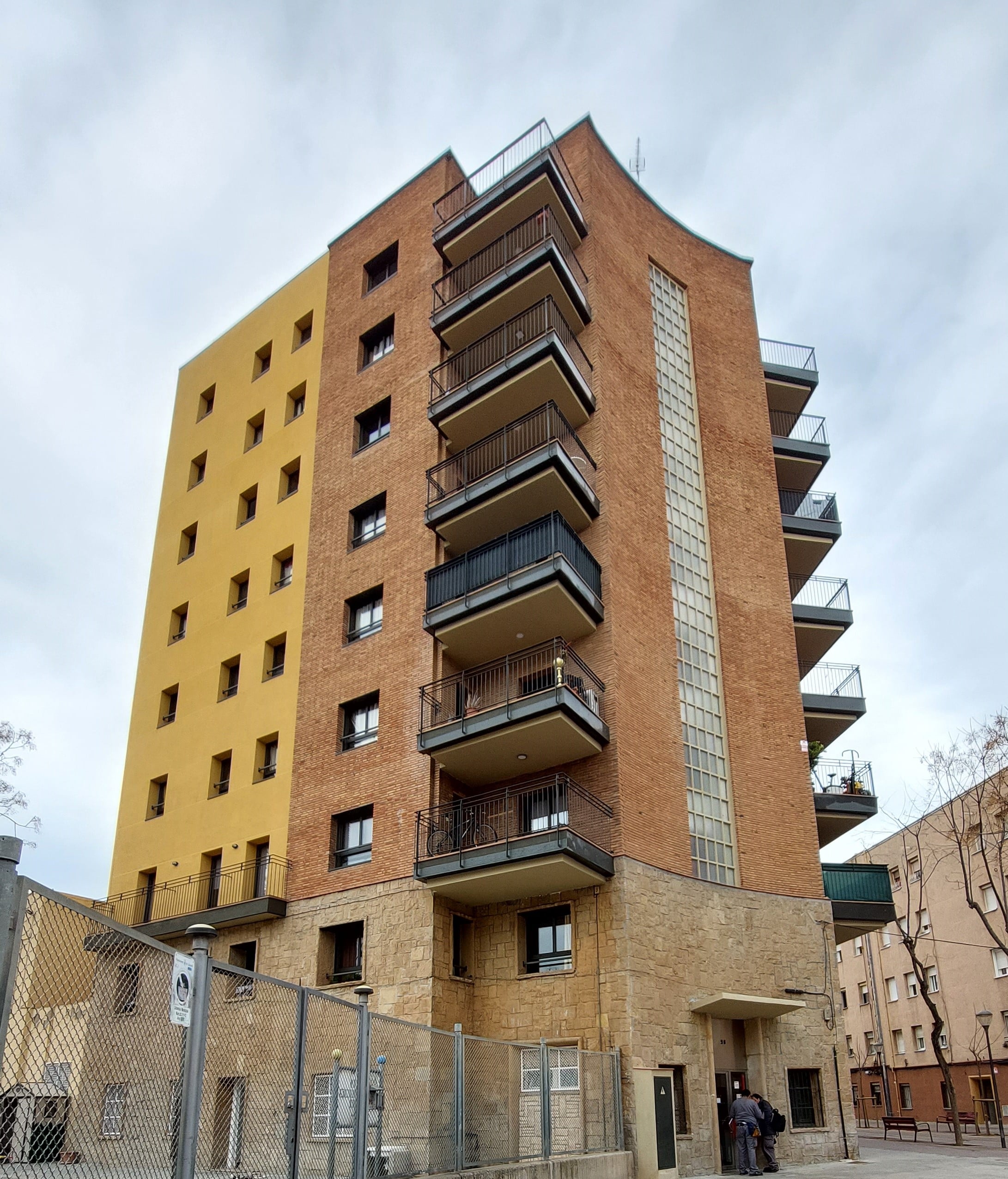 HOUSEFUL: Els Mestres, Sabadell
Created on 01-12-2023
Innovative Aspects of the Housing Design/Building: Bloc Els Mestres underwent a major retrofit as part of the EU-funded HOUSEFUL project, integrating innovative circular solutions and services. Tenants were involved through technical systems operation learning and feedback sessions. Tenant engagement methods included interviews and workshops focused on teaching residents how to engage with energy consumption and learning the energy consumption of home systems. As with typical DER, there were four main technical improvements to the building: (1) airtightness, (2) insulation, (3) smart systems, and (4) renewable energies. Circular solutions also incorporated into the retrofit to reduce waste include: (1) reusing the balcony balustrades after raising their height to meet building regulations, (2) recycled wall cladding product, and (3) greywater to be treated using the Nature Based Solution (NBS) of a green wall inside the courtyard. Construction Characteristics, Materials, and Processes: After the rehabilitation, the housing block has evolved into a resilient structure with two four-bedroom apartments per floor, spanning the 1st to the 8th floor. Its distinctive design encompasses an array of materials, from natural limestone and cork SATE for insulation to yellow render, terracotta brick, and unobstructed glass panels. With a strategic south-east orientation, the building optimizes natural light, thanks to square windows and cantilevered balconies. Inside, the apartments are designed in a clean, white palette, giving tenants the freedom to infuse their unique style and personal touch. Energy Performance Characteristics: Physical deep energy retrofit interventions included: cork external wall insulation; airtightness, fixing holes and fissures, double glazing, or other solution to reduce thermal coefficient; mechanical ventilation; hydraulic balance valve with differential pressure measurement for the determination of the circulation flow, with insulation; and solar thermal panels, owned by the building owner, together increasing energy efficiency by approximately 50% compared to pre-retrofit. Tenants received technical training on how to use dwelling systems, potentially improving energy efficiency. Involvement of Users and Other Stakeholders: The rehabilitation process has involved collaborative decision-making among key stakeholders: LEITAT, non-profit organisation managing and researching sustainable technologies—project co-ordinators; AHC—Housing Agency of Catalonia and building owners; Sabadell Council; WE&B, organised co-creation activities and resident outreach; Housing Europe; members of the tenants' association; Aiguasol, solar thermal energy; and ITEC, Catalan Institute of Construction and Technology—performed LCAs (life cycle analyses) to decide on cost-effectiveness of circular solutions. The retrofit project encompassed low levels of tenant consultation and feedback sessions. The importance of managing conflicts that arise during tenant involvement in decision-making processes was recognized. A 'circularity agent' was proposed to teach tenants how to use complex technical systems, potentially fostering in-house expertise. Relationship to Urban Environment: Located in Sabadell Sud near the local airport, the block has undergone a significant transformation over the years. It has evolved from an isolated building, the once surrounding fields now transformed into a densely populated urban environment. Notably, it seamlessly integrates into this urban landscape, with a tonally harmonious façade that bathes the surroundings in a warm and visually appealing ambiance. The ground floor is dedicated to the community, fostering a strong connection to the local area and its residents. The nearby pedestrianized streets, adorned with benches, trees, and versatile playground equipment for all age groups, create a welcoming and inclusive atmosphere. This building plays a vital role as it provides accommodation exclusively for social housing residents, contributing to the rich social fabric of the urban community.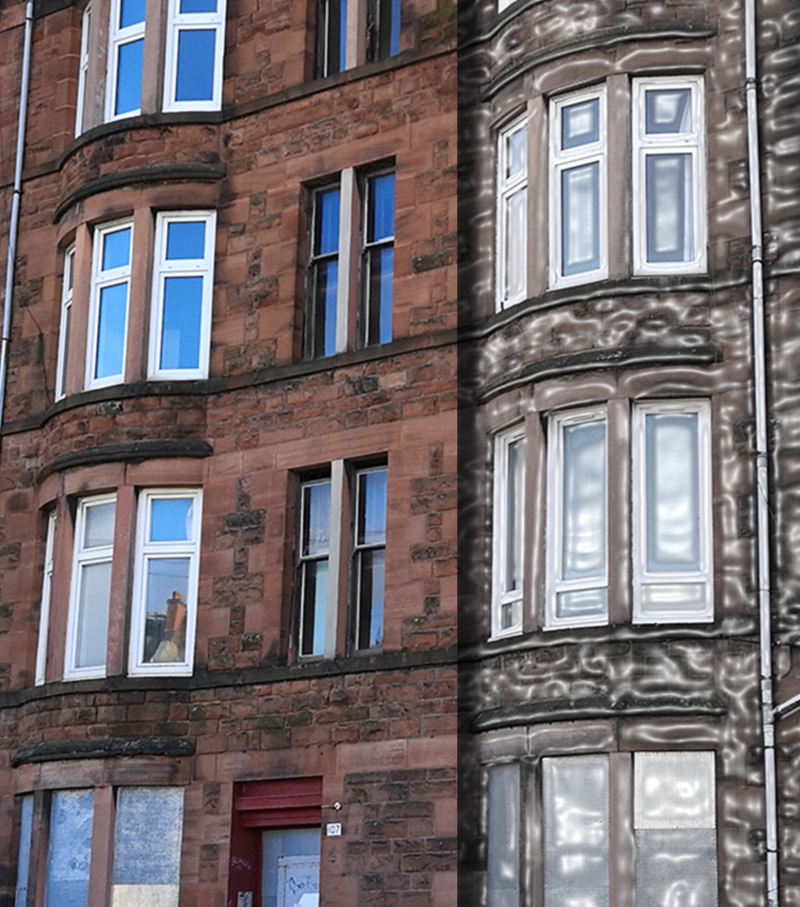 Pre-1919 Niddrie Road Retrofit – An Example of Care for Climate and Health
Created on 13-11-2023
The term 'retrofit' remains a subject of debate, often used interchangeably with 'refurbishment' and 'renovation', lacking a clear distinction. Linguistically, the Oxford English Dictionary (2023) defines 'retrofit' as: "A modification made to a product or structure to incorporate changes and developments introduced since manufacture or construction; the action or fact of modifying a product or structure in this manner. Also figurative. Concerning buildings, in later use, often implying (an instance of) the making of adaptations to improve energy efficiency or to counteract or mitigate the effects of climate change." For buildings, retrofit encompasses substantial physical modifications made to them. These changes can stem from two kinds of activities: mitigating activities aimed at improving energy efficiency and adaptive activities, often referred to as 'adaption', involving interventions such as adjustments, reuse or upgrades to align the building with new requirements or conditions (Dixon, 2014). The retrofitting process of this old tenement at 107 Niddrie Road involved activities for various purposes. For instance, external activities included preserving the aesthetic appearance and heritage of Glasgow's iconic housing typology. The internal activities included repairing all services, including urgent maintenance for timber elements and structural enhancements for future residents' safety. The retrofitting decisions were also made as a response to the pressing demands of climate change and the future needs of residents. However, these decisions were primarily based on the expertise of the landlord (the housing association), architects, and the Passivhaus enerPHit standard rather than the active involvement of the future occupants (see RE-DWELL blogpost Retrofit and Social Engagement). In this case study, we will only focus on three primary goals of the retrofitting process: low energy consumption, low carbon emissions, and ensuring the health and wellbeing of future dwellers. Low energy consumption The 107 Niddrie Road is an example of how to tackle fuel poverty among dwellers living in this type of historic housing stock. In Scotland, approximately 30% of families living in traditional tenements (equivalent to 175,000 homes) are considered to be fuel poor. The substandard housing conditions of old tenements make it challenging to maintain indoor warmth. Consequently, a substantial portion of a family's income is allocated to energy bills, exacerbating fuel poverty. The retrofit involved implementing several energy measures aligned with the Passivhaus enerPhit standard to enhance the tenement's energy efficiency. The architects of John Gilbert expect these measures to result in slashing heating costs by up to 90%. Therefore, this retrofit can be considered a deep energy retrofit. Deep energy retrofit provides up to 60 % energy savings by upgrading the building using "a combination or "package" of multiple energy measures that upgrade the physical fabric, heat generation system and lighting of a building" (Page 3, Saffari & Beagon, 2022). The adopted energy measures for this deep energy retrofit included: 1) Retrofitting the fabric: It involved insulating walls, roof, and ground floor, installing triple-glazed windows, and ensuring airtightness to minimise thermal bridging. The retrofit also guaranteed a continuous airtightness line, including all key junctions at the attic level, windows, and doors. 2) Use of Waste Water Heat Recovery (WWHR) system: This system heats cold water using heat recovered from shower or bath drain water. This method significantly reduces hot water costs and carbon emissions by approximately 40%. Given that heating water represents the second largest cost of a fuel bill, this system is expected to substantially reduce these costs and carbon emissions. 3) Individual Air Source Heat Pumps (ASHP): These units were installed in the four flats on the lower floors. In parallel, efficient combi gas boilers were set up in the remaining flats to compare their performance with ASHP during residents' occupancy. Low carbon emissions Various measures, including the installation of ASHP and WWHR systems and the utilisation of natural materials, were implemented in a bid to reduce carbon emissions and combat climate change. The project minimised its environmental impact using fewer new materials than new construction blocks. The UK Collaborative Centre for Housing Evidence is currently evaluating the extent of the carbon reduction achieved through these measures. Ensuring health and wellbeing By adopting the Passivhaus enerPHit standard, the project prioritised occupant comfort, indoor air quality, and energy efficiency. Expected benefits include: 1) Thermal comfort and reduced energy costs: The retrofit project aimed to maintain warmth during winter and coolness in summer, thereby reducing energy costs, improving residents' quality of life, and minimising temperature-related stress amid rising energy expenses and extreme temperature fluctuations. 2) Damp and mould mitigation for indoor air quality: Condensation and humid air are common issues in Scottish homes, often leading to dampness and mould, adversely affecting residents' health. The project implemented the following techniques to mitigate these risks: Improving ventilation: A high-performance Mechanical Ventilation Heat Recovery (MVHR) system was installed to provide constant fresh air while extracting humidity. Contrary to a common misconception that installing MVHR eliminates the need to open windows, it is possible to do so in moderation, particularly during extreme temperatures, to conserve energy. Ensuring air tightness: Thermal bridges, which leak heat during winter and create cold spots on walls, were eliminated. The retrofit assured continuous airtightness line. Using breathable materials: Lime plaster was used for airtightness and vapour-permeable wood fibre for insulation. These materials mitigate common moisture-related risks in highly airtight buildings. 3) Reduced toxicity of materials for indoor air quality: Efforts were made to minimise indoor air pollution by opting for natural building materials wherever feasible. These materials were chosen to uphold excellent indoor air quality and reduce low-level toxins that could exacerbate health problems, especially for vulnerable individuals. Additionally, chemical treatments on wood were avoided to limit exposure to harmful substances and reduce costs. 4) Altered layout for better functionality and accessibility: Major changes were made to make dwellings more functional for households and guests. Some of the changes contributed to optimising available space, demonstrating the adaptability of the existing property. These adjustments aimed to improve accessibility while complying with current building regulations. A comparison of the before and after floor plan images reveals two main differences. Firstly, the kitchen was relocated closer to the living room area; it was distant and only accessible through the bedroom, making it impractical. Secondly, the bathroom was redesigned to accommodate a spacious shower, and the toilet was moved from the end of a long and narrow corridor. This change ensured accessibility, especially for family members using a wheelchair. 5) Preserve the tenement heritage: The street-facing facade was internally insulated, ensuring the building's historic appearance was preserved. Additionally, triple-glazed windows were carefully chosen to keep the traditional window frame design. Replicating this retrofitting process on a large scale The retrofit project at 107 Niddrie Road represents a noteworthy example of successfully implementing the Passivhaus enerPHit standard for deep retrofitting old tenements. The retrofit incorporated a range of energy efficiency techniques, including enhanced ventilation systems and the use of natural, non-toxic materials. However, replicating these retrofits on a larger scale presents some advantages and challenges. For instance, retrofitting several tenements at once could offer the financial benefit of bulk purchasing advanced energy-efficient technologies, like heat pumps, potentially reducing overall costs. However, the social factor of the dwellers poses a challenge in replicating these projects on a larger scale, mainly when dealing with multiple tenements being retrofitted simultaneously. Minimising disruptions to residents' daily lives during work is imperative to ensure the success of building retrofitting. In inhabited properties, resident cooperation becomes pivotal for project success. Resistance or a lack of understanding among residents can impede the implementation process. Retrofritting an inhabited dwelling disturbs household life. Communicating the benefits of the retrofit project and addressing residents' concerns becomes paramount, which is also time-consuming and financially burdensome for housing associations. Therefore, a critical factor that contributed to the successful process of executing the retrofit in this case was the vacant status of the flats, which might not be the case for other Scottish tenements. Retrofitting tenements on a large scale faces several technical challenges, including the absence of a dependable supply chain for advanced technologies like heat pumps. Some technologies mandated by the Passivhaus standards are relatively new to the UK market. Additionally, the technical expertise required to install and maintain these advanced technologies is still inadequate.
Related publications
No entries