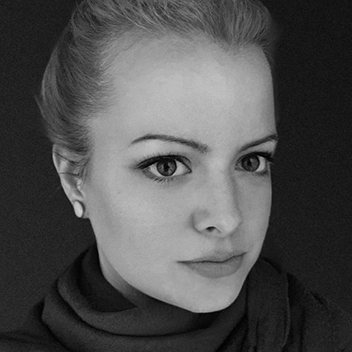 Anna Martin has a background in environmental social science and holds a double degree from the Master Program in Environmental Science (EnvEuro) from the University of Copenhagen (Denmark) and SLU (Sweden). She completed her studies with a specialisation in Environmental Management to be able to move between science, policy and practice.

Originally from Hungary, she has lived and worked in Denmark, Sweden, France and in the USA. Her experiences with private foundations, consultancies and governmental authorities added to her strong interest in development projects based on specific societal (democratic, sustainability) issues.

Anna will be working on the research project "Housing crisis and its impact on adequate housing" (ESR7), based at the Institute for Sociology, Centre for Social Sciences, Hungarian Academy of Sciences Centre of Excellence (Budapest).
Housing crisis and its impact on adequate housing - The new housing precariat in Denmark and Hungary
In 2021 the European Parliament finally responded to the housing crisis, calling member states of the union to recognize adequate housing as a fundamental human right. Adequate and affordable housing in the different Member States of the European Union is inseparable from European and international politics. However, the success is heavily dependent on the attitude of Member States, on how much they are willing to use their discretion and develop a new standard of housing policies with a focus on social inclusion (with addressing both regional and social inequalities), economic effectiveness, and environmental protection.
Housing is a social need, as it is at the heart of our daily lives. It affects the longevity of our civilization. Member states must be willing to invest in social housing with the help of European Cohesion Funds (e.g., ERDG, ESF+, Just Transition Fund, or Next Generation EU) and beyond. The European Semester provides the Member States with a forum where they can discuss fiscal, policy, and economic challenges and transfer good practices from one country to another, overcoming institutional differences. There is a need to address the issues of housing affordability, lack of access to housing finance, increasing segregation, homelessness, and deteriorating housing situations. Marginalized societal values are requesting center stage during these critical times. Agency ("the ability to act")(Valentine, 2001, p.349) is often removed from vulnerable groups, and they cannot exercise their right to adequate housing (including the security of tenure, access to services and materials, facilities, and infrastructure, affordability, habitability, accessibility, location, and cultural appropriateness).
This research aims to investigate the housing crises in Europe both at the individual level and at the level of society. Including both the macro and the micro-level, it will be demonstrated how individual and structural factors are interlinked and contribute to housing issues together. The main causal mechanisms caused by the underlying and conflicting paradigms ("Enable Housing Market" / "Housing for All") (Hegedüs, 2021) will be examined in the context of two countries: Denmark and Hungary. Both countries were affected by the wealth-creating feature of housing as a commodity that has been reinforced over time, which inevitably made housing costs more expensive. Despite the optimistic expectations of the decades following the Second World War, social and territorial inequalities increased, and a new housing precariat emerged as the socio-economic position of the middle class became unstable.
With a particularistic nature, the research will rehabilitate the ´juxtapositional approach´ (Kemeny and Lowe, 1998) and describe the contrast between the two countries (e.g.: different political economies, social security systems, regime types). Also, a new framework will be developed, to differentiate marginalized groups (people in extreme poverty) from the precariat (low- and middle-income groups in precarious housing situations).
The research would employ a mixed research design to reach its objective. After desktop research, it will experiment with the role of action research in housing studies to nurture a transdisciplinary understanding. There is a hypothesis that action research would be able to overcome the split between local initiatives at the action level and their societal potentials on the macro level, and it would be able to connect the pillars (community participation/policy and financing/design, planning and building) of the RE-DWELL ITN research project. Results of the research will enable the researcher to have an intelligent estimate of the forces that caused the housing crises and provide the reader with theoretically informed and empirically verified knowledge about the best practices in affordable housing options and policy solutions.
In short, this study will highlight the brutal consequences of the shift from a general welfare approach (where housing is a societal pillar) to a neoliberal housing market and provide both: a systematic overview and personal stories to show the full spectrum of issues of the housing crises in Europe.
Hegedüs, J. (2021). Limits and Options for Affordable Housing Policies. Housing governance to support housing affordability. UNECE Regional Online Workshop.
Kemeny, J., and S. Lowe. (1998). "Schools of Comparative Housing Research: From Convergence to
Divergence." Housing Studies 13 (2): 161–176. doi:10.1080/02673039883380.
Valentine G. (2001). Social Geographies: Space and Society.
Prentice Hall: London.
Reference documents

the role of action research.jpg
View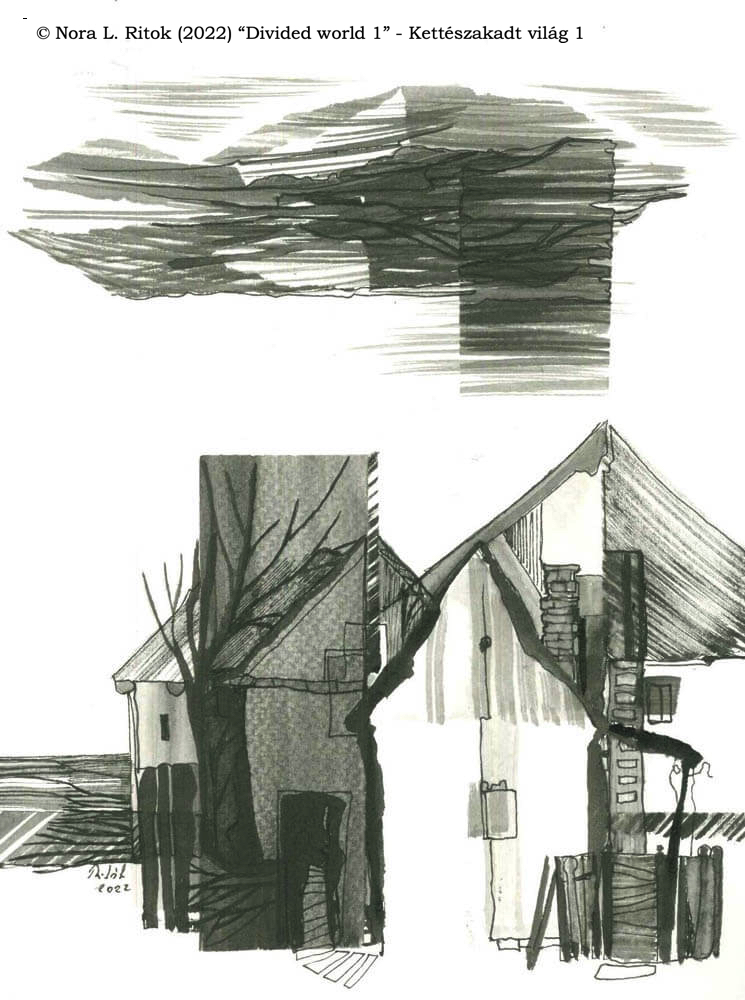 Clashing Vulnerabilities
Posted on 13-02-2023
Clashing vulnerabilities The globalization era resulted in the fragmentation of class structures, and regional and social inequalities grew. As a result, upward mobility is declining in most countries in Europe. More and more people are at risk of downward mobility, but they are classified as "not poor enough" to receive help and are pushed back of the queue for benefits, including housing. Housing affordability is a primary driver of precarity, affecting both upward and downward mobility. A growing number of middle-income people have difficulty affording adequate housing in Europe, facing safety concerns, as they can only access unhealthy, low-quality, energy-inefficient, or overcrowded housing options. Their situation has become fragile partly because of the liberalized labor market, and partly because the system abandoned them as an outcome of the cuts in the welfare state. Meanwhile, the number of evicted and homeless people is also rising. "Clashing vulnerabilities" between marginalized people and increasingly downwardly mobile people should be managed, even though risks are being distributed differently, and it is hard to estimate how structural and individual factors influence the probability of becoming downwardly mobile. I had my first secondment at BMSZKI (Budapest Methodological Centre of Social Policy and its Institutions). BMSZKI is the largest homeless service provider in the capital, also it is one of the largest social service providers in the country and the Central European region. They are making a great effort to ensure the highest quality of services for vulnerable people who turn to them for help, also they developed the methodology of needs assessment for homeless people and established a special professional network to solve issues (e.g: related to housing, health care, addiction). BMSZKI differentiates the profiles of their services based on the needs of homeless people and these services are adapted to the demands that arose. This secondment demonstrated how "social practices" as a framework can serve transdisciplinarity. There is a certain knowledge that we cannot get from books or lectures. Personal experiences of the working people at particular institutes, or organizations are essential parts of the learning process. During my stay, I learned about the theory and practice of social work, and I had the possibility to have site visits, meeting with the leaders of different programs (FET, No Slum), and homes (Temporary home for families, K22). I had the chance to have individual and multi-person consultations to shape my understanding and the direction of my research. I benefited from the fruitful discussions about how important it is to open services both for homeless and at risk people. To open the system from the bottom and the top. On the one hand, social/housing policy should lower the number of people who are homeless (living literally on the streets), and on the other hand, it should provide people in general with more opportunities to get a safe, affordable home. A policy that focuses only on the most serious problems or restricts itself to the poorest residents is clearly not sustainable. The question remains: How to find harmony between these two interrelated goals? They are non-contradictory public purposes, but they compete with each other in terms of resources and administrative capacities. There lies the challenge. I would like to conclude this post with a book recommendation and a quote. Book recommendation: Tell Them Who I Am: The Lives of Homeless Women by Elliot Liebow The author of this ethnographic research spent time with homeless women in the late eighties (after being diagnosed with cancer). Liebow tells us that these women were not homeless because they had mental health issues or addiction problems. (There are many women who are mentally or physically ill or who are having family issues or addiction problems who have homes.) They are homeless because they cannot afford a home, even when they have several jobs at the same time. Quote about homelessness from Sharon Stone (from her speech presented at the Compass Community Services, Spring Forward 2009 luncheon, San Francisco, April 23, 2009), who is the co-founder of Planet Hope ( https://planethope.org ): "I think so many people don't really know what it is to be homeless, or how people get there. Many people hear the word "homeless" and they think of that guy cast in a movie who is kind of skinny and skanky and stinky and stands outside a bar begging. That's not homelessness. That's an idea. Homelessness is what happens when you're one paycheck away from losing your home. When you have tried everything you've got. Everything. When you've leveraged everything, sold everything, sold your lawn furniture, sold your couch, taken your grandmother's engagement ring to the pawn shop, given away your clothes, haven't eaten, live on a dozen eggs for a week, fed your kids but you don't eat, slept in your car, they've taken your car, you've lived in a pup tent, and now you don't have that. Homelessness is when your government job is gone. Homelessness is when you're a professor, and they don't need you anymore at the school. Homelessness is when your dental group is cutting down and they don't need that many dentists anymore. Homelessness is educated people. Homelessness is when you're a wife, and your husband wants a younger one. Or a different one. And not you and those noisy kids… And when children — good children, not drug users — but good normal children just like yours are in the street, innocent, pure, lovely, beautiful children just like mine and yours are in the street for two weeks, 14 days, and they have nowhere to live, and not a mother who is a tiger, who stands over them and gets them to school and keeps her head together, or something happens to that parent — in 14 days they are prostitutes to live, because that's the only way they can eat. And that is a governmental statistic. This is homelessness."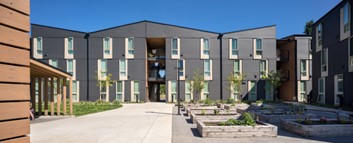 The Elwood Project, Vancouver, Washington
Created on 02-11-2022
The Elwood Project is an affordable housing development and includes forty-six apartments and supportive housing services provided by Sea-Mar Community Services. All apartments are subsidised through the Vancouver Housing Authority, so that tenants pay thirty-five percent of their income towards rent, according to public housing designation. There are garden-style apartments to allow residents to choose when and where to interact with neighbours. Units are 37 sq. m. with 1 bedroom. These apartments are fully accessible and amenities include a community room, laundry room, covered bike parking, and outdoor courtyard with a community garden (Housing Initiative, 2022). This case highlights the benefits of trauma informed design (TID) in the supportive housing sector. These homes were built using concepts of open corridors, natural light, art and nature, colours of nature, natural materials, design with commercial sustainability, elements of privacy and personalization, open areas, adequate and easy access to services. With these thoughtful techniques, Elwood offers socially sustainable help for vulnerable people (people with special needs, homeless, formally homeless) and for the new "housing precariat". The Elwood project is a good example of combining private apartments with opportunities for community living, where services and facilities management contribute to the well-being and stability of dwellers. What makes this project especially unique is that it does not look like affordable housing. As Brendan Sanchez concluded, people think that it "looks like really nice market rate upscale housing", which is empowering, because people in general "deserve access to quality-built environment and healthy indoor interior environments". Access Architecture did not design it as affordable housing, they just "designed it as housing" (Access Architecture, 2022). Affordability aspects The Elwood affordable housing community project is in a commercially zoned transit corridor. Existing planning regulations did not allow building permits in this area. Elwood is the first affordable housing development in the city of Vancouver that has required changes to the city's zoning regulations. As a result of these changes, other measures have been adopted to promote affordable housing in the community. Under the city's previous building regulations, it was simply not possible to obtain a building permit. The Affordable Housing Fund helped developers to undertake this project and provided tenants with budget friendly housing options (Otak, 2022). Now, thanks to the Elwood project, there are ongoing talks at the Board of the Planning Commission of Elwood Town to get construction permits for similar projects. As the council stated, "it is on the horizon for all towns to have affordable housing" (Elwood Town Corporation, 2022). Although the population of the area is small, it is estimated that in the coming years the need for more affordable housing units will increase. Previously, permitted uses were limited to C-2 (general commercial, office and retail) and C-3 (intensive service commercial) zoning uses (e.g., gas station, restaurant, public utility substation). Currently, the members of the town council together with other stakeholders are negotiating new plans for affordable housing in the area. With the help of the community, they are striving to harmonise the legal, political, financial and design aspects and work on a general plan that includes the construction of multi-family affordable dwellings. In addition, the ultimate goal is to further modify zoning regulations to incorporate tax advantages for social housing. Sustainability aspects It is a highly energy efficient building as it meets the minimum requirements of the Evergreen Sustainable Development Standards (ESDS), which include requirements for low Volatile Organic Compounds (VOC) content, water conservation, air sealing, and reduction of thermal bridges. It also meets the Green Point Rated Program requirements. The building materials are bamboo, cork, salvaged or FSC-Certified wood, natural linoleum, natural rubber and ceramic tile. There are no VOC adhesives or synthetic backing in living rooms, and bathrooms (Otak, 2022). Design Access Architecture used an outcome-based design process during the development of this project. The outcome-based design process considers TID principles to lower barriers among tenants and minimize stigma of receiving services. Brendan Sanchez from Access Architecture highlights that TID is a kind of design that is "getting a lot more attention now that people understand it more. It applies in this project, and we're also just finding that it doesn't have to be a certain traumatic event we design for. It can also be a systemic problem — we all have our own traumas we're working through, especially after the events of the pandemic last year. So Access likes to focus on how we can create healing spaces in this kind of design." (Nichiha, 2022) As Di Raimo et al. (2021) wrote, trauma informed approaches can be adopted by a wide range of service providers (health, social care, education, justice). In this case, Sea Mar-Community Services Northwest's Foundational Community Support provides guidance for tenants with the help of case managers. Such partners can help with professional and health objectives. CDM Caregiving Services helps (or offer assistance) with daily tasks from cooking to cleaning and hygiene. Finally, Vancouver Housing Authority members help with anything they can, so that tenants would not feel themselves alone with their problems (Nahro, 2022). Elwood offers informal indoor and outdoor spaces which provide a relaxed atmosphere in a friendly milieu. In this building, TID suits the resident's needs. The building was planned with the help of potential residents and social workers, so that a sense of space and place would provide familiarity, stability, and safety for those who are longing for the feeling of place attachment.
Critical Utopian Action Research
Housing Regime
Area: Community participation
The term Critical Utopian Action Research (CAR) was inspired by critical theory originating in the Scandinavian action research milieu (Nielsen & Nielsen, 2006; Gunnarson et al., 2016). CUAR advocates a critique of social structures, as these are often the barriers to human development (Coghlan & Brydon-Miller, 2014; Hansen et al., 2016). In this tradition, the role of the researcher is to raise awareness of societal problems. CUAR was inspired by (1) critical theory, (2) the work of Kurt Lewin, (3) socio- technical action research and (4) future research. (Coghlan & Brydon-Miller, 2014). CUAR researchers function as facilitators of free spaces (Bladt & Nielsen, 2013), that is to say, they create forums and arenas to foster deliberations, dialogues and joint activities. These spaces serve as laboratories where social learning and imagination are developed in order to enable "new forms of social learning between citizens and scientists" (Egmose, 2015, p.1). The CUAR framework was developed by Kurt Aagaard Nielsen and Birger Steen Nielsen (Nielsen & Nielsen, 2006). The tradition of CUAR emerged for the practical application of critical knowledge through analysing modernity in the social sciences, and in cultural and philosophical studies. This theoretical, methodological, and practical framework was inspired by some relevant critical theorists, such as Theodor W. Adorno and Max Horkheimer. They formed a view that science cannot be considered valid unless it is the result of democratic processes. On that same note, an undemocratic investigation of the world can only lead to an undemocratic reality (Coghlan & Brydon-Miller, 2014). In addition, purely positivist approaches, devoid of critical reflection, neglect fundamental democratic values (McIntosh, 2010). According to CUAR advocates, society cannot be governed in a technocratic way with a purely authoritarian development logic (Coghlan & Brydon-Miller, 2014). CUAR encourages the creation of democratic knowledge with a high level of reflexivity (Elling, 2008). A basic argument used by Lewin was that researchers do not only work for scientific reasons -in the circuit of academically mediated reflexivity, away from other members of society -, but they also work for and together with research participants (McIntosh, 2010; Coghlan & Brydon-Miller, 2014). Lewin's methodology is relevant for housing studies, as it is institutionalized in the socio-technical tradition of action research and where participants co-operate with researchers in real life projects. Another important inspiration for the CUAR tradition is future research, a notion introduced by the German philosopher Robert Jungk, who applied tools and created forums for democratic change for a better future (Jungk & Müllert, 1987; Reason & Bradbury, 2008). According to Jungk, the future is determined by a small elite, while the majority of citizens remain powerless. Therefore, he wanted people not to close their eyes to the future, but to become co-creators of it (Coghlan & Brydon-Miller, 2014). The convergence of critical utopian thinking and everyday knowledge are the key ingredients of CUAR. This research framework provides a unique and useful orientation of imaginative processes towards sustainable social change. CUAR fosters transdisciplinary thinking across a wide range of existing knowledge. By creating new platforms (for example educational platforms, campaigns, or experimental pilot projects) it can give people the opportunity to act upon their values and knowledge.
Created on 05-07-2022
Read more

->
Area: Policy and financing
The discussion on housing regimes dates back to e neo-institutional turn in policy research which occurred during the 1980s. This literature viewed institutions not so much as "formal" entities but more as the culmination of conflicting power relations, market dynamics, and ideology. The study of these dynamics could, in turn, be used to understand the variegated development of post-war welfare states, as exemplified by Esping-Andersen's seminal Three worlds of welfare capitalism (1990). Kemeny defined the housing regime as "the social, political, and economic system of housing supply, distribution, and consumption, which determines the housing market opportunities of a certain period" (1981, p. 13). His framework follows the logic of the historical and institutional structure of society. Kemeny (2006) argues that, due to the central role of real estate in modern capitalism, housing systems follow similar paths, albeit with different logics. Studying the emergence of regimes of a different nature between countries, he distinguished between unitary and dualized housing regimes, based on their rental-market systems, that is: (a) countries with an open private sector but with a firmly regulated public sector are characterized by a dual rental market; and (b) societies where the private and public sectors are strictly regulated have a unitary rental market. In dualist countries (primarily the Anglo-Saxon ones), homeownership is commonplace, while in countries with an integrated/unitary system (such as Germany, Netherlands, and Scandinavian countries) renting is a realistic and even competitive alternative to ownership. Kemeny highlighted that the dominance of homeownership is not organically developed but is socially and politically constructed. The above conceptualization of housing regime based on the functioning of rental market systems does not mirror the (Foucaultian) political and conflictual approach of Clapham, for whom a housing regime stands for a "set of discourses and social, economic and political practices that influence the provision, allocation, consumption [of housing] and housing outcomes in a given country" (2019, p. 24). He views policy as an arena where actors "negotiate and bargain" through discursive processes (Ruonavaara, 2020b). Clapham clearly distinguishes regime types from housing regimes. Regime types are useful for categorization since they can function as a baseline for comparative studies. However, "every housing regime is unique"(Ruonavaara, 2020b). Because of the complexity of the concept, Clapham (2019, p.17) proposes a three-stage analysis for housing policy (Figure 1). Ruonavaara (2020b) finds Clapham's approach nuanced but too general and broad, which – according to him - makes it less applicable. On the other hand, Hegedüs (2020) considers Clapham's (2002) housing pathway reasonable, as it describes housing provision forms as a result of interactions. In line with Clapham, he argues that "interventions within the housing system can only be understood in the context of interactions between different housing market actors" (Hegedüs, 2020, p. 569). Consequently, an analysis that only focuses on the rental sector would lead to narrowed interpretations with low explanatory power. More recently, Ruonavaara provided a new definition of housing regimes, which combines the elements of previous theories. He defined housing regime as a "set of fundamental principles according to which housing provision operates in some defined area (municipality, region, state) at a particular point in time" (2020a, p. 10). These principles are present in discourses, institutional arrangements, and political interventions. All actors have certain principles when operating in the system of housing provision at a given time and place. Housing regimes can be considered as the "principles of operation" (Ruonavaara, 2020a). In this sense, the housing regime concept faces challenges in its ability to represent an effective analytical tool for today's housing systems. For Stephens (2020), it is necessary to rethink housing regime as a way to find middle-range theories given that current accounts of neoliberal convergence (Aalbers, 2016; Clapham, 2019) barely manage to explain the role of regime path-dependences in continuing to shape variegated housing outcomes.
Created on 24-02-2022
Read more

->
Clashing Vulnerabilities for the right to adequate housing
Posted on 29-03-2023