LILAC_Low Impact Living Affordable Community_Leeds
Created on 20-05-2022 | Updated on 09-03-2023
LILAC is an ecological and affordable co-housing project built on a site previously occupied by a school and purchased from the local Council in the Bramley neighbourhood of Leeds, England. LILAC's agenda towards social, economic, and environmental sustainability emphasises a change in lifestyle beyond a reduction in carbon emissions and improved energy performance. Their ethos incorporates economic justice, behavioural change, wellbeing, mutualism, land ownership, the role of capital and the state, and self-management. LILAC is a bottom-up grassroots initiative based around co-operative governance and cohousing design.
The community-led housing project holistically integrates three major principles: low impact living, affordability, and community. Low impact living is achieved by a combination of environmentally conscious attitudes, sharing of resources, and design-stage nature-based solutions. As the UKs first Mutual Home Ownership Society (MHOS), LILAC's house prices are designed to remain permanently affordable. Costs are directly linked with average wage growth as opposed to increasing market value. Community at LILAC is heavily facilitated by shared amenities accessed via a common enclosed space and shared resources such as cars, lawnmowers, and power tools. An agreed constitution named 'community agreements' guides and informs life in Lilac, covering a range of issues including individual behaviours, interactions with others, and the use and management of shared spaces.
LILAC boasts 20 energy efficient homes with approximately 50 residents, surrounded by landscaping including allotments and biodiversity planting. Construction costs were higher than the UK average. However, a return-on-investment superior to conventional housing includes permanent affordability at 35% of net household income, reduced energy bills, superior housing quality, environmental performance, health, safety, and wellbeing.
Architect(s)
White Design Associates
Location
Leeds, England
Project (year)
2006-present
Construction (year)
2012-2013
Housing type
Mix of one and two bed flats and three and four bed houses. Private gardens, the upper flats have balconies
Urban context
Suburban context on an old school site
Construction system
Prefabricated ModCell wall system built with resident contribution, lime render, triple glazing
Status
Built
Description
Innovative aspects of the housing design/building
The model for LILAC is based on the Danish co-housing model: mixing private space with shared spaces to encourage social interaction. A plethora of green spaces include allotments, pond, a shared garden and a children's play area. Akin to the private self-contained homes, the 'common house' includes a communal workshop, office, post room, food cooperative, kitchen, dining space, social space, bike storage, play area, guest rooms and laundry room. The LILAC community benefit from a large number of communal facilities including: a common house with shared laundry, kitchen, reading area and community area; car sharing; pooling household equipment and power tools; sharing common meals twice per week; growing food in the allotment; and looking for provisions in the local area (LILAC Coop, 2022b; ModCell, n.d.). A shared lifestyle whereby resources and amenities are combined, reduces energy use and saves money.
Construction and energy performance characteristics
Constructed under a Design and Build contract (Chatterton, 2015), LILAC boasts an innovative prefabricated ModCell construction that includes a low carbon timber frame insulated with straw-bale. Residents assisted with the labour, collectively adding the straw bale insulation. External walls and interior finishes are in a lime render, increasing benefits from passive solar heating through thermal mass. Air tightness was prioritised during construction, and triple-glazed windows help to decrease heat loss during winter, allowing for Mechanical Ventilation Heat Recovery Systems (MVHR) to regulate indoor air temperature. Further energy performance characteristics include solar thermal energy collection for space and hot water heating, 1.25kw solar PV array, with an extra 4kw on the common house (LILAC Coop, 2022b).
LILAC features a flood prevention system whereby a sustainable urban drainage system (SUDS) feeds the central pond. Roof rainwater runoff is collected into water butts that are later used to water the gardens. Overflow from water butts enters the central pond, which discharges into the public drainage system at a reduced rate. Furthermore, all ground surfaces of the site are permeable. Biodiversity planting and a permaculture design certificate course were integrated into the design at planning stage.
Major additional spending decisions were made whenever residents believed it would meet their core values and result in long term financial savings (Chatterton, 2015, p.68). Construction costs were therefore higher than the UK average – a 48 sqm one-bedroom flat cost £84,000 to build at a cost of £1,744 per sqm while the average costs in England were £1,200 per sqm. However, the annual heating demand of the homes is far less than the UK average of 140kWh/m² at around 30kWh/m², reducing energy consumption and bills up to two-thirds compared with existing UK housing stock (Chatterton, 2015, p.84).
Involvement of users and stakeholders
LILAC is owned by a cooperative, through the innovative equity-based model: Mutual Home Ownership Scheme (MHOS). The MHOS is a leaseholder approach (Chatterton, 2013) where residents purchase shares in the co-operative. The number of shares owned by each member is related in part to their income, and partly according to the size of their property. If someone earn a large income their house becomes more expensive, but another property subsequently becomes cheaper, thus conserving affordability. Affordable housing at LILAC is maintained as no more than 35% of net household income should be spent on housing (Chatterton, 2013; LILAC Coop, 2022a).
Minimum net income levels were set for each different house size to ensure a 35% equity share rate generates enough income to cover the mortgage repayments (Pickerill, 2015). The MHOS owns the homes and land and is made up of the residents who also manage LILAC. Members lease and occupy specific houses or flat from the MHOS. In effect, residents are their own landlords.
The building was financed by a combination of personal members invested capital, a long-term mortgage from the ethical bank Triodos, and a government grant of £420,000 from The Homes and Communities Agency's Low Carbon Investment Fund, specifically to experiment with ModCell straw construction (Chatterton, 2013; Lawton & Atkinson, 2019). Each member makes monthly payments to the MHOS, who then pays the mortgage – deductions are made for service costs. In 2015, annual household minimum income for a home was set as at least £15,000.
'Community agreements' cover areas such as pets, food, communal cooking, use of the common house, management of green spaces, equal opportunities, vulnerable adults, the use of white goods, housing allocation and diversity, and garden upkeep (Chatterton, 2013; LILAC, 2021). "MHOS forms the democratic heart of the project" (Chatterton, 2013). All decisions are made democratically, using templates to generate and discuss proposals, explore pros and cons, generate amendments, and ratify decisions (Chatterton, 2013).
Relationship to urban environment
LILAC is in a highly integrated inner-city locality, situated in an urban neighbourhood of Leeds, on a site that was previously a school. Integrating with the wider community in West Leeds, the common house is used for "local meetings, film nights, meals and gatherings, workshops and has been used as the local polling station" (LILAC Coop, 2022b). LILAC has increased residents feeling of empowerment to participate in social action, working within the wider community to explore issues together and work for change. This has included supporting a local community association, local schools and holding charity and music events (LILAC, 2021).
Behaviour and wellbeing
LILACs community act in the knowledge that an adequate response to climate change and energy reduction takes shifting the way we live, enacting behavioural changes that contribute to a post-carbon transition. Decisions in cohousing are made as a community, rather than individual consumers or households. Residents report a much higher health satisfaction – from 58% to 76% – and life satisfaction – from 58% to 87% – compared to previous accommodation (LILAC, 2021). Both physical and mental health improvements have been reported since moving to the community due to LILAC's "plentiful greenspace, sustainable travel options, better high air quality and natural light in the homes, greater social interaction and opportunities for socialising with neighbours" (LILAC, 2021). Further benefits of LILAC as a cohousing scheme include increased safety and wellbeing, natural surveillance and support for the elderly, reduced car numbers combined with car separation and car-free home zones to increase safety as well as reducing carbon emissions related to car use (Chatterton, 2013).
Alignment with project research areas
Design, planning and building
An innovative cohousing model in the UK that improves social, environmental, and economic sustainability.
The homes are designed as inward facing, to increase opportunities for meeting, conversing, and opportunities to watch out, and care for, neighbours.
The common house is designed to facilitate social interaction, conserve power and energy through sharing resources that limit fuel consumption and integrate with the wider community.
Community participation
Community involvement is the central core of LILAC at all stages of design, construction and in use. The scheme is based on a shared ideal of the way members want to live as a community, agreed lifestyles, and 'community agreements' that guide and inform life at LILAC.
All decisions are democratically taken through an agreed process, permeating and reinforcing the non-hierarchical community structure.
Policy and Financing
A MHOS co-operative is better at facilitating finance because it is not possible to obtain a mortgage in the UK for shared spaces. It was also possible to get a better rate for repayments as a large entity, than a collection of individuals.
The land was purchased directly from the council.
Design, planning and building
Community participation
Policy and financing
Alignment with SDGs
LILAC responds to the following Sustainable Development Goals (SDGs):
Goal 1 No Poverty: ensuring 'affordable housing' for all residents where total housing costs are less than 35% of household income
Goal 2 No Hunger: Cooperative living, on-site allotment, shared kitchen, food, meals. On-site food production contributed to self-sustained living. Wealthier inhabitants can also help feed the less wealthy inhabitants if needed.
Goal 3 Good health and well-being: Healthy living, outdoor communal work and multigenerational residents
Goal 6 Clean water and sanitation: SUDS
Goal 7 Affordable and clean energy: Passive and mechanical solutions to a reduction in energy costs and carbon output
Goal 9 Industry, innovation and infrastructure: pioneered new sustainable construction methods – ModCell.
Goal 11 Sustainable cities and communities: small scale sustainable eco-village (approx. 50 inhabitants)
Goal 12 Responsible consumption and production: A LILAC household produces around half the waste of an average household, 377 kgs compared to 755 kgs nationally. Bulk buying food from ethical suppliers to reduce waste, a community compost, and on-site food growing (LILAC, 2021).
References
Chatterton, P. (2013). Towards an agenda for post-carbon cities: Lessons from LILAC, the uk's first ecological, affordable cohousing community. International Journal of Urban and Regional Research, 37(5), 1654–1674. https://doi.org/10.1111/1468-2427.12009
Chatterton, P. (2015). Low Impact Living: A field guide to ecological, affordable community building. Routledge.
Pickerill, J. (2015, September). Building Eco-Homes for All: Inclusivity, justice and affordability. Building Local Resilience: Architecture and Resilience on the Human Scale: Cross-Disciplinary Conference. https://www.researchgate.net/profile/Sofie-Pelsmakers/publication/282665450_The_PassivHaus_Standard_minimising_overheating_risk_in_a_changing_climate/links/562a16b508ae22b1703167d1/The-PassivHaus-Standard-minimising-overheating-risk-in-a-changing-climate.pdf#page=87
Lawton, G., & Atkinson, J. (2019, April 21). Discover Permaculture with Geoff Lawton. Permaculture and Community: LILAC Green Cohousing. YouTube. https://www.youtube.com/watch?v=Mh96D7zK5q4&t=86s
LILAC. (2021). Living in Lilac: Assessing the first Mutual Home Ownership Society in enabling sustainable living. http://lilac.coop/wp-content/uploads/2021/07/Lilac-Impact-July-2021.pdf
LILAC Coop. (2022a). Affordable. LILAC Low Impact Living Affordable Community Coop. https://www.lilac.coop/affordable/
LILAC Coop. (2022b). Low Impact Living. LILAC Low Impact Living Affordable Community Coop. http://www.lilac.coop/low-impact-living/
ModCell. (n.d.). LILAC affordable ecological co-housing. ModCell Straw Technology. Retrieved March 11, 2022, from https://www.modcell.com/projects/lilac-affordable-ecological-co-housing/
Related vocabulary
Area: Policy and financing
A universal definition of social housing is difficult, as it is a country-specific and locally contextualised topic (Braga & Palvarini, 2013). This review of the concept focuses on social housing in the context of the UK from the late 1980s, which Malpass (2005) refers to as the phase of 'restructuring the housing and welfare state', to the early 2000s, known as the phase of the 'new organisation of social housing'. In response to previous demands for housing, such as those arising during the Industrial Revolution, and recognising the persistent need to address the substandard quality of housing provided by private landlords in the UK (Scanlon et al., 2015), the primary objective of social housing has historically been to enhance the overall health conditions of workers and low-income populations (Malpass, 2014; Scanlon et al., 2015). However, this philanthropic approach to social housing changed after the Second World War when it became a key instrument to address the housing demand crisis. Private initiatives, housing associations, cooperatives and local governments then became responsible for providing social housing (Carswell, 2012; Scanlon et al., 2015). Social housing in the UK can be viewed from two perspectives: the legal and the academic (Granath Hansson & Lundgren, 2019). Along these two perspectives, social housing is often analysed based on four main criteria: the legal status of the landlord or provider, the tenancy system or tenure, the funding mechanism or subsidies, and the target group or beneficiaries (Braga & Palvarini, 2013; Carswell, 2012; Granath Hansson & Lundgren, 2019). From a legal perspective, social housing maintained its original goals of affordability and accessibility during the restructuring period in the late 1980s. However, citing the economic crisis, the responsibility for developing social housing shifted from local authorities to non-municipal providers with highly regulated practices aligned with the managerialist approach of the welfare state (Granath Hansson & Lundgren, 2019; Malpass, 2005; Malpass & Victory, 2010). Despite the several housing policy reviews and government changes, current definitions of social housing have maintained the same approach as during the restructuring period. Section 68 of the Housing and Regeneration Act 2008, updated in 2017, defines social housing as low-cost accommodation provided to people whose rental or ownership needs are not met by the commercial market (HoC, 2008; 2017, pp. 50-51). The Regulator of Social Housing, formerly the Homes and Communities Agency, has adopted the earlier definition of social housing and clarified which organisations provide it across the UK. These organisations include local authorities, not-for-profit housing associations, cooperatives, and for-profit organisations (RSH, 2021). In contrast, the National Housing Federation emphasises the affordability of social housing regardless of the type of tenure or provider (NHF, 2021). From an academic perspective, Malpass (2005) explains that during the restructuring phase, social housing was defined as a welfare-supported service – although it did have limitations, which meant that funding principles shifted from general subsidy to means-tested support for housing costs only, which later formed the basis for the Right to Buy Act introduced by the Thatcher government in the early 1980s (Malpass, 2005, 2008). The restructuring phase, however, came as a response to the housing 'bifurcation' process that began in the mid-1970s and accelerated sharply from the 1980s to 1990s (Kleinman et al., 1998; Malpass, 2005). During this phase, the role of social housing in the housing system was predominantly residual, with greater emphasis placed on market-based solutions, and social housing ownership concerned both local authorities and housing associations (Malpass & Victory, 2010). This mix has influenced the perception of social housing in the 'new organisation' phase as a framework that regulates public housing intervention for specific groups and focuses on enabling non-municipal providers (Malpass, 2005, 2008; Malpass & Victory, 2010). Currently, as Carswell (2012) explains, social housing plays an important role in nurturing a variety of initiatives aimed at providing 'good-quality' and 'affordable' housing for vulnerable and low-income groups (Carswell, 2012). Oyebanji (2014) sees social housing as any form of government-regulated housing provided by public institutions, including non-profit organisations (Oyebanji, 2014). Additionally, Bengtsson (2017) describes social housing as a system that aims to provide households with limited means, but only after their need has been confirmed through testing (Bengtsson, B, 2017 as cited in Granath Hansson & Lundgren, 2019). To a great extent, social housing in the UK can be seen as a service system that is intricately linked to the welfare state and influenced by political, economic, and social components. Despite being somehow determined by common factors and actors, the relationship between social housing and the welfare state can sometimes be complex and subject to fluctuations (Malpass, 2008). In this context, the government plays a vital role in shaping and implementing the mechanisms and practices of social housing. While the pre-restructuring phase focused on meeting the needs of the people by increasing subsidies and introducing the right to buy (Stamsø, 2010), the aim of the restructuring phase was to meet the needs of the market by promoting economic growth (privatisation, market-oriented policies and reducing the role of local authorities) (Stamsø, 2010; Malpass, 2005) . The new organisational phase, on the other hand, works to meet and balance the needs of all, with people, politics and the economy becoming more intertwined. Welfare reform legislation passed in 2010 aims to enable people to meet their needs, but through 'responsible' subsidies, leading to a new policy stance that has been described as 'neoliberal' thinking (Hickman et al., 2018). However, there are still no strict legal requirements for the organisation and development of social housing as an independent service system, and most of the barriers to development are closely related to the political orientation of the government, rapid changes in housing policy and challenges arising from providers' perceptions of existing housing policy structures (Stasiak et al., 2021).
Created on 17-06-2023
Read more ->
Related publications
Alsaeed, M., Hadjri, K., & Nawratek, K. (2024, March). A comparative analysis of UK sustainable housing standards [Conference paper]. 7th Residential Building Design & Construction Conference. Pennsylvania, USA.
Posted on 04-10-2023
Blogposts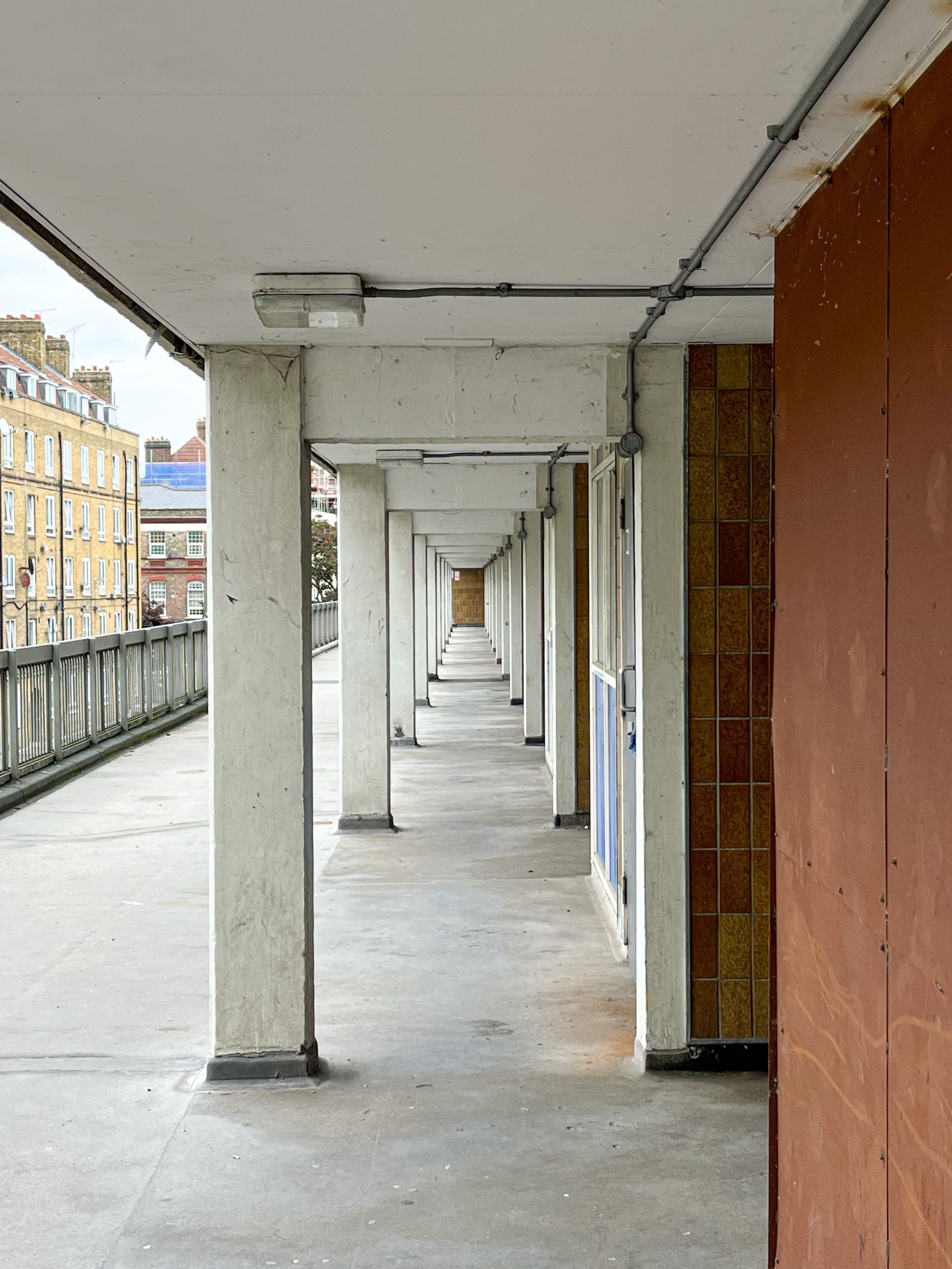 The "regeneration wave", hopefully not another missed opportunity to create social value
Posted on 15-07-2023
We are almost on the home straight of RE-DWELL and the Summer School in Reading was an excellent opportunity to reflect on the different approaches to housing production in European cities, in this case, using the British experience as a backdrop. The week-long programme was dedicated to exploring innovative schemes and approaches to development. Keynote speakers and participants agreed that a more dynamic and diverse supply is at the crux of the solution, as is the inevitable need for political will and policy aimed at reducing the economic burden that often curtails the viability of projects and has been the Achilles heel of innovation, experimentation and diversification in housing markets. Creating the much-needed housing stock required to tackle Europe's housing crisis is in many cases taking shape through regeneration. In cities like London, where access to land is limited, housing providers are opting for a mixed-use approach to development with the intention of funding the quota of affordable and social housing units required by local and national plans while embellishing the brief with appealing terms like diversity, inclusion and mixed-communities. Scholars and activists have referred to this process in a less benevolent narrative, describing it as a gradual phenomenon of displacement and replacement of less affluent communities, that inevitably gravitate to the urban fringes, with a more well-off population, in something more akin to state-led gentrification (Hubbard & Lees, 2018; Lees & Hubbard, 2021; Lees & White, 2019). These problems are exacerbated by the fact that many social housing estates are sitting on land that is nowadays very attractive to investors, they have been the object of decades of neglect characterised by poor maintenance and budget cuts, and feature complex issues of anti-social behaviour and deprivation associated with mismanagement and an inability of landlords to cater for the needs of residents. As might be expected, the literature on this issue describes disproportionate impacts on BAME (Black, Asian and Minority Ethnic) residents, characterised by disruption of livelihoods and loss of cultural and social capital that certain areas of the city face as a result. Furthermore, the fact that residents are being priced out from their local area by regeneration projects becomes more egregious when one analyses examples such as the redevelopment of Heygate Estate in Elephant and Castle and the ongoing dismantling of Aylesbury Estate. Both schemes and their vast sites were testaments to the now withered social housing boom that spearheaded Welfarist policies in post-war Britain. These symbols of large-scale Brutalist housing architecture are located in the London Borough of Southwark, which is one of the largest social landlords in the country with around 53,000 homes (Southwark Council, 2017). It is therefore no coincidence that this borough has been one of the most affected by mixed tenure regeneration schemes that have started to lead the provision of housing in the city. The question is whether this approach to development is rightfully addressing the demand gap where it is most needed. Estimates made after the regeneration of the Heygate estate denoted a significant loss of council homes which were not replaced as part of the new project. According to the borough, 25 per cent of the 3,000 dwellings approved for the new scheme are allocated to affordable housing, which equates to only 750 dwellings. Originally, the estate comprised 1,212 dwellings, of which 1,020 were owned by the council and 192 were privately owned, bought under the right-to-buy scheme (Southwark Council, 2023). However, other sources tally an even more pessimistic outcome: only 212 homes will be affordable (80 per cent of the local market price) and 79 socially rented (Cathcart-Keays, 2015). One can wonder why there is such a mismatch between the figures but what is more concerning is the net reduction of social housing in either scenario. In the case of the Aylesbury Estate, the council has followed a very similar modus operandi in its ongoing regeneration. The estate consists of 2,402 homes let by the council and 356 homes sold under the right to buy. They will be replaced by 4,900 homes in various tenancies, of which 1,473 will be social housing (Hubbard & Lees, 2018). Again, this will represent a foreseeable change in the socio-demographic make-up of the local area in the medium- to long-term. As a result, we would not only fail to provide more affordable homes in well-connected and serviced areas of the city, but also reduce the already insufficient housing stock. To consider social value at the heart of a regeneration project becomes central to avoid the above mentioned scenarios. It is now ten years since the Public Services (Social Value) Act 2012 came into effect in January 2013. A legislation that requires those commissioning public services to consider, generate and demonstrate wider social, economic and environmental benefits to the community. The Act encourages commissioners to work with the community and local stakeholders to design and shape the services to be provided, having a great implication for the built environment sector because of the inherent impact it has on society. Social value should therefore be thoroughly discussed when it comes to regeneration. Since the passage of the Act, social value has become relevant, particularly for housing providers, to provide evidence of the added value of their operations. This momentum has been catalysed by the publication of several metrics and frameworks intended to benchmark and standardise the sector's approach (See Samuel, 2020; UKGBC, 2020, 2021). However, challenges have been identified in assessing the social outcomes of projects, particularly those serving disadvantaged communities. As is so often the case with sustainable development, it is more straightforward to demonstrate economic gains or environmental breakthroughs than social impact. Someone has to pay for it During the Summer School, we had the opportunity to talk to a wide range of stakeholders who are shaping the cityscape of London and Reading. Examples ranged from developers of build-to-rent schemes to housing association-led regeneration projects. They allowed us to reflect on the crucial role of housing providers, developers and architects in adding real value by providing the homes we need and targeting the populations that have been left out of the market and who need it most. Conspicuously, the panorama is dominated by large-scale redevelopment projects, driven by an eminently commercial interest, which are instrumentalised to cross-subsidise social housing, in many cases not even built as part of the scheme. "Someone has to pay for it" has become the new mantra used to justify this approach. Perhaps it is because of government inaction that this is now our most powerful and effective tool for creating affordable and social homes today in many cities across Europe. However, it is unlikely that the supply gap can be bridged let alone met at the current rate in the foreseeable future. In the case of the UK, we are talking about 10% being earmarked for affordable housing in any major development (Barton & Wilson, 2022). This, of course, overlooks the real issue of affordability: Affordable housing (remember: a rent of up to 80% of the market rent) is virtually unaffordable for a large swathe of the population in cities like London. The term affordable housing is becoming an oxymoron for Londoners. Approaches such as the Building for 2050 project and Clarion's strategy for regeneration were then discussed and analysed with a view to future prospects. As Paul Quinn from Clarion pointed out, regeneration should put residents at the heart of the process, choosing to preserve livelihoods and avoid disruption as much as possible. The retrofit of the current housing stock in the hands of housing associations and local councils should always be considered as a first option, but for this, we still need decisive support from decision-makers. We need more social and affordable homes and housing associations have both a huge responsibility and opportunity to accelerate and scale up regeneration by treating housing as a fundamental right, not a commodity, while increasing its social value. References Barton , C. and Wilson, W. (2022) What is affordable housing? - House of Commons Library, What is affordable housing? Available at: https://commonslibrary.parliament.uk/research-briefings/cbp-7747/ (Accessed: 12 July 2023). Cathcart-Keays, A. (2015, February 16). Report: London loses 8,000 Social Homes in a decade. The Architects' Journal. https://www.architectsjournal.co.uk/news/report-london-loses-8000-social-homes-in-a-decade Hubbard, P., & Lees, L. (2018). The right to community? City, 22(1), 8–25. https://doi.org/10.1080/13604813.2018.1432178 Lees, L., & Hubbard, P. (2021). "So, Don't You Want Us Here No More?" Slow Violence, Frustrated Hope, and Racialized Struggle on London's Council Estates. Housing, Theory and Society , 39(3), 341–358. https://doi.org/10.1080/14036096.2021.1959392 Lees, L., & White, H. (2019). The social cleansing of London council estates: everyday experiences of 'accumulative dispossession.' Housing Studies, 35(10), 1701–1722. https://doi.org/10.1080/02673037.2019.1680814 Samuel, F. (2020). RIBA social value toolkit for architecture. Royal Institute of British Architects. Southwark Council. (2017, April 20). Regeneration at Elephant and Castle and Affordable Homes. Southwark Council. https://www.southwark.gov.uk/news/2017/apr/regeneration-at-elephant-and-castle-and-affordable-homes Southwark Council. (2023, February 14). Elephant and Castle Background to the Elephant Park development site. Southwark Council. https://www.southwark.gov.uk/regeneration/elephant-and-castle?chapter=4 UKGBC (2020). Delivering social value: Measurement. https://www.ukgbc.org/ukgbc-work/delivering-social-value-measurement/ UKGBC (2021). Framework for defining social value. https://www.ukgbc.org/ukgbc-work/framework-for-defining-social-value/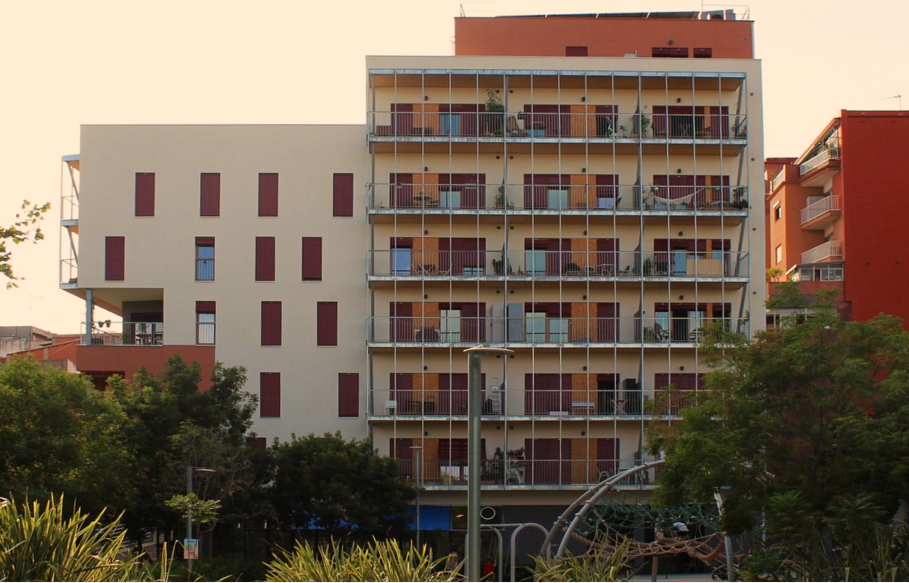 The discussion for the right to housing. ENHR, Barcelona 2022
Posted on 12-09-2022
The annual conference of the European Network of Housing Research took place in Barcelona this year, under the title "The struggle for the right to housing. The pressures of globalization and affordability in cities today". At the epicenter was the issue of the unaffordability of housing and its increasing financialization. As cities become part of a global arena, urban space is increasingly subjected to the flows of capital and market forces, leaving behind the needs and the voices of the local populations. This is what Raquel Rolnik referred to, during the conference, as the colonization of the built space by finance and the processes of dispossession that it implies. In these conditions, housing is being used as an exchange value, as the preferred asset for investment by funds, or for rental exploitation and speculation, by short-term rental corporations. This understanding of housing as an exchange value, demotes its use value, as the right for a shelter, for security, and as a place that is intertwined with people's lives and well-being. At the same time, we observe how dominant paradigms of urban organization and planning, are spreading over the world, reconfiguring cities and territories. The urban mutations that are caused, for example, by the processes of touristification and gentrification, having a more profound impact on territories at the periphery (or semi-periphery) of capitalism, create unhostile cities for its residents, breaking the social fabric and disturbing social cohesion. As a consequence, these urban reconfigurations, lead to a restructuring of the housing regimes in terms of tenure forms. The rentierization of many housing markets, for example, leads to tenure and intergenerational inequalities between homeowners and renters, creating more precarious conditions for those at rent. On a policy level, important actions were discussed such as the regulation of short-term rentals and rent-control policies together with more supply of social housing, or public support of community-led housing initiatives. As a counter-act to the ongoing processes of financialization and speculation, there are many bottom-up responses, from groups that are claiming housing as a right and are pushing for decommodified and affordable housing. The emergence of cooperative housing and community land trusts, is such a case, intending to create alternative forms of collective and non-speculative housing, separating the use-value from the exchange value. Through participatory processes and democratic decision-making, the initiatives are creating new forms of ownership, based on collective management. The objectives are plural, as apart from the demand for access to decent and affordable housing, the groups are creating more communal ways of living, in terms of spatial and social configurations and are reconsidering the meaning of sustainability in housing. Aspects that were discussed in relation to cooperative housing were the affordability of the model and the opportunities for access by social groups in need of affordable, decent, and secure housing, such as low-income, single-parent or immigrant households. Also, the use of policy instruments to facilitate their production and regulate their access to them, as well as the long-term affordability of the model and the prevention of future privatization and speculation. Often the discussion on the inclusion of the model and the accessibility by different social groups is related to the question of governance, in all the phases of production, management, and administration of the housing cooperative, looking at the differences between more self-managed cases, and at others that are being developed in collaboration with associations and umbrella cooperative promoters. Co-operative housing initiatives are framed by many researchers within the literature of the commons, and thus understood and analyzed by their capacity to create spaces and practices of commoning, embedded in the everyday lives of the inhabitants. This can be analyzed in the internal structure of the housing (spatially and socially), but also in relation to the neighborhood scale, and the impact it can have on the area. In close relation is found the research of cooperative housing through the lens of the ethics of care. The collectivization of the domestic sphere is creating opportunities for different forms of social reproduction that question the dominant ways of dwelling. There are current research projects that attempt to evaluate the contribution of cooperative housing, as a way of dwelling, in the life of its inhabitants, looking at the health and well-being of the communities or the potential to tackle the social rupture created by the individualization of housing, thus looking at the social impact it can generate. As the model is expanding, and cases of collective, shared, and cooperative housing appear in different contexts from the global north to the south, it is important for the research community to keep shedding light on the potential, but also on the contradictions of these practices. The analysis and the comparison of different cases, help us to learn from the experiences of the groups and work to strengthen the idea of housing as a right, and as a space and a practice that can be meaningful for the communities.