The "regeneration wave", hopefully not another missed opportunity to create social value
Posted on 15-07-2023
We are almost on the home straight of RE-DWELL and the Summer School in Reading was an excellent opportunity to reflect on the different approaches to housing production in European cities, in this case, using the British experience as a backdrop. The week-long programme was dedicated to exploring innovative schemes and approaches to development. Keynote speakers and participants agreed that a more dynamic and diverse supply is at the crux of the solution, as is the inevitable need for political will and policy aimed at reducing the economic burden that often curtails the viability of projects and has been the Achilles heel of innovation, experimentation and diversification in housing markets.
Creating the much-needed housing stock required to tackle Europe's housing crisis is in many cases taking shape through regeneration. In cities like London, where access to land is limited, housing providers are opting for a mixed-use approach to development with the intention of funding the quota of affordable and social housing units required by local and national plans while embellishing the brief with appealing terms like diversity, inclusion and mixed-communities. Scholars and activists have referred to this process in a less benevolent narrative, describing it as a gradual phenomenon of displacement and replacement of less affluent communities, that inevitably gravitate to the urban fringes, with a more well-off population, in something more akin to state-led gentrification (Hubbard & Lees, 2018; Lees & Hubbard, 2021; Lees & White, 2019). These problems are exacerbated by the fact that many social housing estates are sitting on land that is nowadays very attractive to investors, they have been the object of decades of neglect characterised by poor maintenance and budget cuts, and feature complex issues of anti-social behaviour and deprivation associated with mismanagement and an inability of landlords to cater for the needs of residents. As might be expected, the literature on this issue describes disproportionate impacts on BAME (Black, Asian and Minority Ethnic) residents, characterised by disruption of livelihoods and loss of cultural and social capital that certain areas of the city face as a result.
Furthermore, the fact that residents are being priced out from their local area by regeneration projects becomes more egregious when one analyses examples such as the redevelopment of Heygate Estate in Elephant and Castle and the ongoing dismantling of Aylesbury Estate. Both schemes and their vast sites were testaments to the now withered social housing boom that spearheaded Welfarist policies in post-war Britain. These symbols of large-scale Brutalist housing architecture are located in the London Borough of Southwark, which is one of the largest social landlords in the country with around 53,000 homes (Southwark Council, 2017). It is therefore no coincidence that this borough has been one of the most affected by mixed tenure regeneration schemes that have started to lead the provision of housing in the city. The question is whether this approach to development is rightfully addressing the demand gap where it is most needed. Estimates made after the regeneration of the Heygate estate denoted a significant loss of council homes which were not replaced as part of the new project. According to the borough, 25 per cent of the 3,000 dwellings approved for the new scheme are allocated to affordable housing, which equates to only 750 dwellings. Originally, the estate comprised 1,212 dwellings, of which 1,020 were owned by the council and 192 were privately owned, bought under the right-to-buy scheme (Southwark Council, 2023).
However, other sources tally an even more pessimistic outcome: only 212 homes will be affordable (80 per cent of the local market price) and 79 socially rented (Cathcart-Keays, 2015). One can wonder why there is such a mismatch between the figures but what is more concerning is the net reduction of social housing in either scenario. In the case of the Aylesbury Estate, the council has followed a very similar modus operandi in its ongoing regeneration. The estate consists of 2,402 homes let by the council and 356 homes sold under the right to buy. They will be replaced by 4,900 homes in various tenancies, of which 1,473 will be social housing (Hubbard & Lees, 2018). Again, this will represent a foreseeable change in the socio-demographic make-up of the local area in the medium- to long-term. As a result, we would not only fail to provide more affordable homes in well-connected and serviced areas of the city, but also reduce the already insufficient housing stock.
To consider social value at the heart of a regeneration project becomes central to avoid the above mentioned scenarios. It is now ten years since the Public Services (Social Value) Act 2012 came into effect in January 2013. A legislation that requires those commissioning public services to consider, generate and demonstrate wider social, economic and environmental benefits to the community. The Act encourages commissioners to work with the community and local stakeholders to design and shape the services to be provided, having a great implication for the built environment sector because of the inherent impact it has on society. Social value should therefore be thoroughly discussed when it comes to regeneration. Since the passage of the Act, social value has become relevant, particularly for housing providers, to provide evidence of the added value of their operations. This momentum has been catalysed by the publication of several metrics and frameworks intended to benchmark and standardise the sector's approach (See Samuel, 2020; UKGBC, 2020, 2021). However, challenges have been identified in assessing the social outcomes of projects, particularly those serving disadvantaged communities. As is so often the case with sustainable development, it is more straightforward to demonstrate economic gains or environmental breakthroughs than social impact.
Someone has to pay for it
During the Summer School, we had the opportunity to talk to a wide range of stakeholders who are shaping the cityscape of London and Reading. Examples ranged from developers of build-to-rent schemes to housing association-led regeneration projects. They allowed us to reflect on the crucial role of housing providers, developers and architects in adding real value by providing the homes we need and targeting the populations that have been left out of the market and who need it most. Conspicuously, the panorama is dominated by large-scale redevelopment projects, driven by an eminently commercial interest, which are instrumentalised to cross-subsidise social housing, in many cases not even built as part of the scheme. "Someone has to pay for it" has become the new mantra used to justify this approach. Perhaps it is because of government inaction that this is now our most powerful and effective tool for creating affordable and social homes today in many cities across Europe. However, it is unlikely that the supply gap can be bridged let alone met at the current rate in the foreseeable future. In the case of the UK, we are talking about 10% being earmarked for affordable housing in any major development (Barton & Wilson, 2022). This, of course, overlooks the real issue of affordability: Affordable housing (remember: a rent of up to 80% of the market rent) is virtually unaffordable for a large swathe of the population in cities like London. The term affordable housing is becoming an oxymoron for Londoners.
Approaches such as the Building for 2050 project and Clarion's strategy for regeneration were then discussed and analysed with a view to future prospects. As Paul Quinn from Clarion pointed out, regeneration should put residents at the heart of the process, choosing to preserve livelihoods and avoid disruption as much as possible. The retrofit of the current housing stock in the hands of housing associations and local councils should always be considered as a first option, but for this, we still need decisive support from decision-makers. We need more social and affordable homes and housing associations have both a huge responsibility and opportunity to accelerate and scale up regeneration by treating housing as a fundamental right, not a commodity, while increasing its social value.
References
Barton , C. and Wilson, W. (2022) What is affordable housing? - House of Commons Library, What is affordable housing? Available at: https://commonslibrary.parliament.uk/research-briefings/cbp-7747/ (Accessed: 12 July 2023).
Cathcart-Keays, A. (2015, February 16). Report: London loses 8,000 Social Homes in a decade. The Architects' Journal. https://www.architectsjournal.co.uk/news/report-london-loses-8000-social-homes-in-a-decade
Hubbard, P., & Lees, L. (2018). The right to community? City, 22(1), 8–25. https://doi.org/10.1080/13604813.2018.1432178
Lees, L., & Hubbard, P. (2021). "So, Don't You Want Us Here No More?" Slow Violence, Frustrated Hope, and Racialized Struggle on London's Council Estates. Housing, Theory and Society , 39(3), 341–358. https://doi.org/10.1080/14036096.2021.1959392
Lees, L., & White, H. (2019). The social cleansing of London council estates: everyday experiences of 'accumulative dispossession.' Housing Studies, 35(10), 1701–1722. https://doi.org/10.1080/02673037.2019.1680814
Samuel, F. (2020). RIBA social value toolkit for architecture. Royal Institute of British Architects.
Southwark Council. (2017, April 20). Regeneration at Elephant and Castle and Affordable Homes. Southwark Council. https://www.southwark.gov.uk/news/2017/apr/regeneration-at-elephant-and-castle-and-affordable-homes
Southwark Council. (2023, February 14). Elephant and Castle Background to the Elephant Park development site. Southwark Council. https://www.southwark.gov.uk/regeneration/elephant-and-castle?chapter=4
UKGBC (2020). Delivering social value: Measurement. https://www.ukgbc.org/ukgbc-work/delivering-social-value-measurement/
UKGBC (2021). Framework for defining social value. https://www.ukgbc.org/ukgbc-work/framework-for-defining-social-value/
Related case studies
LILAC_Low Impact Living Affordable Community_Leeds
Created on 09-03-2023
Innovative aspects of the housing design/building The model for LILAC is based on the Danish co-housing model: mixing private space with shared spaces to encourage social interaction. A plethora of green spaces include allotments, pond, a shared garden and a children's play area. Akin to the private self-contained homes, the 'common house' includes a communal workshop, office, post room, food cooperative, kitchen, dining space, social space, bike storage, play area, guest rooms and laundry room. The LILAC community benefit from a large number of communal facilities including: a common house with shared laundry, kitchen, reading area and community area; car sharing; pooling household equipment and power tools; sharing common meals twice per week; growing food in the allotment; and looking for provisions in the local area (LILAC Coop, 2022b; ModCell, n.d.). A shared lifestyle whereby resources and amenities are combined, reduces energy use and saves money. Construction and energy performance characteristics Constructed under a Design and Build contract (Chatterton, 2015), LILAC boasts an innovative prefabricated ModCell construction that includes a low carbon timber frame insulated with straw-bale. Residents assisted with the labour, collectively adding the straw bale insulation. External walls and interior finishes are in a lime render, increasing benefits from passive solar heating through thermal mass. Air tightness was prioritised during construction, and triple-glazed windows help to decrease heat loss during winter, allowing for Mechanical Ventilation Heat Recovery Systems (MVHR) to regulate indoor air temperature. Further energy performance characteristics include solar thermal energy collection for space and hot water heating, 1.25kw solar PV array, with an extra 4kw on the common house (LILAC Coop, 2022b). LILAC features a flood prevention system whereby a sustainable urban drainage system (SUDS) feeds the central pond. Roof rainwater runoff is collected into water butts that are later used to water the gardens. Overflow from water butts enters the central pond, which discharges into the public drainage system at a reduced rate. Furthermore, all ground surfaces of the site are permeable. Biodiversity planting and a permaculture design certificate course were integrated into the design at planning stage. Major additional spending decisions were made whenever residents believed it would meet their core values and result in long term financial savings (Chatterton, 2015, p.68). Construction costs were therefore higher than the UK average – a 48 sqm one-bedroom flat cost £84,000 to build at a cost of £1,744 per sqm while the average costs in England were £1,200 per sqm. However, the annual heating demand of the homes is far less than the UK average of 140kWh/m² at around 30kWh/m², reducing energy consumption and bills up to two-thirds compared with existing UK housing stock (Chatterton, 2015, p.84). Involvement of users and stakeholders LILAC is owned by a cooperative, through the innovative equity-based model: Mutual Home Ownership Scheme (MHOS). The MHOS is a leaseholder approach (Chatterton, 2013) where residents purchase shares in the co-operative. The number of shares owned by each member is related in part to their income, and partly according to the size of their property. If someone earn a large income their house becomes more expensive, but another property subsequently becomes cheaper, thus conserving affordability. Affordable housing at LILAC is maintained as no more than 35% of net household income should be spent on housing (Chatterton, 2013; LILAC Coop, 2022a). Minimum net income levels were set for each different house size to ensure a 35% equity share rate generates enough income to cover the mortgage repayments (Pickerill, 2015). The MHOS owns the homes and land and is made up of the residents who also manage LILAC. Members lease and occupy specific houses or flat from the MHOS. In effect, residents are their own landlords. The building was financed by a combination of personal members invested capital, a long-term mortgage from the ethical bank Triodos, and a government grant of £420,000 from The Homes and Communities Agency's Low Carbon Investment Fund, specifically to experiment with ModCell straw construction (Chatterton, 2013; Lawton & Atkinson, 2019). Each member makes monthly payments to the MHOS, who then pays the mortgage – deductions are made for service costs. In 2015, annual household minimum income for a home was set as at least £15,000. 'Community agreements' cover areas such as pets, food, communal cooking, use of the common house, management of green spaces, equal opportunities, vulnerable adults, the use of white goods, housing allocation and diversity, and garden upkeep (Chatterton, 2013; LILAC, 2021). "MHOS forms the democratic heart of the project" (Chatterton, 2013). All decisions are made democratically, using templates to generate and discuss proposals, explore pros and cons, generate amendments, and ratify decisions (Chatterton, 2013). Relationship to urban environment LILAC is in a highly integrated inner-city locality, situated in an urban neighbourhood of Leeds, on a site that was previously a school. Integrating with the wider community in West Leeds, the common house is used for "local meetings, film nights, meals and gatherings, workshops and has been used as the local polling station" (LILAC Coop, 2022b). LILAC has increased residents feeling of empowerment to participate in social action, working within the wider community to explore issues together and work for change. This has included supporting a local community association, local schools and holding charity and music events (LILAC, 2021). Behaviour and wellbeing LILACs community act in the knowledge that an adequate response to climate change and energy reduction takes shifting the way we live, enacting behavioural changes that contribute to a post-carbon transition. Decisions in cohousing are made as a community, rather than individual consumers or households. Residents report a much higher health satisfaction – from 58% to 76% – and life satisfaction – from 58% to 87% – compared to previous accommodation (LILAC, 2021). Both physical and mental health improvements have been reported since moving to the community due to LILAC's "plentiful greenspace, sustainable travel options, better high air quality and natural light in the homes, greater social interaction and opportunities for socialising with neighbours" (LILAC, 2021). Further benefits of LILAC as a cohousing scheme include increased safety and wellbeing, natural surveillance and support for the elderly, reduced car numbers combined with car separation and car-free home zones to increase safety as well as reducing carbon emissions related to car use (Chatterton, 2013).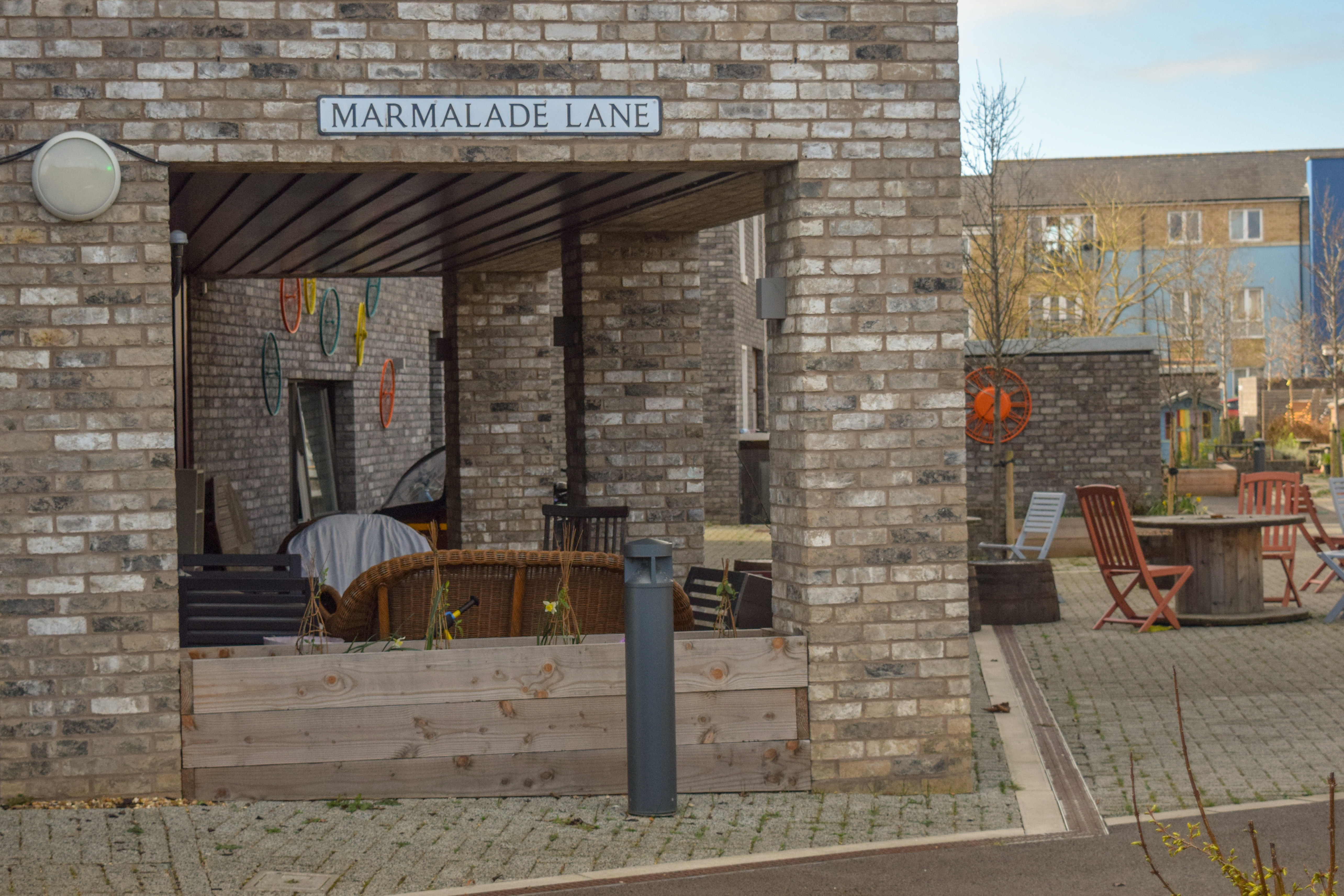 Marmalade Lane
Created on 08-06-2022
Background An aspect that is worth highlighting of Marmalade Lane, the biggest cohousing community in the UK and the first of its kind in Cambridge, is the unusual series of events that led to its realisation. In 2005 the South Cambridgeshire District Council approved the plan for a major urban development in its Northwest urban fringe. The Orchard Park was planned in the area previously known as Arbury Park and envisaged a housing-led mix-use master plan of at least 900 homes, a third of them planned as affordable housing. The 2008 financial crisis had a profound impact on the normal development of the project causing the withdrawal of many developers, with only housing associations and bigger developers continuing afterwards. This delay and unexpected scenario let plots like the K1, where Marmalade Lane was erected, without any foreseeable solution. At this point, the city council opened the possibilities to a more innovative approach and decided to support a Cohousing community to collaboratively produce a brief for a collaborative housing scheme to be tendered by developers. Involvement of users and other stakeholders The South Cambridgeshire District Council, in collaboration with the K1 Cohousing group, ventured together to develop a design brief for an innovative housing scheme that had sustainability principles at the forefront of the design. Thus, a tender was launched to select an adequate developer to realise the project. In July 2015, the partnership formed between Town and Trivselhus 'TOWNHUS' was chosen to be the developer. The design of the scheme was enabled by Mole Architects, a local architecture firm that, as the verb enable indicates, collaborated with the cohousing group in the accomplishment of the brief. The planning application was submitted in December of the same year after several design workshop meetings whereby decisions regarding interior design, energy performance, common spaces and landscape design were shared and discussed. The procurement and development process was eased by the local authority's commitment to the realisation of the project. The scheme benefited from seed funding provided by the council and a grant from the Homes and Communities Agency (HCA). The land value was set on full-market price, but its payment was deferred to be paid out of the sales and with the responsibility of the developer of selling the homes to the K1 Cohousing members. Who, in turn, were legally bounded to purchase and received discounts for early buyers. As relevant as underscoring the synergies that made Marmalade Lane's success story possible, it is important to realise that there were defining facts that might be very difficult to replicate in order to bring about analogue housing projects. Two major aspects are securing access to land and receiving enough support from local authorities in the procurement process. In this case, both were a direct consequence of a global economic crisis and the need of developing a plot that was left behind amidst a major urban development plan. Innovative aspects of the housing design Spatially speaking, the housing complex is organised following the logic of a succession of communal spaces that connect the more public and exposed face of the project to the more private and secluded intended only for residents and guests. This is accomplished by integrating a proposed lane that knits the front and rear façades of some of the homes to the surrounding urban fabric and, therefore, serves as a bridge between the public neighbourhood life and the domestic everyday life. The cars have been purposely removed from the lane and pushed into the background at the perimeter of the plot, favouring the human scale and the idea of the lane as a place for interaction and encounters between residents. A design decision that depicts the community's alignment with sustainable practices, a manifesto that is seen in other features of the development process and community involvement in local initiatives. The lane is complemented by numerous and diverse places to sit, gather and meet; some of them designed and others that have been added spontaneously by the inhabitants offering a more customisable arrangement that enriches the variety of interactions that can take place. The front and rear gardens of the terraced houses contiguous to the lane were reduced in surface and remained open without physical barriers. A straightforward design decision that emphasises the preponderance of the common space vis-a-vis the private, blurring the limits between both and creating a fluid threshold where most of the activities unfold. The Common House is situated adjacent to the lane and congregates the majority of the in-doors social activities in the scheme, within the building, there are available spaces for residents to run community projects and activities. They can cook in a communal kitchen to share both time and food, or organise cinema night in one of the multi-purpose areas. A double-height lounge and children's playroom incite gathering with the use of an application to organise easily social events amongst the inhabitants. Other practical facilities are available such as a bookable guest bedroom and shared laundry. The architecture of its volume stands out due to its cubic-form shape and different lining material that complements its relevance as the place to convene and marks the transition to the courtyard where complementary outdoor activities are performed. Within the courtyard, children can play without any danger and under direct supervision from adults, but at the same time enjoy the liberty and countless possibilities that such a big and open space grants. Lastly, the housing typologies were designed to recognise multiple ways of life and needs. Consequently, adaptability and flexibility were fundamental targets for the architects who claim that units were able to house 29 different configurations. They are arranged in 42 units comprehending terraced houses and apartments from one to five bedrooms. Residents also had the chance to choose between a range of interior materials and fittings and one of four brick colours for the facade. Construction and energy performance characteristics Sustainability was a prime priority to all the stakeholders involved in the project. Being a core value shared by the cohousing members, energy efficiency was emphasised in the brief and influenced the developer's selection. The Trivselhus Climate Shield® technology was employed to reduce the project's embodied and operational carbon emissions. The technique incorporates sourced wood and recyclable materials into a timber-framed design using a closed panel construction method that assures insulation and airtightness to the buildings. Alongside the comparative advantages of reducing operational costs, the technique affords open interior spaces which in turn allow multiple configurations of the internal layout, an aspect that was harnessed by the architectural design. Likewise, it optimises the construction time which was further reduced by using industrialised triple-glazed composite aluminium windows for easy on-site assembly. Furthermore, the mechanical ventilation and heat recovery (MVHR) system and the air source heat pumps are used to ensure energy efficiency, air quality and thermal comfort. Overall, with an annual average heat loss expected of 35kWh/m², the complex performs close to the Passivhaus low-energy building standard of 30kWh/m² (Merrick, 2019). Integration with the wider community It is worth analysing the extent to which cohousing communities interact with the neighbours that are not part of the estate. The number of reasons that can provoke unwanted segregation between communities might range from deliberate disinterest, differences between the cohousing group's ethos and that one of the wider population, and the common facilities making redundant the ones provided by local authorities, just to name a few. According to testimonies of some residents contacted during a visit to the estate, it is of great interest for Marmalade Lane's community to reach out to the rest of the residents of Orchard Park. Several activities have been carried out to foster integration and the use of public and communal venues managed by the local council. Amongst these initiatives highlights the reactivation of neglected green spaces in the vicinity, through gardening and 'Do it yourself' DIY activities to provide places to sit and interact. Nonetheless, some residents manifested that the area's lack of proper infrastructure to meet and gather has impeded the creation of a strong community. For instance, the community centre run by the council is only open when hired for a specific event and not on a drop-in basis. The lack of a pub or café was also identified as a possible justification for the low integration of the rest of the community. Marmalade Lane residents have been leading a monthly 'rubbish ramble' and social events inviting the rest of the Orchard Park community. In the same vein, some positive impact on the wider community has been evidenced by the residents consulted. One of them mentioned the realisation of a pop-up cinema and a barbecue organised by neighbours of the Orchard Park community in an adjacent park. Perhaps after being inspired by the activities held in Marmalade Lane, according to another resident.