A Transdisciplinary Peek Behind Secondment Scenes & Common Challenges to Housing Associations in England
Posted on 22-10-2023
Written by Aya Elghandour
Reviewed by Natalie Newman
The Housing Crisis, Cost of Living Crisis, and Climate Change Crisis are undoubtedly critical concerns of the general public. The three crises are interrelated. Please take a moment and think, how many disciplines are involved in those crises? Do you think investigating solutions by first understanding the complexity of any housing-related crisis, can stem from a mono-lens? Needless to say, end-users rights might get lost in ongoing debates. For instance: Hello! Do you see as critical in this debate the future of residents' health and wellbeing living in affordable housing properties?
That is why I joined the South Yorkshire Housing Association (SYHA) for a secondment!
Transdisciplinarity in research has been widely recommended to tackle complex situations influenced by various stakeholders. It is all about mutual learning and exchanging knowledge between disciplines and actors to understand complex issues and produce new knowledge comprehensively.
This is what I have been doing for the last three months in the South Yorkshire Housing Association (SYHA) while joining the Development and Asset Management team! As an architect-researcher and prior to joining SYHA, my perception was limited to housing associations and architects as key decision-makers whose decisions have the greatest impact on the house quality and as a result the health and wellbeing of future residents. However, being at SYHA's headquarters expanded my horizons and gave me new perspectives on the various factors and stakeholders influencing those decisions. This broader perspective now guides my current research.
Behind the Scenes of how did it all start!
Six years ago, Miranda Plowden SYHA's Business Development Director planted the seed for my research project in collaboration with my supervisor, Professor Karim Hadjri. She emphasized that Life Cycle Costing (LCC) should be one of the critical pillars guiding SYHA's partnership with RE-DWELL. That's why I have spent three months in SYHA to understand their workflow, decision-making process, who are the key stakeholders in the design stages and what initial costs of construction and future costs of maintenance they are responsible for.
During the secondment, I conducted two learning sessions to initiate discussions with the team and gauge their receptiveness to adopting new approaches in constructing and operating houses over their life cycle that could contribute to residents' health and wellbeing. For instance, using sustainable materials with thermal and acoustic insulation properties in construction. Additionally, I showcased an example from the British Council of Dudley, where Internet of Things (IoT) devices were installed in council houses to monitor indoor temperature, humidity, and air quality for residents' awareness. The team shared past incidents where residents had turned off similar devices due to concerns about their lighting. These discussions proved to be highly informative and shed light on aspects that I had not previously considered in my research.
Scene of Life Cycle Costing in SYHA
Life Cycle Cost (LCC) is all about estimating the costs of something over its entire lifespan. For SYHA, their commitment and ambition to LCC covers the entire life of a house.
Currently, SYHA's LCC approach gives a high-level overview, making initial assumptions about construction and future repair costs before seeking planning permissions for housing projects. However, it hasn't fully integrated expenses like estimated energy and water bills that future residents will incur, which is a common practice in existing literature.
My research aims to develop an LCC framework that prioritizes the health and financial wellbeing of households during the design stages of new houses. SYHA's involvement spans from architects' procurement, land selection, and design briefs to evaluating design proposals, obtaining planning permissions, hiring contractors, overseeing construction for quality assurance, and finally, renting out the house or selling it for shared ownership. They also manage and maintain the properties while learning from past challenges to make better future decisions.
SYHA is open to innovative approaches, such as constructing two homes using Modern Methods of Construction (MMC) like the WikiHouse project. This helps them assess whether these methods can reduce construction time, lower maintenance costs, and deliver better quality for end-users.
While the use of LCC isn't common in affordable housing provision, it's a top priority for SYHA. They rely on LCC to understand the long-term financial implications of their decisions.
The Sneak peek on common challenges of housing associations
From day one and from SYHA's reputation, their care for residents' health and wellbeing can be seen in their adoption to people-first approach. The approach is adopted in designing their housing schemes to provide a beautiful, safe, and affordable place to call home. This approach leads to some challenges for housing associations in England to keep high standards with lower than market rent.
My secondment observations and discussions, as well as the ongoing interview conversations revealed some of the challenges facing the provision of an affordable and healthy house, for instance:
The emergence of technologies without the existence of a reliable supply chain for long-term house maintenance. For instance, with SYHA's 50-year presence in the British market, they prioritize relying on trustworthy providers who can ensure the longevity of house maintenance. If a new technology is considered sustainable and beneficial for residents but is not widely adopted in the UK or lacks a reliable provider for long-term support, the adoption process becomes a complex decision as every penny carries a responsibility.
The continuous rise in construction costs after they have secured funding, for a certain price to deliver a certain quality. This hinders them from accomplishing the full quality they are aiming for.
The fact that housing associations' rent is lower than the market price poses future financial risks and stress on affordable housing providers. Let's see SYHA's initial feasibility study for a new housing scheme that aims to offer units with affordable rent. The process involves several key steps:
Step 1. Identify what type of housing to build and its specific location.
Step 2. Research and determine the average market price for similar properties in this location.
Step 3. Set the affordable rent at 80% of the market rent.
Step 4. Assess the affordable rent by asking: Would it exceed 33% of the household income?
Step 5. As an ethical provider, If the rent exceeds the 33% threshold, a decision has to be made either to reduce the rent, or not prioritize homes in that location and reconsider the whole project or recognize that a higher rent is the only way these type of homes would be built in a given location.
Housing associations need a certain level of rent to be able to build good homes in the first place and to maintain them to a high standard. In the context of affordable rents, it becomes more challenging to balance. They need to set rents at a level that allows them to construct and maintain quality homes while keeping them affordable for residents over time. This involves choosing suitable locations and constructing quality housing, which already can lead to higher land and construction expenses. Moreover, affordable rents make it take longer for housing associations to recover their construction costs through rental income, especially when compared to the private sector!
Housing associations are currently the primary providers of affordable homes in England! So, it can be seen that the quality, sustainability, energy-efficiency, and location of an affordable house is so far up to housing providers decisions and the robustness of the national building regulations and support!
So what support housing associations need to provide more affordable houses that is healthy, sustainable, and energy-efficient on the long-term? Land price discount maybe to start with? What else would you add to the list?
Some awesome links!
https://www.wikihouse.cc/featured-projects/south-yorkshire-housing-association
https://ashden.org/news/social-housing-is-key-to-climate-action/
Miranda Plowden's Blog on the Wikihouse: https://www.mirandaplowden.com/projects/wikihouse-sheffield-2018-could-offsite-construction-be-the-solution-to-the-uks-housing-crisis
Related case studies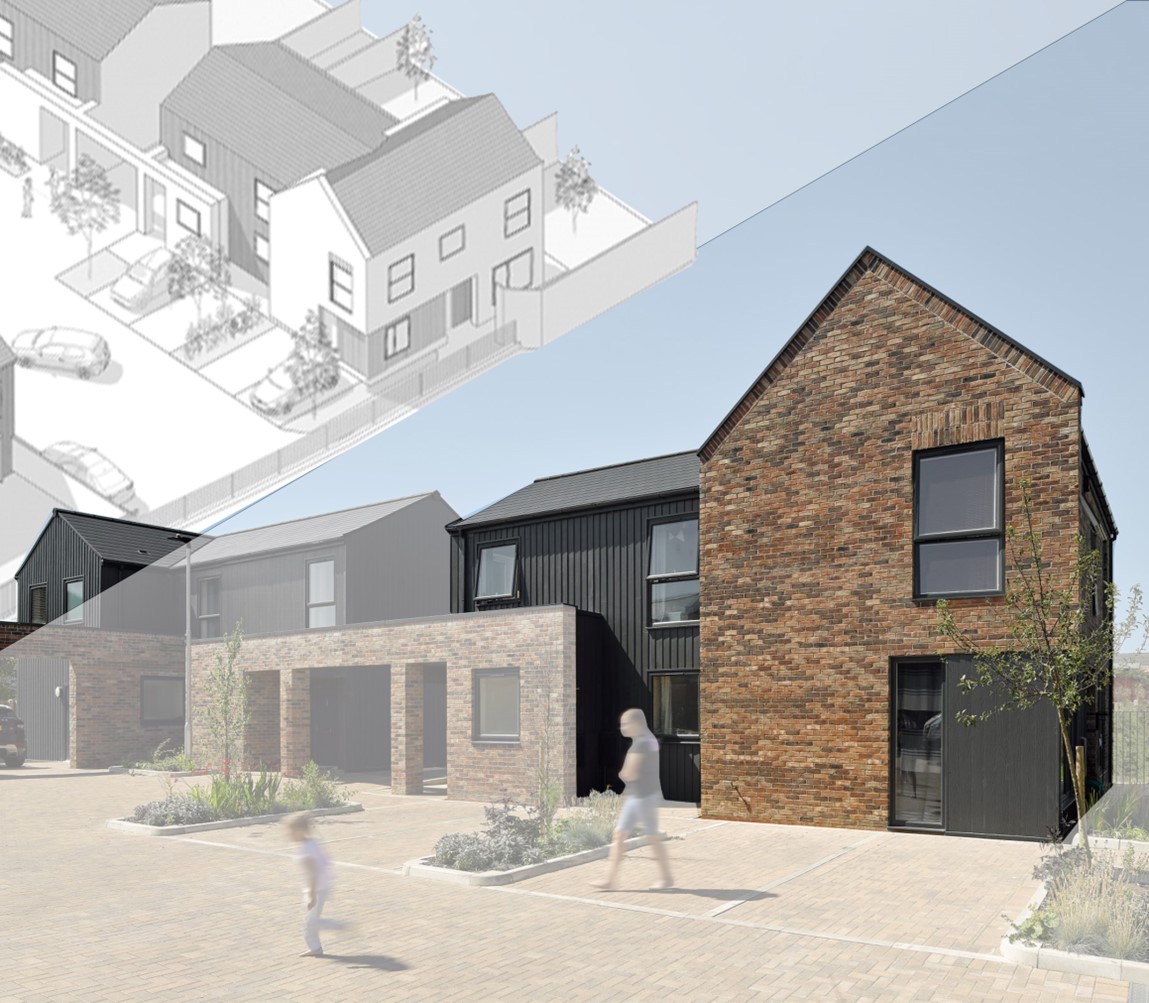 North Wingfield Road social housing complex.
Created on 25-11-2022
a) Design philosophy According to the Housing Design Awards, the design of the North Wingfield project took a contemporary design approach, combining the features of local vernacular architecture - as adopted from local farms - with the developer's vision and requirements for flexible, sustainable and innovative housing (HDA, 2021). The architectural office DK -Architects explains that this fusion is represented by massing the morphology of the project, traditional architectural elements (e.g. Dreadnought brick (roof), Janinhoff brick (walls)) with modern elements such as large glazing and aluminium cladding. This combination of materials not only provides an aesthetically pleasing appearance, but also helps to capture heat, ultimately reducing heating energy consumption for at least seven months of the year (DK-A, 2021). In addition, several innovative features have been adapted, including the well-planned use of space and the clear conceptual plans that extends beyond the interior spaces to the shared courtyard, which serves as a social gathering place for the tenants. The inspiration for the courtyard was derived from the local identity, the farmstead and the crew yard (HDA, 2021). At the same time, the use of a see-through fence, which extends the sightline into the rural surroundings, provides a calming splash of green colour in each residential unit. The semi-raised upper massing extends the courtyard and provides a semi-enclosed space that enhances the feeling of safety and security (DK-A, 2021). Meanwhile, the buildings in the front row clearly stand out from the surrounding buildings through the use of colours and materials and also serve as an entrance gate to the project (DK-A, 2021; HDA, 2021). Each dwelling has its own mini agricultural space, which has proven valuable for the well-being of the residents. b) Construction process The skeleton of the building utilises an off-site timber frame method of construction, adopting a semi-modular design principle (Davies & Jokiniemi, 2008). This construction method provides a structure with a superior thermal envelope that requires minimal maintenance and is a 'fit-and-forget' solution for the lifetime of the building. In addition, both labour and material costs were significantly reduced due to less reliance on craftsmanship and multiple suppliers. This is in line with the UK government plans to revamp construction regulations to encourage bold, creative and sustainable construction methods (Davies & Jokiniemi, 2008; Sterjova, 2017). The construction process started with ground treatment, followed by the casting of the foundations on site. Meanwhile, the timber frames were manufactured off-site at the supplier's factory, which helped to reduce construction work and thus carbon emissions. The frames were then transported to the site for fixing and external treatment, and all the construction work ran in parallel (Wheatley, 2020). The overall process can be seen in Figure 1. c) Sustainability integration At the sustainability level, the project worked on several areas to maximise the adaptation of sustainability features and minimise the impact on the natural environment (HDA, 2021). Creating sustainable buildings Through sustainable design and layout (e.g. orientation, maximising daylight, optimising solar gain). Creating high quality outdoor environments (e.g. public and private open spaces that provide shade and shelter and consider flood retention and multi-functional green spaces to protect wildlife). Use of sustainable water management techniques (e.g. use of sustainable drainage systems and consideration of surface water run-off). Use of sustainable waste management facilities for private and communal use (through the appropriate provision of waste and recycling bins). Focus on reducing the use of non-renewable energy. Reduction of carbon emissions The project has been designed in accordance with the highest level of building regulations and sustainability standards, in line with the Government's 10-year timetable for all new homes to be carbon neutral by 2016. Water recycling techniques (such as grey water and rainwater harvesting). Sustainable Transport (reducing reliance on the private car, incorporating practical and accessible sustainable transport patterns). d) Energy performance One of the tools to assess building energy efficiency in the UK is the Energy Performance Certificate (EPC), which is defined by the Department for Levelling Up, Housing and Communities as: A rating scheme that summarises the energy efficiency of buildings; it includes a certificate that gives a property an energy efficiency rating from A (most efficient) to G (least efficient) and is valid for 10 years (DLUHC, 2014). The EPC is produced using the Standard Assessment Procedure (SAP), which is defined by the Department for Business, Energy & Industrial Strategy as follows: The method used to assess and compare the energy and environmental performance of properties in the UK [...] it uses detailed information about the property's construction to calculate energy performance (DBEIS, 2013). The North Wingfield project has successfully achieved a (B) rating - equivalent to 84 out of a maximum possible 100 points with a high potential for an (A) rating equivalent to 95 points (DLUHC, 2021). This score is the result of The use of high-performance materials with very good thermal transmittance properties (walls: 0.20 W/m²K, roof: 0.11 W/m²K, floor: 0.09 W/m²K). Well-designed ventilation system that achieves a good air tightness indicator (air permeability 4.9 m³/h.m²). Low consumption of primary energy of 94 kWh/m2. Another indicator is the Environmental Impact Score (EIS), which shows the impact of a building on the environment through the estimated carbon dioxide (CO2) emissions calculated at the time of the EPC assessment (DLUHC, 2014). The higher the score, the lower the building's impact on the environment: like EPC labels, the environmental impact score is graded from A to G (DBEIS, 2014). The project generates 1.4 tonnes of CO2 annually. This is less than a quarter of the 6 tonnes emitted by an average household. By improving the EIS rating to A, CO2 production will be reduced to 0.3 tonnes, which will distinguish the project as one of the most environmentally friendly projects (DLUHC, 2021). Figure 2 shows the EPC and EIS breakdowns of the properties.